Exactly How I'm Affording An 8-Day Trip To London On A $1,200-Per-Month Salary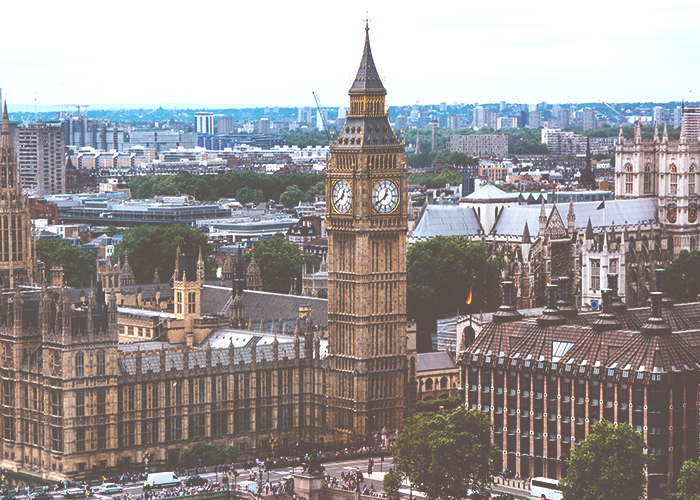 I love to travel. I LOVE IT. Buying plane tickets is my hubris, and I think a flight confirmation page is the prettiest thing on the internet. But between my full-time Americorps service position and my part-time job in hospitality, I only make around $1,200 a month. After bills, I'm left with about $400 a month to feed myself, make sure my dog and cat don't die, put gas in my car, fund my blog, and maybe sort of have a social life that involves going out in public to eat food and drink drinks and dance my face off at a concert every once in awhile.
Adjusting to my Americorps income from my previous full-time "regular" job has been a learning curve, but I'm fortunate that I live in a somewhat affordable city, am on my parents' health insurance, don't have a car payment or student loans, and have an okay-ish amount in savings from my prior job for emergencies. If I had these additional expenses to account for, there's no way I'd be able to afford to eat or keep my dog and cat alive, let alone travel, so it's important for me to acknowledge that.
But when I saw a $471 roundtrip flight available this upcoming spring to London — MY HEART CITY — I felt morally obligated to purchase it. But, unlike my old job where I could save between $300-$500 a month for travel, I don't have that luxury this time around.
Still, my trip to London is very possible to take without spiraling into irrevocable credit card debt — as long as I make the proper preparations. Here's how I'm affording my 8-day trip to London on a just a li'l bitty income.
INTERNATIONAL FLIGHT: $471 Roundtrip
I'm flying from NYC's JFK Airport to London in April for $471 roundtrip on American Airlines. There are similar deals to Europe on other airlines and from other major U.S. cities, too. I recommend creating a price alert on Kayak, utilizing Google Flights, and signing up for airfarewatchdog emails to keep an eye on your departure and destination city to snag the best flight price.
How I'm Paying For It: With my Americorps job, I am paid every other Friday. This means that two months out of every year, I'm paid three times a month. YEAH BUDDY. December just so happens to be a paid-three-times month. Since I budget based on two paychecks a month, the extra paycheck I will receive this month will go to cover (most of) my flight to London.
Takeaway: Save your unexpected dollars! If you're paid every two weeks and budget monthly like I do, consider using those two extra paychecks a year to put toward travel, rather than spending it on all the candles and cute mugs that you definitely don't need (guilty). And don't buy the first plane ticket you see — do some research to see if there are more affordable options available.
DOMESTIC FLIGHT: Free (…except for a booking fee)
My flight to London is from New York. I do not live in New York. I live in Nashville. This means I must get to New York from Nashville.
How I'm Paying For It: Fortunately, I have enough frequent flyer miles with American Airlines to cover my roundtrip flight from Nashville to New York. All that I will pay is a booking fee.
Takeaway: Join the frequent flyer program for whatever airline you travel on the most. It's free and wasteful to ignore — you get miles for every flight you take. I am a member of Southwest's and American Airlines' programs because they tend to be the cheapest fares out of Nashville, so I frequent them the most. If you don't already have a preferred airline and are budget-conscious like me, study which fares are consistently the lowest from your local airport to gauge which program is best for you. Also, consider opening a credit card with your preferred airline to give yourself even more opportunities to earn miles.
ACCOMMODATION: ~$300
I've done the hostel thing before. I've done the snoring and the waiting for the showers and the getting-your-money-stolen thing. I think hostels are a fantastic way to travel when you're in college or just out of school and on a budget, but for this go-around to London, I'm over the hostel thing.
Airbnb it is. But Airbnb isn't always cheap, especially in London, so I'm looking outside of central London to find something more affordable for my low budget. For a little more than $300 (split between myself and my friend), I've found a couple of charming flats in north London to choose from that are still within a 25-minute ride on the tube or bus to central London.
Though staying in an Airbnb is about $100 more than sharing a room with 20 other girls in a Dickens-style midcentury-hospital-turned-hostel (this hostel exists and it's actually kind of charming), the opportunity for sleep without the person in the bed next to you snoring uncontrollably and priority access to the bathroom is worth that extra expense for me. Plus, my friend and I plan on cooking in more than eating out in order to balance out the pricier accommodation.
How I'm Paying For It: With one of my travel credit cards, I will have enough points to cover the majority of the price for my half of the Airbnb.
Takeaway: Can I reiterate how beneficial owning a travel credit card is? Really, guys…free stuff just for spending money like you usually do (and paying it off every month like the fiscally responsible, self-controlled adult you are so you don't go into debt).
DAILY BUDGET: $350/8 days (£35/day)
And then there's money to spend while you're actually on your trip. Because you have to eat and take some sort of transportation, and maybe even treat yourself to a Sunday brunch in Covent Garden. I'm giving myself a $350 budget to do these things, which breaks down to about £35 a day.
Granted, £35 a day is no baller budget. That's enough for a bit of tube fare and a mocha and a modest meal out, but that's exactly the type of simple trip to London my heart is pining for.
How I'm Paying For It: I have 5 months until my trip, so I am setting austerity measures in my budget each month so that I can put away $350 by the time I'm attempting to sleep in coach over the Atlantic. In December, I could only afford to put away $50 (because, you know, Christmas gifts), so that leaves a goal of $75 for January through April. My plan? Cutting myself back to one or two lattes a week, and being conscious of all the ways I waste my grocery money (aka, no Ally, you don't need that gallon of Moose Tracks ice cream).
Takeaways: Do the math. Decide how much money you'd realistically need per day to enjoy yourself on your trip, then set a goal for how much money you need to save each month leading up to your trip.
What can you cut out of your budget to reach this goal? Too many Starbucks trips (me, that's me), too many impulsive purchases at Target (again, me), too many frozen pizzas rather than a homemade crockpot meal that'll last you the whole week (ugh, ME)?
There are likely purchases you can forego in order to save if you look hard enough at your expenses. Stick a photo of your destination in your wallet if you need a visual reminder to persuade yourself from buying that $15 adorable holiday Starbucks coffee tumbler that you really, really don't need.
***
Traveling is absolutely possible, even if you may be living off an hourly wage that is technically lower than minimum wage (Americorps for the win!). Happy traveling to my fellow budget travelers!
Ally Willis is a public relations graduate who buys way too many concert and plane tickets and then writes about it. She puts all things British on a pedestal. She runs a blog about post-grad life and also writes about music and travel on her own personal blog.
Image via Unsplash