Budgeting / Relationships
The Five Little Words That Changed Everything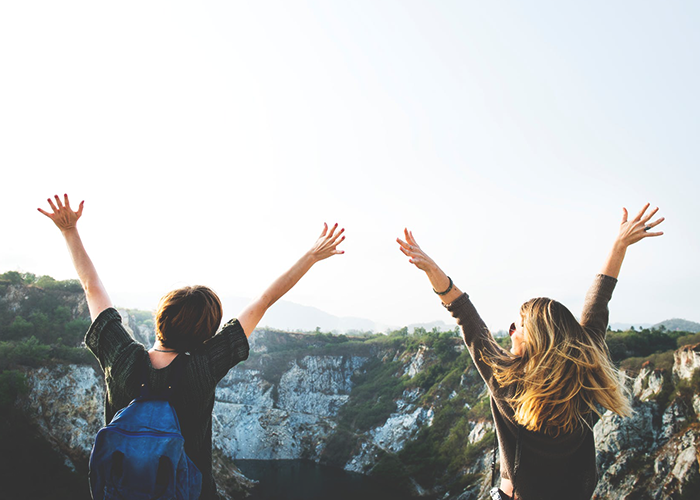 I was a victim of social over-spending. Whether it was grabbing brunch at the newest spot in my neighborhood or nabbing tickets to every concert and sporting event in town, if you named it, I was probably in. I have a fairly large group of outgoing, active friends in a decent-sized, thriving city, so there was basically always somewhere to go, something to do, and some way to spend money.
To fund my fun-filled lifestyle, I turned to my debit card pretty often, and to my three credit cards even more. My spending was gradually spiraling out of control, and I was just happily along for the ride. Rarely did I stop to consider if I could afford all parts of my busy social calendar. I just said "yes," and told myself I'd figure out the finances later — which I never did.
Eventually, I realized I had to do better. I implemented the cash envelope system for my personal budget. After months of tracking my spending and having some honest conversations with myself, I had set a firm budget in each of the main spending categories in my life.
I had packed away my credit cards and was relying on predetermined amounts of cash to pay for my day-to-day spending — and I was quickly flying through my "Recreation" fund every month. I was trying hard to keep up my "do everything, go everywhere" lifestyle, but my budget simply wasn't able to keep up. One Saturday morning, I realized that five little words could make all the difference.
My friend Nicole, who's always up to do something, had texted with a familiar and tempting offer.
"Hey girl. Brunch and manis?"
Before I could respond, she doubled-down.
"We could go shopping in Beachwood after?"
I love all of those things, plain and simple. I had nothing to do and nowhere I had to be, and I was suddenly overwhelmed with the feeling of wanting to take Nicole up on her offer.
But then I thought about it. Brunch would surely include mimosas. A manicure would be better with a pedicure to match. And afterward, I'd be full of enough warm, fuzzy feelings (blame the mimosas) to talk myself into a new outfit or purse to wear out that evening. Probably to a dinner I couldn't really afford.
I checked my cash envelope to confirm what I already knew. I couldn't afford it — and I had made a promise to myself to not put every unnecessary excursion on my VISA. I contemplated a little fib, because it was the easy way out.
But then I realized something really simple — and really important. What was the point of not being honest about my budget? If I didn't have the money to do something, it's not a big deal. This person is my good friend… why not just talk about it with her?
"You know what…" I sent back to Nicole. I paused and took a deep breath — just like I do before most important moments — and then went for it, sending the five little words that changed everything for my social life and my finances. "It's not in my budget." I paused again. "Is that okay?"
Nicole wrote back immediately. "Oh my gosh, of course! Wanna do something else?"
And as a matter of fact, I did. Instead of dropping upwards of $200 on a Saturday afternoon, Nicole and I grabbed coffees and went for a walk — spending less than $5 each for a lovely, lazy day together. With that, it was like a whole new world of social existence opened up for me.
Now, by simply being honest with my friends, I don't let my FOMO force me into spending money I don't have, and I don't feel obligated to over-spend just to be with the people I love. When presented with social plans that don't fit into my budget, I say so…simply and straightforwardly.
I go out when I can — and I stay home when I can't. I truly consider what matters to me, and I choose to spend my money on those events and activities. Now, nights out feel more special, and concerts and sporting events are more meaningful. Anything else (country shows I don't care about, movies I don't want to see) just falls away. Plus, thanks to Netflix, wine, and sweatpants, I've learned to truly love a Saturday night at home on my couch, saving money while I do so.
The truth is, those five little words — It's not in my budget — have helped me in so many ways. Not only am I more honest with my friends, I'm more honest with myself. I've set priorities and financial goals and now, thanks to those five words, I'm working my way toward them.
Jessica lives in downtown Cleveland and works as an associate creative director at a communications agency. When she's not having her heart broken by Cleveland's sports teams, she's busy stalking all of the dogs in her neighborhood. Follow her on Twitter @jessaforrester and feel free to send flowers and/or coffee. 
Image via Pexels