Friday Expert Interview: 14 Burning Questions For A NYC Real Estate Broker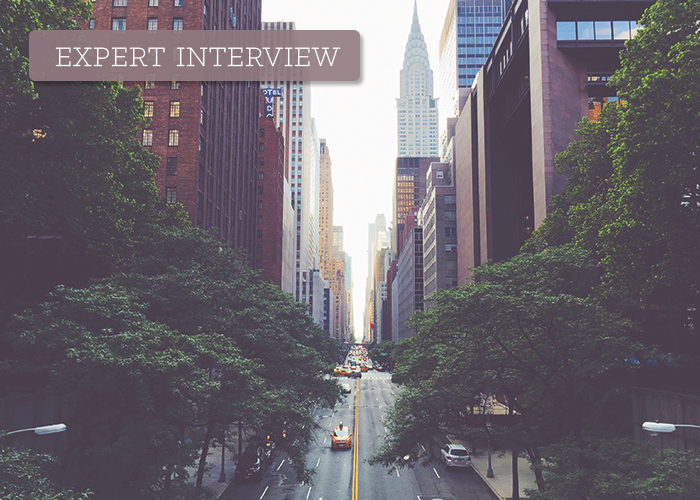 Today's installment of our Afraid To Ask: TFD's expert interview series, is all about basic questions one might have about the process of renting and buying. The Afraid To Ask series is meant to provide a deeper insight into a variety of subjects, and shed light on topics people are sometimes ignorant about (myself included in every topic I cover!).
This week I interviewed Joshua Sloyer, a passionate and knowledgeable licensed real estate salesperson, who has been working in the industry for the past 15 years. I was especially excited to interview him, as someone who just recently began navigating the NYC rental market. It's safe to say I am very green when it comes to navigating my way around everything there is to know, and the answers Joshua provided me were an enormous help. Take a look at our interview below! You're bound to walk away with a few invaluable insights.
1. First off, how long have you been in this business? How did you get into it?
I have been in real estate since I was 22, so that's almost 15 years. I would say I officially started in the industry when I bought my first property. It was a foreclosure that I fixed up and rented out. Having started on the investment side of real estate, it was a natural transition for me to then go into brokerage. I've been in brokerage for the last seven years. I work with my wife Saskia, who is also my partner, at Douglas Elliman Real Estate where we both focus on sales. 
2. What should you look for in a broker or real estate agent to help you find a property to rent/buy? What are some of the most valuable traits/skills to look out for in the one you want to work with?
First and foremost: honesty. You definitely want to deal with a person you can trust. Going hand-in-hand with that is, of course, making sure the individual is an expert in their field and that they have a thorough knowledge of the market, and it's protocols and quirks.
3. So, I'll use my own situation as the example. I would want to make sure the individual had experience with first-time homebuyers, and so I would ask you, "Do you have experience with first-time buyers?"
Yes, about 50% of the buyers I work with are first-time homebuyers.
4. What are the most commons issues people should look out for when walking into a new place?
Well, from the physical aspect, things like structural stability and the condition of the apartment are a natural first place to start. It's also important to know who the landlord or managing agent is, and whether they are reputable and quick to resolve issues. When you're looking to purchase, it is important to look for something that will hold its value long term. An apartment with great light, great space, a natural organic layout that flows nicely, and a great location will always be desirable now and in the future.
5. Excellent tips! So, my next question is, what's the biggest issue you see with newbies looking to rent/buy?
Renting and buying are two totally different discussions. That being said, I would say getting your financial ducks in a row before you start looking is probably the biggest obstacle. It's fun to go look at property, but when you go out looking to purchase, you want to have a mortgage pre-approval in place or know how you're going to fund the purchase. When renting, you naturally want to know how you are going to pay the rent. You need a strategy and monthly payments that are sustainable. For purchases in Manhattan, you're primarily dealing with co-ops and condos. Co-ops require that the purchaser has a low debt-to-income ratio (how much you take in every month vs. the percentage you pay to debt) in order to be approved by the co-op board. Typically, 28% or better is what they're looking for, but every building is different!
6. All really great stuff to note! Now, people say when you're looking for a place to live, there's always an area you have to sacrifice on: location, price, etc. Do you have an opinion on which factor is most important, and why? How is this affected by renting OR buying?
Well naturally, when a person walks into a space, there's a feeling. If your apartment has good bones, it may be worthwhile to renovate and add value. However, you need to have additional cash outside of the down payment in order to do physical work on a new place. I would always tend to be more conservative when renting, so you can save money and eventually buy. In the long term, owning real estate is surely the way to go: tax benefits, building long-term wealth, pride of ownership, etc. Having a doable mortgage on a property is a form of saving; it's a disciplined investment vehicle that forces the individual to build equity each month.
When buying property, it's important to buy something that's not only good today but will hold its value long term. Naturally, you want a sellable asset in the future. When you buy a place with great space, a great view, great light, a fabulous location close to the subway, those are fundamental aspects to a property that will still be there in 10 years. Those things will help a property hold its value. On the other hand, if you're looking to save money when buying a property by skimping on certain things, it might mean that the appreciation on that property will not be as robust.
7. Yes! And we're going to be doing a follow-up interview with you next month where you'll be discussing the specific benefits of homeownership, so look out for that TFD readers! So my next question is, when looking to rent/buy, what's the value in working with a real estate office that focuses on one particular neighborhood as opposed to an entire city, or really large area?
When looking to rent or buy, it's not so much about the office, it's about the individual broker. With so much information available online, you really want someone who's going to add value to the conversation.
8. Is there any value in finding someone who lives near the area you're looking in?
Yes, because if the person lives or works in the neighborhood you are considering, they can really provide valuable insight into great local spots, cultural institutions, etc. They will have a greater appreciation for the subtleties of the neighborhood. In NYC real estate, it's really block-by-block, so there is an obvious benefit to having someone who is an expert guide on a neighborhood.
9. Is it worth finding someone who has lived/worked in an area for a long time so they know the history there?
Not necessarily…you don't want someone who might have blinders on. You want someone who is versatile and flexible, and who can show you alternative neighborhoods that might suit your needs better in terms of space and money-value proposition. For example, in NYC, something usually has to give, and it's important to find someone who understands that and understands your needs. When you're working with a fixed budget, you might have to compromise on the level of finishes, the level of amenities, the level of convenience, proximity to prime Manhattan, elevators in buildings, space, light, view, etc. It's a zero-sum game, and you have to be ready to make tradeoffs.
10. So, is it important for someone to simply be able to show you a lot of options?
Yes and no. You want to see a lot, yes, but you don't want someone to waste your time by showing things that don't make sense for you. You want someone who listens to you and understands your needs. There are many subtleties to the market, and you want someone who is not only going to work hard, but who understands those nuances.
11. If you're on the fence between two places you like, are there any tips to make the call easier on those individuals that you feel are worth mentioning?
I would say keep asking questions and the cream will eventually rise to the top. My philosophy is geared towards building long-term wealth. If both places are equal in terms of light, space, and amenities, go with the one that's less expensive. That is where your broker could come in handy as well. They can check if there are any last minute concessions on price, etc. that can sweeten the deal for you.
12. While signing a lease, in general, is very important, are there any specific areas you would say are worth paying special attention to? Is there anything that someone signing a new lease for the first time should ask specifically?
There are many aspects to a lease. For example, in New York, a lot of the residential leases are landlord-centric because the laws are very tenant-centric. In general, I would say be fearless when asking questions. If you want to be bold, knock on doors and talk to the neighbors. The people that have been living in the building or in the area can offer tremendous insight as to how the building is run and how the landlord or managing agent handles maintenance and repairs.
13. Those are great tips! Any examples of ways in which landlords or management companies might trick or deceive renters?
I don't think landlords or managing agents are out to deceive or trick. It's important to know which managing agent you're dealing with, and who they represent in the transaction. There are big companies throughout the city, small-time landlords, and then one-off property owners who just wants to rent out their place to go on a sabbatical, etc. It's important to find out who the owner is and what stage of life they're at. Usually, in New York, you are signing a one-year lease, but your expectation might be to spend the next three-to-five years in the apartment; you would obviously want to know if the owner has any intention of moving back or selling the unit in the near future.
14. All good tips! Finally, what are some documents or financial inquiries people should be prepared to hand over when going through the renting or buying process?
In general, when looking to rent in the city, they want to see that you have 40 times the rent on paper. So, for example, if you're renting a $2,500-per-month apartment, they would want to see that you're making $100,000. They want to see income verification, job reference letters, bank statements, tax returns, and copies of photo IDs. If you have a guarantor on the apartment, they're going to want to see typically 80 times the rent. When buying, it's an even more in-depth process. For any purchase that might involve a bank, expect to give full disclosure of all financial documents. You're basically getting financially naked in front of the building.
Thank you so much, Joshua! We really appreciate you sharing your insight and expertise with us!
My pleasure!
Joshua Sloyer is a licensed real estate salesperson working in NYC. You can get in touch with him here: 
Email  |  OFFICE: 212-769-6511  |  MOBILE: 516.449.9891