A Guide To The Ultimate $50 Treat Yourself Weekend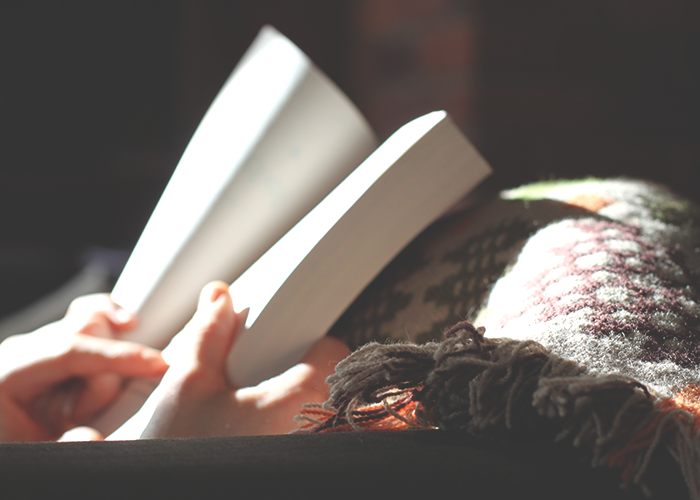 Friday is here, and you know what that means ya'll — it's almost the wEeKeNd (yay, celebratory music!). Not that I don't enjoy the weekdays and all the great day-to-day stuff I get to do, but the simple fact that I get to sleep in is enough to make me want to wiggle in my chair. Most times, when I think about the stuff I have lined up on Friday and Saturday nights, I notice that my plans generally look the same. They usually involve something like grabbing food or getting drinks. I know in my head that I don't need to spend a lot of money to have a good time, but it's the impulsiveness to indulge yourself that makes spending feel inevitable. It's a hell of a lot easier to simply say, "Yeah, I'll meet you at X bar for a drink" rather than, "I'm going to figure out how to make a jar of homemade scented bath salts, so I can spend the night in the comfort of my own home." And I know I'm not the only one who struggles with this.
That being said, I firmly believe that planning a treat yourself weekend doesn't have to involve dropping boatloads of money. To me, treating oneself is a state of mind where you take the time to relax, and  s l o w  d o w n. Whenever I go online and look at articles with budget-friendly date nights or ideas for self-care weekends in, I usually find them to be incredibly dull. I'll read things like, "Go to a five and ten store, and spend an hour putting together a fun costume for a themed party." (Cue incredibly long pause).
Or, "Avoid shopping in stores you can't afford and instead, treat yourself to just one new item at a beauty store." Obviously, we all have our own version of what defines a treat yourself moment. For me, I'd rather plan a weekend to myself catching up on all the things I love to do rather than finding extremely frugal hacks (which there is a time for) for things I'd rather just splurge on once in a while. When I plan a true indulgent weekend to myself, when I'm going to hit the reset button, I try to focus on activities I can enjoy by spending only a little bit of money.
Below is a guide to a $50 treat yourself weekend in, which is a reasonable sum of money to spend when you're trying to keep things super cheap, but not totally free. Obviously, without some planning it might be difficult to achieve, but I think it's totally possible. Take a look!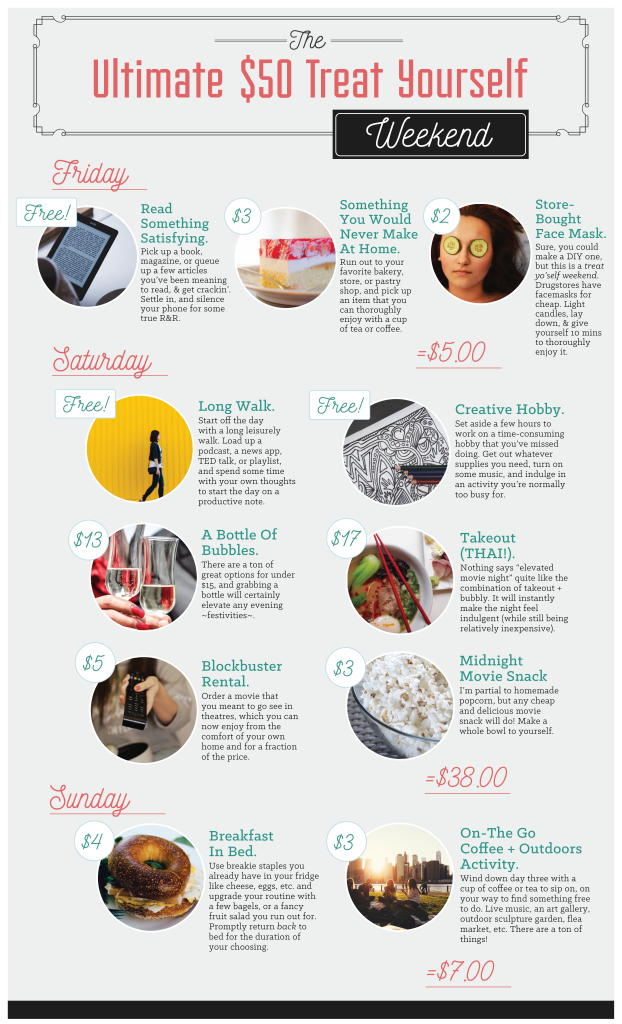 The only thing that a treat yourself weekend requires is the right state of mind and a plan of action. Do a little research to plan out the activities, drinks, foods, places you want to go, and people you want to see. I've added in some links below that will help you plan out a perfect weekend for yourself. Sit back, relax, and indulge in a time where you can focus on hitting the reset button for just a small amount of money.
Image via Unsplash