My Family Doesn't Have The Privilege Of Staying At Home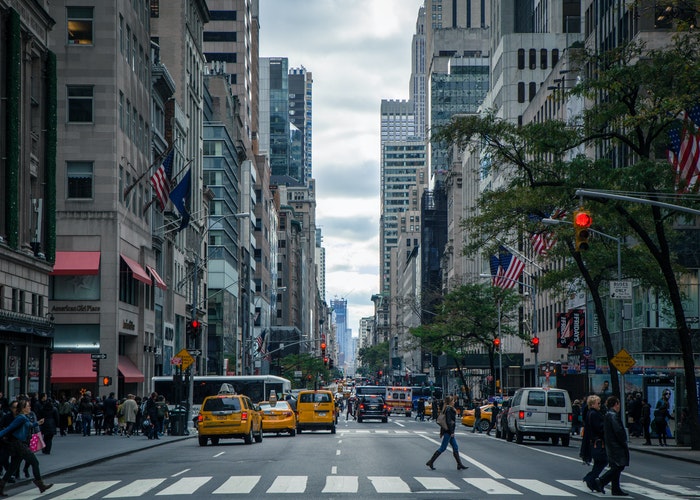 This piece was originally published on May 5, 2020.
"Stay home, flatten the curve", crowed my friends and coworkers on social media. Since college, my circle mostly consists of college students, graduates, so-called advocates, and professionals, all people with access to remote jobs who can afford to stay home, like me. As some states decide to open businesses as early as next week, it's important to consider exactly who will risk their lives to save our economy while the rest of us stay home. 
At the same time these "stay home" posts first started coming out, I was angry texting my 61-year-old Mexican mother to stay home in Texas. She was unimpressed by my offer to have her groceries delivered or my threats to track her via Apple Maps if she didn't listen. She was still working at the post office, going grocery shopping, praying at church, visiting my tías, and bringing people food. I was so frustrated that I couldn't stop her routine, I texted a long rant to my brother back home. 
"I can't be there to take care of her because I'm quarantined across the country. You need to look after her!" Annoyed, my brother replied that he, like my mother, and unlike me, had to work outside the home for his paycheck. If their jobs and paychecks weren't bothered by coronavirus, why should they be?
When my job confirmed I'd be working from home until the pandemic ended, I grabbed a mask and flew back home to Texas. I stayed with my mother and brother in our family home and tried to help by ordering groceries, cooking, and cleaning while everyone else was risking their lives at work. 
At 6 AM, my brother left the house to drive one hour to his construction job that did not provide him a mask or a harness while he hammered and drilled on a 50-foot platform. At 8 AM, my mother left to deliver mail for the post office that did not provide her a mask. (Interestingly, coronavirus checks are being mailed by postal workers, and USPS funding was not in either coronavirus stimulus bills passed). For my mother and brother, work continued as usual. For me, I brewed coffee, lounged in my pajamas, and "worked from home." 
Both of my parents have always risked their health for their jobs. To them, COVID-19 is just another day.
Like your typical immigrant, my Vietnamese dad has always sent money to his family in Vietnam. When our Vietnamese relatives discovered we were running around the richest country in the world during a global pandemic without basic protection, they mailed us 200 masks. While dropping off these masks to my dad, who lives in a 200-person homeless shelter, he asked me why I was home. He thought I had been fired. I tried to explain that I was working from home. Confused, he asked, "but when will you go back to work?"
I replied with frustration, "Dad, I'm working from home. My job gave me a laptop to stay at home and do work."
I could tell he didn't believe me, but he nodded and didn't ask more. He told me he recently applied to a grocery store and was hoping the pandemic would increase their need for his employment. I angrily replied that grocery stores were now dangerous. "You're 57 and you have a disability. You could get hurt on the job or die from coronavirus!" My dad looked at me like I was stupid. "My disability check is not going to pay my bills. I need to work. I need to save money. You need to go back to work like me, too."
To my Mexican and Vietnamese family, work is physical. Work is hard. Since my Vietnamese dad first came to the U.S. in 1984, he's cooked on his feet in kitchens on 12-15 hour shifts with severe post-polio syndrome. Nobody ever gave him a laptop and kindly asked him to "work from home." To him, it was only logical that I had been fired. Why the heck else would I be at home? 
To my Mexican mother, coronavirus is a nuisance, but she doesn't have time to think about how it might kill her at her federal job. She started with the post office as a janitor in 2004, then became a rural mail carrier. For over a decade, she's delivered letters and paychecks on 10-hour shifts (sometimes more) under the hot Texas sun. She has a mortgage to pay, and the post office isn't allowing anyone to work from home or take time off. She has to work.  
Both of my parents have always risked their health for their jobs. To them, COVID-19 is just another day. And I, their first-generation daughter, the one that's supposed to secure the bag after college and provide a better life for them and myself, am working from home in her pajamas and lamely asking them to "stay home." What am I actually doing for my family if all I provide during this pandemic is work from home and suggest my family wear masks as they unwillingly risk their lives to save our economy?  
Minority communities were already underpaid, overworked, and underappreciated before COVID-19. This pandemic will hopefully bring to light some of the unique challenges that minority communities face as they work to save our economy. For example, racial and ethnic minority groups are more likely to live in densely populated areas, according to the Centers for Disease Control (CDC), making them potentially more likely to be exposed to the virus. The CDC also reports that "multi-generational households, which may be more common among some racial and ethnic minority families, may find it difficult to take precautions to protect older family members or isolate those who are sick, if space in the household is limited." Minorities are also more likely to live in food deserts, where access to affordable, healthy food is scarce. Black and Latino workers are statistically less able to work from home because of the nature of their jobs. These sobering factors already set minority ethnic groups several steps back from the road to COVID-19 recovery. 
So the advice to "stay home," along with the platitude that "we are all in this together" lacks the nuance or understanding that many racial and ethnic minority groups don't have many options. It's not as simple as staying at home and working from your laptop. If anything, this crisis should expose just how much of a divide institutionalized racism creates in our country. The more I see the crisis reduced to a "flatten the curve" hashtag on social media, the less hope I have that people truly understand those systemic issues. We are not all in this together — while it affects all of us in a way, some workers are carrying the brunt of the load so that the rest of us can be safe. These workers are my family, and I guarantee you I won't be thinking about how they saved our economy if I have to attend their COVID-19 funeral. 
Your migrant workers that pick your groceries, the construction workers that build your homes, the service and kitchen workers that make your food, the postal workers that deliver your paychecks and bills — many of these people are minorities that were already facing economic uncertainty and financial insecurity before COVID-19. As they relentlessly work to save our economy, it's important to remember they don't have a choice. People like me in their pajamas at home do. 
As a Vietnamese-Mexican-American, Antoinette is passionate about advocating for the communities she grew up in. She specializes in financial policy with the Congressional Hispanic Caucus Institute and runs her own academic and financial consulting practice. You can always find her dancing, laughing, and cooking with loved ones.
Image via Pexels
Like this story? Follow The Financial Diet on Facebook, Instagram, and Twitter for daily tips and inspiration, and sign up for our email newsletter here.