How (And Why) A Four-Person Family Lived In A 400sqft Studio Apartment In San Francisco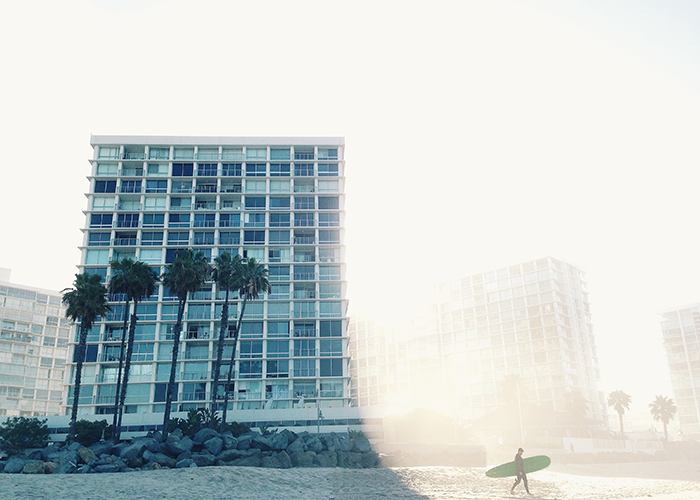 San Francisco rent prices are still setting records. In October of this year, San Francisco's median rent for a one-bedroom apartment was $3,670. The median rent for a two-bedroom apartment was $5,000. Recently, I talked to Greg Kroleski (via the internet) who, in 2011, moved into a place more powerful than the Death Star: a rent-controlled apartment in San Francisco. He moved in as a bachelor, but by the time he moved out, earlier this year, he had a wife and two children. This means that, for quite a while, Greg, his wife, and their two children were all living in a San Francisco rent-controlled studio apartment. We asked him how he's seen the rent prices evolve, and how he and his wife were able to make this work for their whole family:
1.  Can you provide a bit of background on yourself?
I grew up in Southern California and moved to San Francisco in 2011 for work. Around the same time, I started dating Suzanne long distance. In 2012, we got married and she moved to San Francisco. In March 2014, we had our first son, and, the following May, we had our second one.
2. How does San Francisco rent control effect you?
The most obvious impact was the fact that we were paying below market rent on our studio. Moving somewhere else would have meant giving up our rent control and paying market price again. Since the market prices had nearly doubled since I moved in, it meant we were looking at paying four times as much rent to stay in our neighborhood, but move into a bigger place. We could have, of course, moved farther outside of the city or to a different neighborhood, but we decided to have less space, rather than a longer commute.
3. What do most apartments in your neighborhood go for, and what does yours cost in comparison? 
When I moved in, studios were costing around $1,200-$1,500. When we moved out, we heard our studio was going for $2,200. We looked at many nice two bedrooms that were in the $3,500-$4,500/month range.
4. How did you essentially hack your apartment over the years to accommodate your family?
Every year or so, as our family grew, we had to make adjustments. When I was a bachelor, I had a twin XL bed in the corner, and not much in the rest of the place. Once I got married, I had to make room for my wife to move in, so we got a full-size bed, which was the biggest that would fit in the closet (the bedroom nook). I built a bed frame, so that it was elevated, and we could put large storage tubs underneath. We didn't make many adjustments right when our first son was born, but when he moved to a crib, we had to get a smaller couch to make room.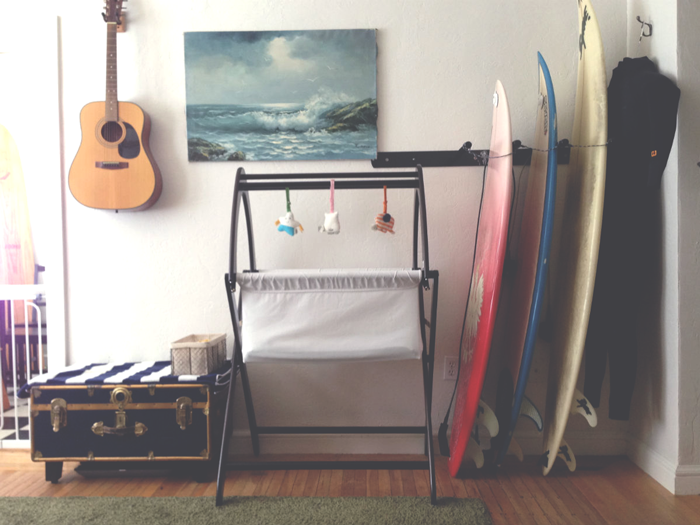 The largest change came when we were expecting our second child. That is when we turned the space that had our bed into a nursery, built a loft bed, and had to find a new place for storage, because our under-the-bed storage space now involved a nursery and couch.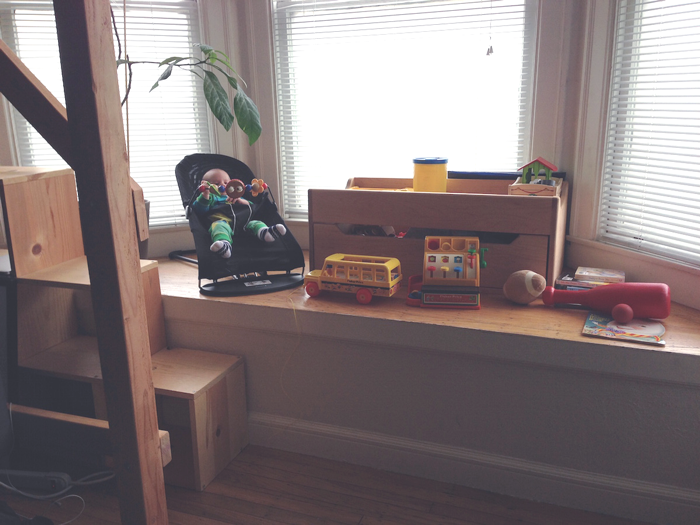 I try to be pretty handy and build a lot of things myself. The benefit of that is that you can get something custom that fits your exact needs. Building the loft bed (which next to it has a book shelf that also served as stairs), and figuring out storage space, were the biggest projects, that helped us optimize our living space the most.
5. When you started a family, why did you decide to stay?
Working at a startup can put you in a place where the future is very uncertain. You never really know if things are going to go well, or if the whole thing will fold. Because of that, we only really planned about six months at a time. Basically, every six months, we would consider moving out, talk about the pros and cons, and there were just never enough reasons for us to move.
Cost was a big factor, but so were the amenities in our apartment and our neighborhood. By 2015, we had reached our limit, though. I'm sure that in a dire situation, we could have made it work longer, but it was really hard on my wife, and so we knew that we would be moving before the end of 2015. We considered a lot of options and, eventually, moving to Seattle won out. We have family there, which was a big part of it, but it helped that the cost of living was much lower. For what we would have paid for a studio in San Francisco in the current market, we now have a two bedroom house with a yard and a garage.
6. Can you explain what makes your family so unique in San Francisco?
San Francisco has a lot of unique people in it, but we were unique because we were a young family with two children, and one income. That was very rare. I don't know many other people who were in the same boat as us.
7. What is your plan for the future (as your kids grow)?
We think it is really important to be intentional about how you live. We really want to take things chapter by chapter, but we have a few really cool ideas in mind. I've always wanted to live in an RV for a year and just explore the country, camping and visiting friends. I think that will be tough while we're in baby mode, but once we exit it, I hope we can make it work.
For now, I think our living situation will look a little more normal, being in Seattle and out of the studio, but that will allow us to focus on innovating in some other aspects of life. Now that we're in a bigger space we're going to be tempted to get more stuff, and get careless with our relationship to consumption. I really want us to be able to maintain the positive aspects of our small-space living. I hope that we won't fill closets just because we have them now. I do look forward to having my toolbox accessible in the garage, rather than buried in the back of the closet – I think it will encourage me to create more, which is something I think is really important.
Visit Greg's blog here.
Main image via Unsplash
Body images courtesy of Greg Kroleski