How I Actually Ended Up Spending More Money In The Pandemic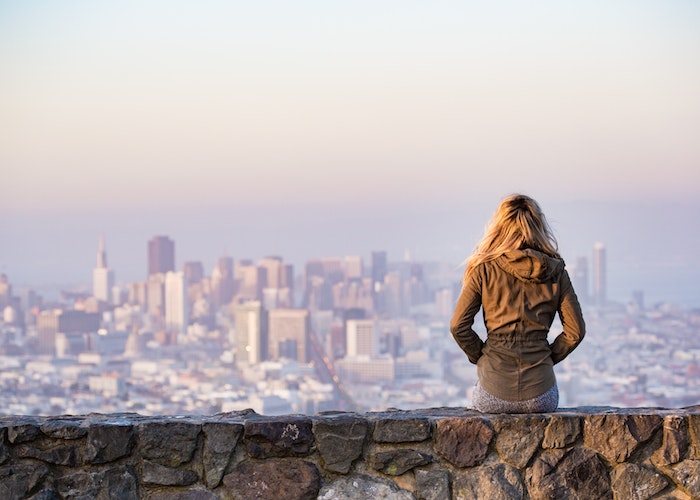 "What's our summer vibe this year?" my friend posed to the group chat back in February. 
"Silk dresses and grape cigarillos! 
"Lots of linen and no bras!" 
 "Cute boys and cute dates!" 
"Dancing with my friends!" 
Needless to say, the responses came pouring in. Being a group of 20-somethings in Toronto, at the start of a new decade, meant my friends and I were all counting down the days until the snow melted and the sun came out to shine promise onto what we hoped would be our best summer yet. 
During a spa-day back in early March, as my friends and I sat poolside and sipped from each other's drinks, we asked one another whether or not we thought the coronavirus was "serious." A week later we got our answer, as our city went into panic mode, due to the pandemic. 
It didn't take long before my friends – the majority of which work in the arts industry – were furloughed from work, thus fleeing the city in search of free rent and secure living back at their parents' homes. As for me, my metaphorical commute to the office soon became the seven steps between my bed and the kitchen table. While wondering how I could make the best of a bad situation, I was excited at how much money I expected to save as a result of being friendless in a shutdown city. 
Ironically, a summer of lockdown somehow translated to me spending even more money than the previous summer of freedom.
Here's how.

Groceries 
During the summer of 2019 (June through August), I spent $688.96 on groceries. I would take the 30-minute walk each way to get to the cheapest grocery store I knew and would price match my way through the store, making sure to rack up points I could redeem later for free groceries. 
This summer, however, I spent an almost-identical $684.69. Considering that my groceries were practically "free" every other week, that's a lot of money. Allow me to explain.
During the pandemic, I was fortunate enough to have my extremely concerned mother (who was scared of me contracting coronavirus by way of shopping at busy grocery stores), come into town with groceries almost biweekly. So technically the majority of the $684.69 I spent on groceries this summer, was mostly on non-necessities from the pricier grocery stores conveniently closer to my home. A trendy health food store opened up near me and it had the best COVID safety policies I knew in my area, so I started shopping exclusively from there, and got hooked to their $9 freshly squeezed orange juice. So while the grocery totals are very similar in dollar value, I was buying more efficiently, and getting more out of my dollar, back in 2019. 
Personals
"Personals" are what I refer to as things I buy for me — cleaning supplies, manicures, toilet paper, etc. I also include clothing shopping into this category.  In the summer of 2019, I spent $692.28 on personals. This summer, that total jumped to a whopping $1,176.38. 
Oops.
So where did that $484.10 increase come from? Well, in 2019 I didn't go too crazy — birthday gifts, a jade roller, bamboo toothbrushes, an underarm wax, oven mitts, my IBS powder, nail polish, parchment paper, body wash, to name a few. In 2020, however, I decided it was time to splurge on myself, and so I ended up with the following:
AirPods – for my solo walks, 

New running shoes & shorts

A vibrator – because dating in a pandemic sucks  

Supergoop sunscreen – $$$$

A yoga mat – RIP Gyms

An overpriced body scrub that was

endlessly advertised to me on Instagram

– it's worth noting that I am

so

smooth now

A silk dress, silk pajamas and silk bathrobe – for fancy work-from-home vibes

2 New sweaters – for fall, of course

$90 worth of Le Bon Shoppe socks – because I've canceled shoes 

…and many, many masks – the hottest new accessory
Dinner, Drinks & Entertainment
During the last "normal" summer, I spent it drinking on patios with friends, and going on late-night dates with strangers. In the end, I spent $909.04 on having a social life back in 2019. 
This summer I somehow spent $1,049.79 drinking in the park with friends. 
In 2019 $185.26 of this total was due to trips to the cafe, while $559.70 was restaurants and bars. 
In 2020, $86.07 was spent at cafes and only $144.47 was spent at restaurants and bars, with an $81.02 cheque spent on my "one and only summer patio blow-out meal". 
However, my spending at the local alcohol store and/or bars that converted to wine shops was totaled to $201.71. I also stopped buying the cheapest ground coffee at the grocery store and getting Aeropress ground coffee from my local cafe, and started buying ice cream by the pint at my favorite ice cream shop in order to support small, local businesses. 
Since the numbers on general "going out" left so much extra room in my budget, instead of saving the surplus, I used this category of cash for extra shopping, and ended up with a pink mesh turtleneck, two fancy bikinis, a lot of random stuff when local thrift stores reopened, a new lamp, an Aeropress, a full Adidas tracksuit, patio cushions, and lingerie. Again I say — oops. 
Art
Somehow this summer I accidentally bought SO MUCH ART! What started as, "Let me get a gallery wall now that I'm working from home," ended up with an entire curator making me six (6) walls of art. Having put money aside for my now-cancelled summer vacation, I thought I'd use a small portion of that to create the gallery wall I'd been dreaming about for a while. I thought I'd have a good chunk of saved money left over to then buy myself a little something, dye my hair, or re-save for my next trip. Nope! Apparently, artwork and frames cost a lot of money, and I ended up having to spend more than I already saved for my trip to cover the full cost of the art. 
In the end, my home got outfitted with $4,595 worth of custom framed art, which is $1,534.70 more than I intended to spend on my summer vacay to Portland, Oregon and Seattle. Last summer my trip to Portland, Maine & Boston set me back $4,007.66 for flights, buses, a concert ticket, lodging, and all my food and shopping needs. 
A Final Look Back 
I think at the beginning of quarantine, I saw this time as a means of treating myself to a lot of goodies I typically wouldn't purchase in the pre-pandemic era. I'm (usually) really stringent with my budget, so my idea of "letting loose" was to fill my home with things that would make me momentarily feel good, or look good on Instagram, since we're not headed out anywhere, anytime soon. 
Looking back at it all, and seeing this summer's numbers in comparison to 2019, I do feel a bit silly for how overboard I went, but when it comes to personal finance and budgeting, I think an awareness of how you allocate your funds is most important. Sure, I spent lots of money I didn't need to, but because I tracked each dollar, I also knew I had enough for these frivolous expenses. I also know how to adjust my budget in the forthcoming winter months to curb my spending back to an appropriate level. I also don't think I should regret any purchases made this summer, especially since it's been the strangest summer of my life. In a few years time, when we can finally leave the house sans mask, or (safely) drink a cup of coffee in a cafe, I won't think about the extra $99.34 I could have had in my bank account, but rather, I'll look cute in my pink mesh turtleneck and think how crazy it is that we even got here. 
Hailey is a homebody. Follow her social medias @hailmast.
Images via Pexels
Like this story? Follow The Financial Diet on Facebook, Instagram, and Twitter for daily tips and inspiration, and sign up for our email newsletter here.