How I Finally Became Happy My Senior Year Of College After Years Of Hating It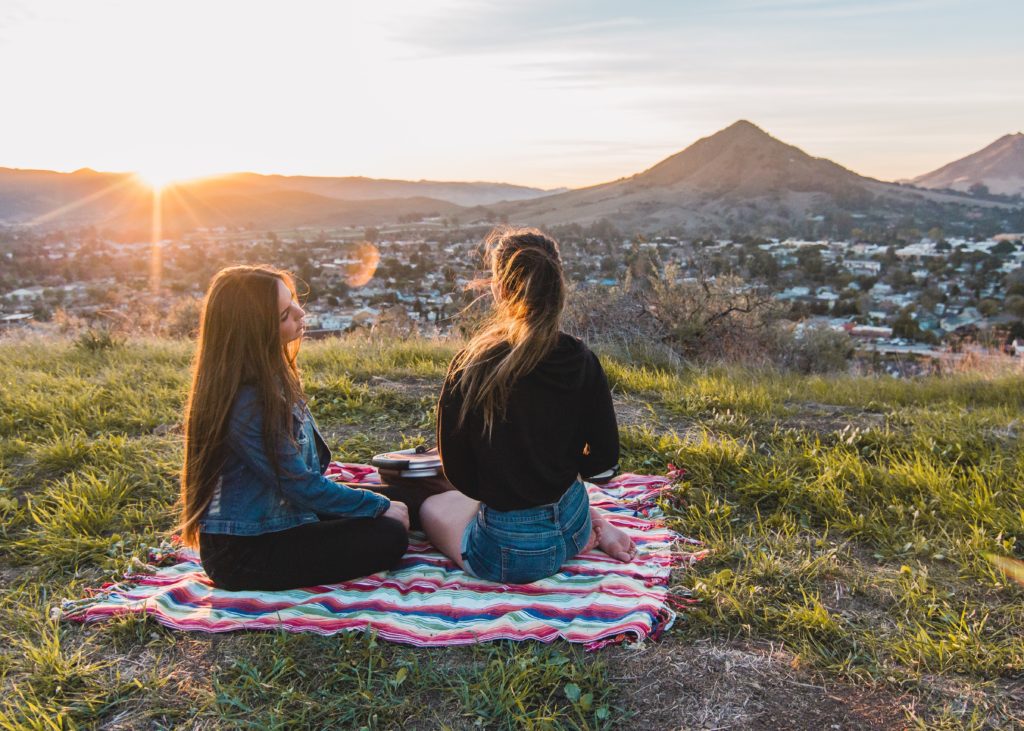 Happier & Healthier is a column dedicated to providing real-life reflections, post-grad life advice to make you feel less alone, and tips to help you live the best life you possibly can. 
Say hello to 18-year-old me. I was attending Towson University, located about half an hour away from Baltimore. I was scared and nervous, but mostly optimistic about my college career. After all, I was told constantly that I was about to have the "best four years of my life." But of course, that wasn't the case for me.
I was an undecided major as a freshman, and I was taking a lot of general studies classes that I despised. I struggled with math and had to take developmental classes due to my exceptionally low SAT scores in that area. I grew up in a bubble of liberal politics, of diversity and tolerance, right outside of Washington, D.C. But Towson was an unfamiliar mix of sorority blondes, spray tans, and a lot of Trump lovers. I felt incredibly alone despite having a few friends from my hometown — who were also feeling the same way.
During my sophomore year, my struggle deeply intensified. In that one year, I experienced some of the greatest lows I had ever gone through. My first heartbreak and a sexual assault had changed me from a bubbly and hopeful person to an isolated and deeply troubled 22-year-old. Despite reaching out for help, the environment of my school was not comforting to me. And despite my wonderful friends who consoled me whenever they could, I still felt so, so alone.
I spent more weekends than not heading back home trying to run from my college life. I truly hated it. I hated walking into the library and having people silently judge me. I hated the cliques who made me feel like I was in middle school again. I hated dorm room living and taking classes that I wasn't even remotely interested in. I hated my brain, that told me I was in danger every second of the day. My anxiety was skyrocketing so intensely, that I felt unsafe and vulnerable everywhere I went.
Before my junior year, I tried transferring to my dream school in Philadelphia, but despite the scholarship I received, I couldn't afford to leave. And that's when it finally hit me: running away wouldn't help anything. I had to keep going. I had to keep trying, for the sake of wanting to live and wanting to finally be happy after so many years of being miserable. So for the first time in a long time, instead of feeling sorry for myself, I finally started to take responsibility for myself, for my mistakes, and for my failures.
Say hello to 22-year-old me. I was finally a senior and finally starting to find happiness. So, how'd I do it?
1. I got out of bed.
I realized that sleeping till noon, missing classes and barely eating was not going to get me any closer to being happier. So I had to force myself to leave my room and to go out and try to be a human being again. And let's be honest, trying to make friends in your twenties is a lot harder than being a 5-year-old kid in kindergarten, but luckily, with the help of teachers, and amazing friends, I began to see the light on the other side.
2. I let go of expectations.
I let go of everything that I used to think college would be, and how happy I thought I would be in it. I let go of my need to get straight A's, of my need to find my soul mate, and of my need to be prettier and more loved than everyone else. I let myself just be unapologetically me. I stopped trying so hard in my looks, and instead, let myself be authentic and honest. In doing so, I ended up with lifelong friends I wouldn't have met otherwise.
3. I dived into making my college a better place and environment for others.
I volunteered. I rallied with sexual assault survivors. I met friends from new walks of life. I went out of my comfort zone, to reach my full potential and I'm so happy I finally found that courage inside of me. While initially, it was uncomfortable walking into a room full of people I didn't know, and cheering alongside strangers who had been through the same trauma as myself, it also made me feel whole. Contributing to the world, whether it be cleaning the environment or tutoring students in need, is a humbling experience that will remind you to not take life for granted.
4. I went to therapy.
Therapy had always used to make me roll my eyes and scoff about how it didn't help anything, but when I was in my darkest moments, I knew I had to at least try. And you know what? It wasn't a miracle worker. Nothing is! But talking to someone who has no bias about you or any other factors in your life really does put your life and your problems into perspective. And whenever I stepped out of my therapist's office, a huge weight was always lifted from my shoulders.  
5. I let go of people who brought me down.
I realized that constantly spending my time with negative people, and being around my so-called friends who tried to tear me down instead of lifting me up were destroying my self-esteem.  I lost one friend who I used to think would be my future bridesmaid. I lost another friend who told me she didn't believe I was sexually assaulted. I lost another, who tried to sabotage other real friendships that I had. This part wasn't fun. It wasn't fun for any of us, but it needed to be done in order for my heart to heal.
*****
Believe me when I say that none of this was easy. But I'm so happy I learned how to be happy. I'm so proud of myself for learning how to fall and thrive at the same time. College is really hard, and it's a tough transition right out of high school. But please know that it does get better. And that one day you're going to meet your future bridesmaids, and lifelong best friends. You are not alone, and you will eventually meet your tribe of awesome people.
Step outside of your comfort zone. Talk to the girl who sits next to you in your Sociology class. Have an open heart and an open mind. And never, ever forget your worth.
Lauren Jarvis-Gibson is a writer and poet based in the Washington metropolitan area. Since 2015, her work has been published on Thought Catalog, Huff Post, Allure and YourTango. When she's not writing, Lauren enjoys defending Taylor Swift whenever she can and serving wine in her hometown of Takoma Park. Her poetry book, Paper Hearts, is available on Amazon here. 
Image via Unsplash
Like this story? Follow The Financial Diet on Facebook, Instagram, and Twitter for daily tips and inspiration, and sign up for our email newsletter here.