3 Rules I Followed To Stop Buying Fast Fashion & Build A Long-Lasting Wardrobe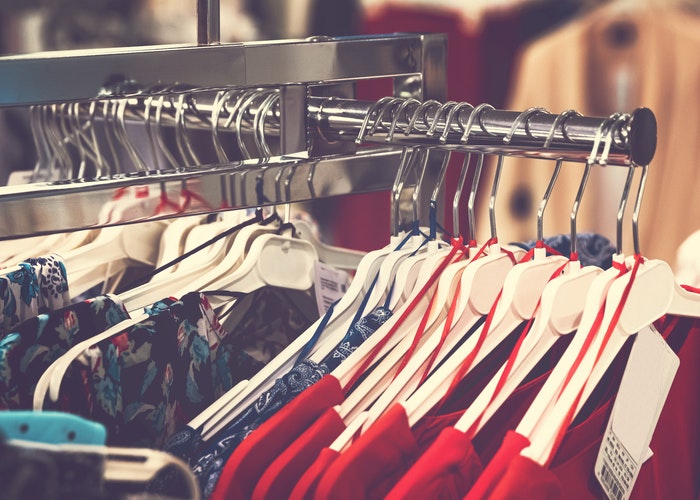 Fashion has always been a creative outlet for me. I love getting up in the morning and planning an outfit to reflect my mood or an outfit to give me the extra confidence I might need for the day. I would pore over Instagram accounts, blogs, and websites to gain inspiration for my wardrobe. And I was constantly shopping for clothes. If I was stressed, I would shop online or stop by a fast-fashion store like H&M or Zara to buy the latest trend.  If I had a night out or a fancy date planned, it was a great excuse for a new outfit. Even our regional grocery chain had a trendy, fast-fashion section right in front of the cash wrap. I've probably spent hundreds of dollars buying clothes while shopping for broccoli and brie.
But in my pursuit of trendy, easy outfits, I started to notice something: Every few months I would end up with a heaping pile of clothes to donate. Some of those items I purchased less than twelve months ago. Some of them I barely wore or couldn't remember buying. I was throwing money away on fleeting trends. Then I learned about the environmental consequences. According to a report from the UN Environment Program, an equivalent of a garbage truck of textiles is landfilled or burned every second. When I learned about what happens to our unwanted clothes, I committed to reducing the clothing I consume and quit my obsession with fast fashion. If you're in the same boat, these strategies might help.
Do an audit of your existing clothing.
Seeing the piles of clothing I owned made me sick — I had so many. There was no way I could wear it all. This realization motivated me to buckle down and downsize. After laying all of my clothing out in front of me, I separated them into three piles: pieces I love, pieces I wear often, and pieces I don't wear at all. Separating my clothes into these categories helped me notice what type of clothing worked with my current lifestyle and personal style. This helped me become a better, more intentional consumer.
For example, I love pencil skirts and thought they would be a great wardrobe staple for work. However, they don't really work with my lifestyle of commuting by bike, and I also have a fairly active job. My wardrobe audit taught me that pencil skirts don't work for me, but I found that A-line dresses do.  Knowing what kind of pieces actually has taken away my bad habit of buying the latest trends without thinking too much about it.
Follow the 30x rule.
I still love fashion, and putting together an outfit is still my creative outlet. But now, I'm a lot more conscious of my purchases. When I shop, I ask myself if I will wear that piece of clothing at least thirty times. This has helped me shop differently in a few different ways. 
First, I shop for quality. A lot of fast fashion brands are not made to handle many washes. If the clothing item can't last at least thirty wears, then it's not good for the environment — and not worth my money. I also shop more logically now. I no longer shop for what looks good, but also what is practical. If I have to wear a piece at least thirty times, then it has to match quite a few of my other pieces. It also has to fit my lifestyle and be comfortable. 
Finally, I don't shop for what I don't need now. The 30x rule helps me stop buying more clothes than I can wear. Even though I feel confident and comfortable in A-line dresses, I will not be buying any more soon. I have enough as it is, and if I bought more I would wear them all less, breaking the rule.
Follow the "one in, one out" rule.
I have a specific number of hangers in my closet, and I will not buy more. So if I want to buy something new, I know I'll have to give up a piece of clothing from my wardrobe. It might seem like a counterintuitive rule because you're still getting rid of clothing, but here's the thing: This strategy prevents a lot of impulse purchases, so I'm still consuming less over time. When I want to buy a new piece of clothing, I really have to think about it. Is it replacing a worn-out item? Do I love this piece enough to dethrone another? Will it add happiness that will last beyond the initial purchase and the first few times I wear it? Very few trendy, fast fashion items past this test.
Since quitting fast fashion, I can honestly say I have no regrets. It didn't happen at once, but over time, I've become a more intentional and conscious consumer. Now when I get dressed in the morning, I know my clothing works for my body and my lifestyle — and are pieces I'll enjoy for years to come.
Ginnie is a cycling enthusiast who lives in Toronto. You can often find her cycling on the streets of the city with baguettes or desserts in her basket. You can also find her on Instagram.
Image via Pexels
Like this story? Follow The Financial Diet on Facebook, Instagram, and Twitter for daily tips and inspiration, and sign up for our email newsletter here.