How I Found Female Mentors In An All-Male Work Environment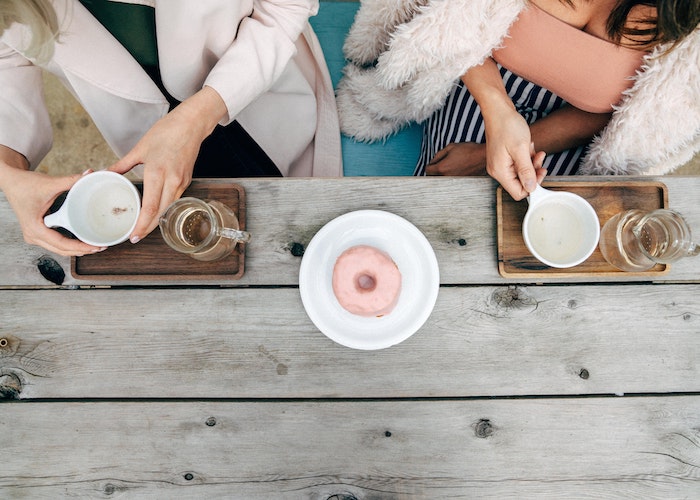 Female mentors have long been crucial to my growth and learning. From high school teachers, college professors, and older alums, I've rarely found it difficult to seek female role models. Upon entering the professional world, however, I encountered an unexpected change. As a young woman in a male-dominated industry, I've been the "oldest" woman on my team for the past two years. Needless to say, it's been tough to find women to mentor me through career transitions, let alone women of color. 
Thankfully, I've relied on my alum network, volunteer connections, and other networks to build a core group of female mentors I can turn to. Even if you didn't attend an all-women's college like myself, you can still use these tips to find women allies and mentors in your field. 
1. Alums
As mentioned above, I attended an all-women's college. While the obvious pluses to this include an all-female alum network, I must point out the unfortunate downside, which is that the number of alumnus actually working in male-dominated industries, remains low. 
Nevertheless, I've found it incredibly valuable to reach out to alums for informational interviews and advice. From my experience, the majority of colleges and universities offer graduates a database of fellow alums, complete with their professional resumes. In order to cultivate mentors, I've reached out to multiple women, even if their careers didn't align perfectly with my own. While only 50% of those I reached out to responded to me, their information was invaluable and the phone calls and FaceTime sessions we had allowed me to build a relationship. Most of these alums didn't even live or work in the same region of the world that I did, but I was still able to follow-up with them virtually and continue to engage their interest through my genuine curiosity and ambition. 
Given the ongoing virtual nature of our world, at present, this method of cultivating a network will continue to be important. I recommend beginning with a detailed, but concise, email outlining why you'd like to connect and then, prior to your call, thoroughly researching the alum you're about to speak to. Besides the major achievements on their resume, I suggest looking up any notable events during their time at your college, or the activities on-campus that they participated in. The advantage of relying on alums is that you can both connect on your shared experiences attending the same college or university and I recommend emphasizing that. By discussing non-professional aspects of your lives, a bond is more easily built, even via the virtual space, which allows you to develop a mentorship beyond a mere informational interview. 
2. Volunteer Opportunities 
Women, unsurprisingly, participate in volunteer services with much more frequency than men. While men are more likely to serve on the board of a corporation, women are much more likely to serve on the board of a nonprofit. From my experience, most board members choose to volunteer their time towards an organization that they feel passionately about because they are retired, currently stay-at-home parents, or have achieved a rare form of work-life balance. In other words, most of these women tend to be older, with significantly more professional experience than any young professional brings to the table.
A nonprofit board seeks to improve their diversity with regards to age as well, though, which gives younger volunteers an opportunity to join, if they're interested, and my own experiences on two nonprofit boards have allowed me to cultivate a stronger network of female mentors. While many of these women don't have experience in the same industries I hope to work in, they do have a much larger network than I do which I've been able to tap into. Serving on a board together has given us common ground and I've sought to broaden those connections with coffee dates and calls outside of our nonprofit work. I highly recommend finding a community outside of work with older women—this could be a sports team, a choir, an orchestra, etc.—and using that common ground to build a broader coalition of female mentors. 
3. Friends/Colleagues/Other Networks
Finally, tap into the networks of your friends! While my own career is male-dominated, many of my friends work in industries with female mentors and they've been more than gracious in sharing those connections with me. Whether it is through asking for advice on my behalf or introducing me through a lunch or dinner, I've benefited immensely from the generosity of my closest companions. I recommend making it known that you're seeking female mentors—you'd be surprised at the responses you'll receive! I've even informed other male colleagues of mine that I'm hoping to find female mentors and they've been able to direct me to women at other companies or in other departments who I can form connections with. As such, I'd encourage others to reach out to the communities they already belong to and reframe their concept of a mentor, too. 
In my experience, female mentors even in other professions have nevertheless been valuable in offering advice regarding negotiations, leadership, and assertiveness. As women, we all face a certain degree of commonality in the workplace that they can speak to, despite an alternate career path. Moreover, it's always valuable to have older women to look to in terms of inspiration, or even to inquire about tough career decisions such as marriage and children. Female mentors, I've found, are also more likely to go out of their way to find the appropriate connections you need, even if they can't offer you professional advice themselves. While I'm certain male mentors are also invaluable, I've been incredibly grateful for the women who have supported me and encouraged me down career paths and risks I wouldn't have felt comfortable pursuing without advice.
I hope these tips can help others cultivate the female mentors they seek, too, and contemplate unique ways in which to find these mentors in our lives.
Keertana Anandraj is a recent college grad living in San Francisco. When she isn't conducting international macroeconomic research at her day job, you can find her in the spin room or planning her next adventure.
Image via Unsplash