How I Make 100% Of My Purchases On Credit Cards & Stay Good With Money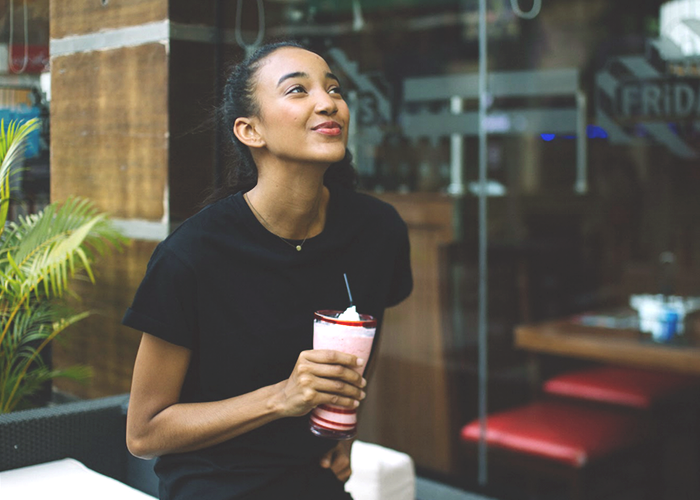 Much like physical fitness, being financially fit looks different for everyone. The paths we may take to get there and the strategies we may use may vary greatly, but all that matters is using the methods that best meet your individual needs. When it comes to budgeting, I've tried just about everything. I've made spreadsheets, used apps like Mint, stuck to cash-only budgets, and restricted myself to very small spending limits on luxuries like entertainment, eating out, and traveling. However, I've found nothing works better for me than making all my purchases on credit cards.
Growing up, I had a negative perception of credit cards. They always seemed like something that people used to live outside of their means and rack up debt. Naturally, I wanted no part of that. Even to this day, when I casually mention that I use credit cards for all my purchases, there is a little bit of me that feels guilty or shameful as if I'm being judged by others who — like me as an adolescent — think that credit cards are only for living on credit.
Of course that's not the case, and I learned that firsthand when I applied for my own credit card before starting my junior year of college. Admittedly, I had horrible reasons for initially applying for my Citi credit card — mainly that I loved the sleek look of the all black card. I figured if I couldn't have the elusive American Express Black Card, I could at least have a black card in literal terms. Additionally, I wanted a way to buy all the Forever 21 and Charlotte Russe bodycon dresses my closet could handle — while hiding the purchases from my mom's critical eye. At the time, I had a checking and savings account linked to her Bank of America account. While that was great for getting quick cash for books or trips home, that wasn't so great for when my mom criticized my relentless habit of buying $20 dresses that I'd wear once or twice before they fell apart. What can I say? I was 19.

Spoiler alert: I was approved for the card. My initial limit was $1,400, and I enjoyed paying my bill each month more than I loved buying clothes to wear to parties. That was shocking, to say the least. But luckily, it sparked a responsibility that I'd never had before, as I enjoyed staying on top of my spending. Growing up with a father in banking, I was aware of the perils of poor credit scores and lack of disposable income. I would not let that become me. And although I drunkenly bought a Louis Vuitton wallet on one occasion and have purchased things from Amazon Prime on a whim more times than I can count, I generally have been smart about using my credit cards. Thou does not easily overcome credit card debt, I sometimes remind myself. It's one of my financial commandments, and I'm determined not to put myself in a situation where I'm living beyond my means simply because using credit cards make it easy to.
That first Citi card had terrible rewards, but what could you expect from a 19-year-old applying for a card just because it's black? After a couple years — once I was more equipped with personal finance skills — I asked Citi if they'd let me keep my account but change card types/rewards plans. The answer was yes, and that card has been my oldest and most used card to date. Here are the three cards I use, and why I use them:
Citi Double Cash
This is my favorite card. I get 2% cash back on everything, and yes, it is just as good as the commercials make it sound. Because it is a MasterCard, it is accepted essentially everywhere, and I love that I constantly earn rewards without worrying about categories. At first I scoffed at the idea of even bothering with a credit card when you're earning such little cash back, but over time it does add up. The way I think of it is, for every $2,000 I spent on the card, I earn $20. When you're making virtually every single purchase on a credit card, that amounts to hundreds of dollars over the course of the year. That could be enough to pay a month's rent, or your car insurance, or take a fun little trip somewhere.
The cons? Citi is really tough on balance increase requests. I've been a card holder for 5 years and can count on one hand the amount of times I didn't pay my balance off in full each month. Even with a recent increase, the credit limit on this card is still the smallest, which makes it a huge hassle when I want to use this card for travel expenses, luxury purchases, and other large splurges.
Discover Cash Back
The great thing about my Discover card is that I get 5% cash back on rotating categories, and 1% cash back on everything else. The categories alternate between gas and shopping (my faves) to ones with significantly less utility for me, like home improvement stores and bulk shopping centers (think Costco, B.J.s, etc.). I have a huge limit on this card, so I keep it around. It's my "rainy day" card in case of an urgent emergency, and I use it in lieu of my Citi card when buying something in the 5% category. For example, right now the category is restaurants. Since I go out to eat a lot, this is a major win. I'll use my Discover card when I'm out to eat, and then continue using my Citi card for everything else.
Besides the rotating categories, it's annoying that Discover — much like American Express — isn't accepted everywhere. (That could potentially be a huge road bump in my rainy day backup plan, and I realize that.) I travel to Canada often and cannot use my Discover card there either, which is a bummer. Between its limited acceptance and its rotating categories, it's hard for this to be my number one card. However, I continue to use it, because Discover's generous credit limit is great for my credit score, and their mobile interface is easy to use.
Chase Southwest Rewards
I was super excited when I was approved for this card through Chase, because I almost exclusively fly Southwest. (Southwest's customer service has always been amazing, and I don't take that lightly.) Chase frequently offers a huge bonus in Rapid Rewards (Southwest's branded airline points), and the offer was 40,000 points if you spend $1,000 in the first three months of having your card. It was that easy.

In addition to the sign-up bonus, which I received automatically in my Rapid Rewards account after spending $1,000 on my Visa, you also receive 2 points per $1 spent on Southwest flights and their Rapid Rewards Travel Partners. With all other purchases, you earn 1 point per $1. For this reason, it is my third favorite card. The Citi card offers 2% cash back no matter what, and my Discover card offers 5% on certain categories and 1% on everything else. This card, however, is essentially 1% back on all purchases (besides Southwest travel) — which is decent — but I'd generally rather receive my rewards in the form of cold hard cash. All that being said, I don't have anything bad to say about my Southwest Visa. Besides travel purchases, I use my card here and there to keep it active and accumulate points rather passively, but it's not the number one card I pull out of my wallet.
*****
In addition to the very tangible rewards I receive from using my cards, I like having a visual breakdown of exactly how I spend my money. Instead of using cash and then referring to a spreadsheet — or even worse, trying to use a mental note to remember — I can simply log into my credit card accounts and see where I'm spending my money. Did I spend too much on shoes last month? Was I really good about not racking up bar tabs this quarter? I can view it all in a precise breakdown. This works best for me, because it's basically a recap of my spending conveniently thrown in my lap. Doesn't get much easier than that.
For some people, cash can be an easy method to budget, and for good reason. Each method of keeping yourself in check and accountable is quite alright as long as it works for you. But in my case, I lose track of cash way too easily — or spend it on a whim on fancy holographic scratch offs. (Hey, at least I'm honest?) And debit cards, while more convenient than cash, are just credit cards without as many perks, in my opinion (that is, when you know you're going to pay your credit card bill in full, anyway).
With my credit cards, I can keep track of all my purchases, analyze my monthly spending habits, and earn rewards in the process. Because to be honest, if I'm going to spend the money anyways, why not at least get something back at the end of the day? Earning between one and five percent of your purchases back in the form of cash or the freedom to travel ain't half bad if you ask me.
Alexis Dent is a poet, essayist, and the original White Collar Dropout. Her first poetry collection, Everything I Left Behind, is forthcoming this fall. In the meantime, read her newsletter for dreamers, doers, and hustlers by joining the White Collar Dropout collective.
Image via Unsplash