How Living In A Small Town Has Completely Changed My Emotional Attachment To Money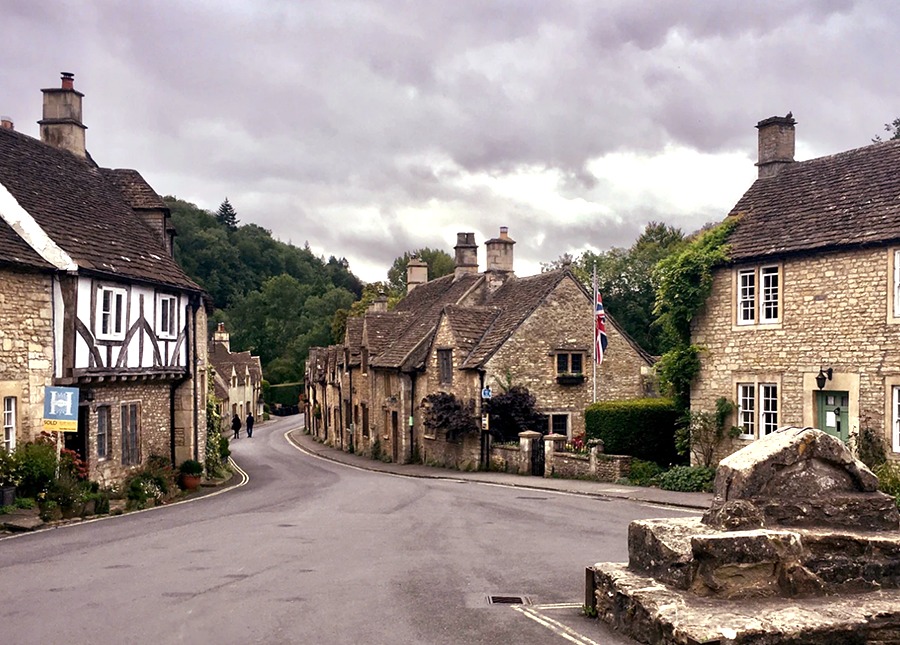 Today, I am walking to the endocrinologist's in my new shoes, and I am in agony. I bought a pair of Barratts shoes for £120 ($155), made by hand in my home town. They will last for up to 20 years if I look after them and get them re-soled before winter each year. I just have to break them in and resist the urge to take them off and throw them into the bushes.
My Midlands hometown is famous for its shoes. Japanese entrepreneurs arrive at our factory shops with empty suitcases so they can fill them with the coveted brogues and Oxfords that they can charge six times the price for in Tokyo.
A few weeks ago at a dinner party I met the former manager of one of these factories, I brought down my new shoes and he examined them like a piece of sculpture. I was a little embarrassed when he turned them over and the beautiful beige soles were already scratched and grey with tiny pieces of grey gravel embedded in the sole. He told me this was the sign of a good shoe, that cheap soles stay looking perfect even after you've broken them in.
I bought my new shoes from a small shoe shop on St. Giles Street after trying them on and promising the shop assistants I would come back for them after I got paid. They were very persistent with following up with me — "We still have those size sevens for you to try on, we can keep the shop open if you want to come in after work." Over the next few weeks, I must have received around six or seven non-aggressive, friendly reminders that my shoes were waiting for me. Eventually, I stopped dithering and went back in for them.
My hometown has been through a rather interesting transition in the last few years. Makeup, the foolproof economy of cheering women up during recessions, has slowed to a halt and its lack of sales has caved in several large department stores. They have been replaced by a throng of tiny centrally located shops and cafes; the business owners are charming, and everything is slightly more expensive than I'm used to paying. Visiting town used to be a mad rush around, grabbing a few tatty, cheap things to cheer myself up. Now, though, I wander in, grab a coffee and some lunch, talk to the chefs, have another think about those tanned shoes I bought last week, I will buy them when I get paid. Go to the market, buy some fruit and flowers, pick up a bag of coffee beans — each purchase feels serious, committed, a noticeable chunk of my salary, almost hand to mouth.
Random bits of tat don't seem to find their way into my house like they used to. It sounds odd, but I can almost see the work I did that earned me the piece of clothing or pair of shoes in my home. The frustrating day at work or the tense discussion with a coworker literally materializing into something that I eat or wear on my body or feet.
I never realized it before, but there is something vaguely insulting about buying something cheap that falls apart after you've gone through the frustrating process of earning the money to pay for it. It literally feels as though that time and energy and enthusiasm you put out into the world has dissolved into nothing when your dress rips or the sole of your shoe starts coming off as you run down the street trying to catch a train. There is nothing more frustrating or more insulting to your self-worth.
Of course, shopping locally doesn't have the same rush as impulse buying at a large chain store, and aside from being more expensive, it feels like you are taking on a long-term project. I remember last year I had been lusting after a beautiful leather backpack, walking past it again and again for six months, each time convincing myself that it was too expensive and I didn't need it. Then, one day, I walked past the shop and almost sagged with irritation. They were having a bloody sale. The bag was 40% off, I loved it, and I was going to use it for the next five years at least. I felt like I'd just been served an electric bill on a cold Tuesday morning, and now I couldn't afford to do anything fun for the next two weeks. The bag, however, is an utter joy to use — it's the perfect size, style, and color, I get a daily thrill from carrying it.
Maybe it's because I'm getting older, but I feel more of an emotional attachment to everything, I feel it for my family, my friends I've known since I was a teenager, the hometown I was born in, grew up in and am currently living in. I can't stand the idea of owning something I'm not going to use or something that will break easily after I've bonded with it. As I enter my thirties I am interested in relationships that are built to last, constructive routines, and financially contributing to my hometown's budding small business economy.
Phoebe Prentice-Terry is a writer, art dealer, and survivor of David Cameron's various experiments in human misery. She likes Gin and Tonics, French skincare products, and is most proud of her collection of Wolford bodysuits.
Image via Unsplash
Like this story? Follow The Financial Diet on Facebook, Instagram, and Twitter for daily tips and inspiration, and sign up for our email newsletter here.