6 Free-To-Cheap Items That Make My Bedroom Feel Like An Episode Of MTV Cribs

My bedroom looks like a 12-year-old lives there part-time, but I don't care.
Personal opinion: MTV's Cribs was the most genius form of reality TV to exist in the history of entertainment.
For 13 seasons, teenagers and young adults growing up in the early-2000s had the chance to peek inside the homes of real-life celebrities, like Mariah Carey (one of my fave episodes), Shaquille O'Neal, LeAnn Rimes, 50 Cent (never forget his fridge of pink Vitamin Water), Alanis Morissette, Beyoncé, and many others.
We witnessed bizarre item placements and personal collections, like Emmy Rossum showing off her "wall of inspiration and her "crazy amazing" speakers, which, looking back at it now, was such a pure moment. We were blessed with the discovery that rappers Lil' Wayne and Birdman had an actual jacuzzi in their living room. I am still not sure if all that humidity trapped in a house would be considered safe, or I idea, but I digress.
We were even privy to actress Melissa Joan Hart's Shirley Temple obsession — I mean, her extensive poster collection — and her  paper towel holder made from her grandmother's old music box. She explained she didn't know what else to do with the family heirloom, so, napkin holder it is!
Ultimately, what made Cribs so successful (and presumably why it's making a comeback in 2021), is that it allowed famous people to unabashedly share their sometimes weird, quirky, and many times disproportionately lavish belongings. It was a voyeuristic experience that simultaneously inspired us, infused us with a little envy, and also reminded us that celebrities inexplicably treasured things the way we treasure things. Except most of us probably don't own Versace bed sheets (lookin' at you Missy Elliott.)
And while many of us probably won't accumulate that absurd amount of wealth (although some Cribs episodes were surprisingly tame — Sugar Ray once proudly showed off one of those bird clocks that chimes a different bird calling at every hour), we all have a funky possession or two that we, for whatever reason, don't ever want to get rid of. It reminded me of how, no matter how hard I try to pare down all the crap I have in my house, there are some items I own that I'm weirdly proud of and will never toss. While I'm not a huge trinket collector, I do have a few ornamental belongings that may not "fit" with the interior of my home, but that I display regardless.
After all, I'm a grownup now, and I do what I want (South Park reference, anyone?)
Here are a few of the items currently chillin' on display in my crib.
1. My unicorn cat pillow plush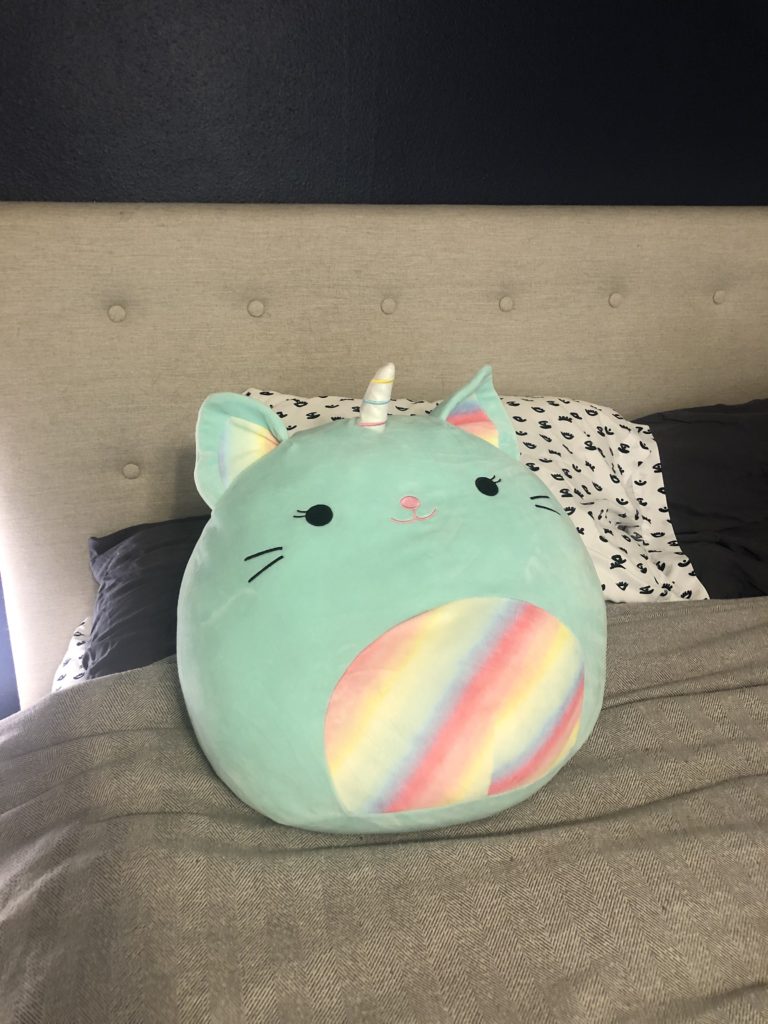 This was a $10 impulse buy from Costco that I cannot explain. Is it a cat? Is it a unicorn? Is it the best pillow I use when I'm feeling inescapably sad? Yes to all three (the cat and unicorn part is an educated guess.) I realize this makes my bedroom look like a 12-year-old lives there part-time, but I don't care. There are deep, mystical forces that drew me to the unicorn-cat and it's best I don't question them. This just gives me joy, period.
2. A hand-me-down USSR propaganda banner my parents gave me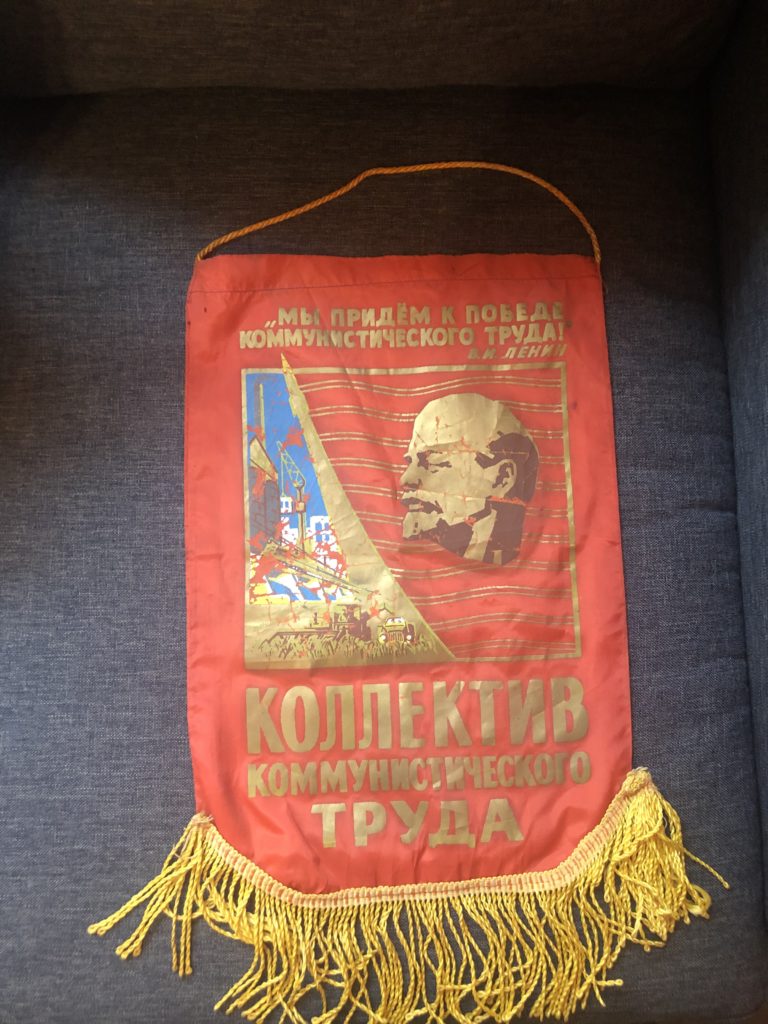 My Russian is terrible, but this translates to something like a "a community of hard workers" which is the most Soviet thing you can really come across. It's a real banner from the USSR that my parents brought with them when they emigrated to the United States, and, as out of place as it looks, I actually hang it in my office. While I don't agree with many aspects of Communism, and I'm certainly horrified by how my Jewish parents were treated by their home country when they lived there, by hanging this banner, I'm reminded of my heritage and how hard my parents fought in Russia, and how hard they fought in the U.S. to get to where they are. Okay, my TED Talk is over, thank you everyone.
3. A ladle from Moscow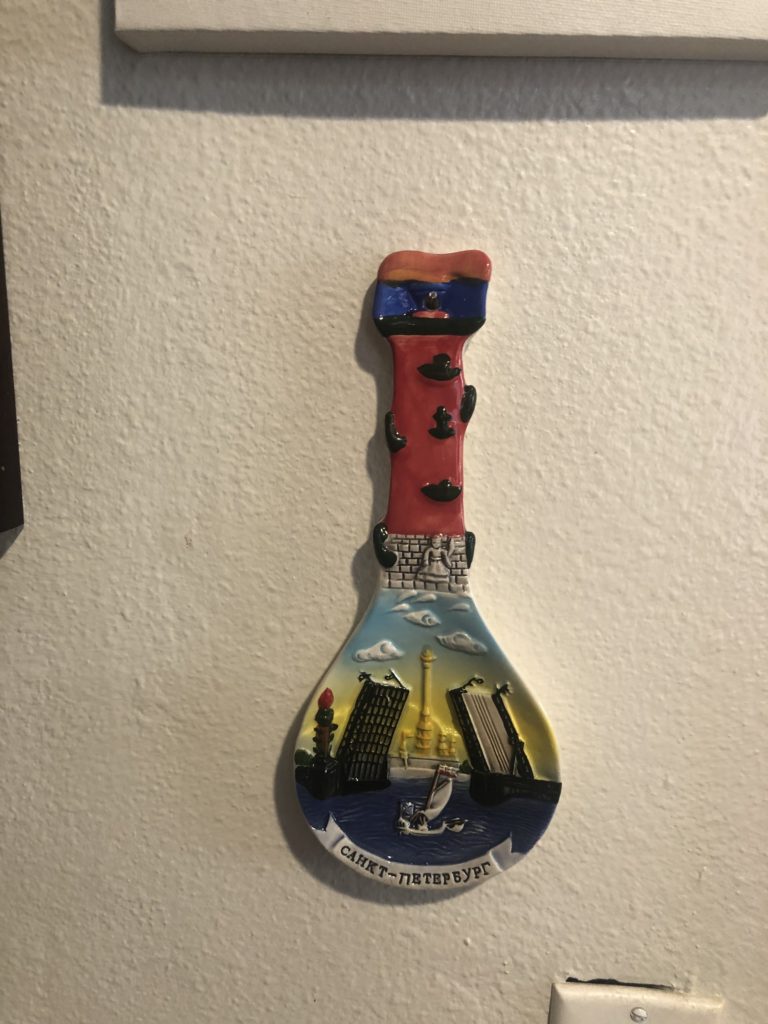 Another blast from the past from the USSR, I have this ladle hung up in my kitchen because it reminds me of my mom's cooking and how she always put others' needs first when it came to nourishment (and just about everything else).
4. A not-so-artsy art print my brother gave me when I was 7
This print is not my style at all. I'm not so much into '90s YA science fiction book cover-inspired art, but this is one of the first gifts my brother gave me that I truly remember. My brother and I have a 18-year age difference (shout out to all the other late-in-life surprise babies out there!), and it's taken a looooong time for us to find enough commonalities to just hang out and talk and be. I was a toddler when he moved out of the house to go to med school, so we didn't grow up together. We're also just super different people. It took me until I was in my mid-20s until we actually got to know each other as people, not just people who happen to be come from the same parents. I will always have this frame on every wall of every home I live in, because it ties us together.
5. A 2004 issue of Cosmo Girl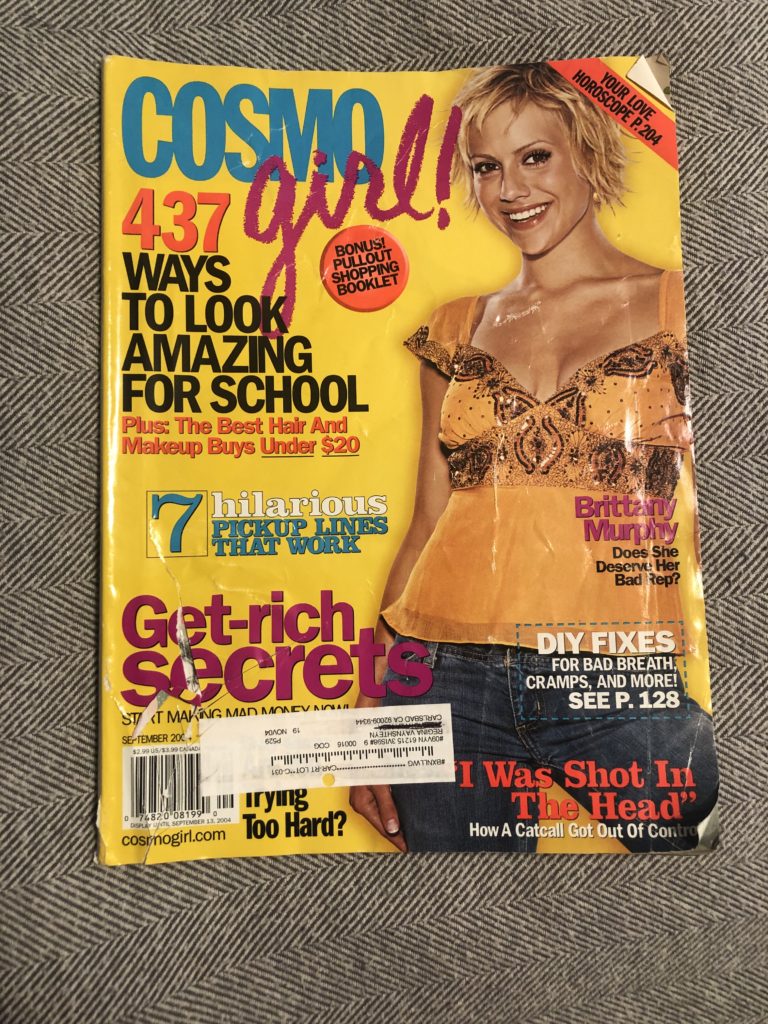 I've actually thought about hanging this up somewhere, but then didn't because it's in such horrible condition, and I couldn't justify why I'd actually want it on display. At least Cosmo Girl was spilling some financial gospel in 2004 (along with 437 ways to "look amazing for school").
6. A gold "OK" vase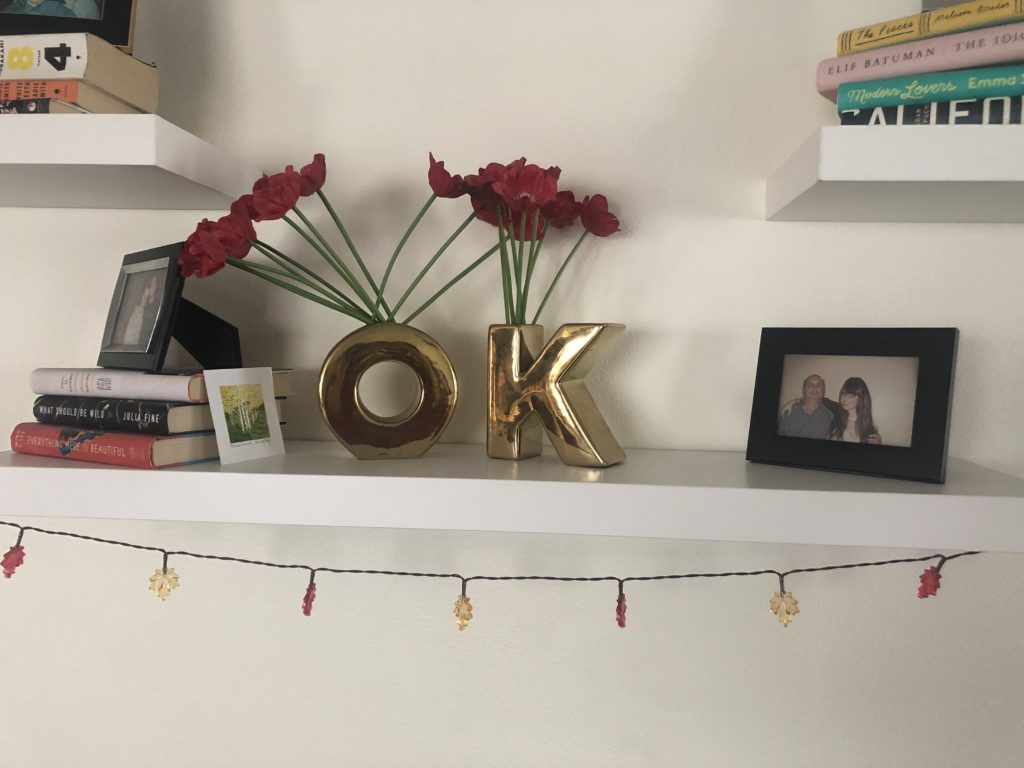 My "OK" vase is my favorite piece of home decor I own, and I get it for under $20 at Target maybe 3-4 years ago. It's always front and center wherever I live (it's moved with my three times) and I bought the red artificial poppies separately (probably from Amazon). It's another item I can't explain my love for — I just do. It's gold and bold, yet the "OK" makes it feel like a shrug, or a sigh of nonchalance. It gives my living room some attitude and makes me feel like even when things are not OK, they will be. Eventually.
Gina Vaynshteyn is an editor and writer who lives in LA. You can find more of her words on Refinery29, Apartment Therapy, HelloGiggles, Distractify, and others. If you wanna, you can follow her on Instagram or Twitter.
Image via The Financial Diet
Like this story? Follow The Financial Diet on Facebook, Instagram, and Twitter for daily tips and inspiration, and sign up for our email newsletter here.