How Black Lives Matter Changed My Dating Life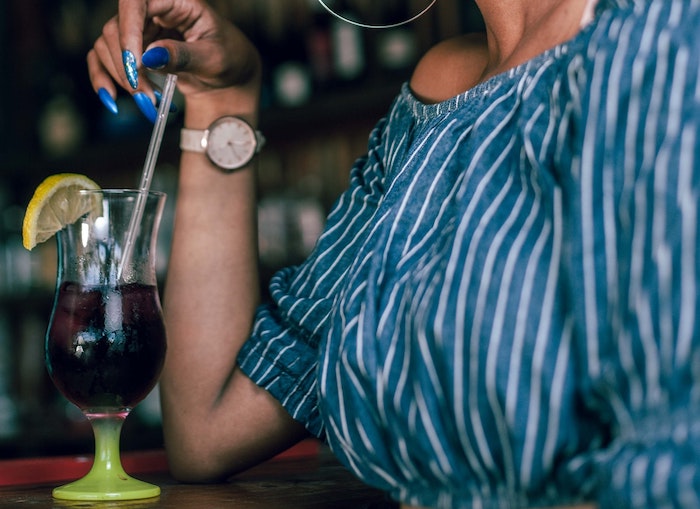 All names in this piece have been changed.
In August 2014, I moved to Beijing ready to start a brand new job and chapter in my life. I felt ready to learn a new language, position, and a whole new culture. Soon after I arrived in Beijing and was settling in, I heard the horrifying news about the brutal murders of Eric Garner and Michael Brown by police. The words I can't breathe echoed in my mind for weeks. 
My heart immediately broke at that moment. As the Ferguson protests sparked the birth of the Black Lives Matter movement, I became full of unshakeable anger, sadness, and heavy guilt.
It felt scary and unsafe to open up to the men I was seeing. What if they wouldn't listen to my experiences? What if they didn't understand the way systemic racism works?
As a Black woman living in Beijing, a large homogenous city, I felt very safe. Besides the occasional comment about my curly hair and not being able to get a cab easily, I felt privileged to only experience those racial microaggressions. I never once feared for my life in Beijing based on the color of my skin. I liked the feeling of safety Beijing gave me.
As I grieved the loss, I started opening up to close friends and family about how I felt and what we could do from afar. It was difficult to talk about the inhumane way Black people were killed so carelessly and how it hadn't changed for generations. Even though I felt comfortable telling them, I kept my feelings relatively quiet from the men I was dating.
I only spoke about the Black Lives Matter Movement and the anti-Blackness in America to those I felt closest to. It felt scary and unsafe to open up to the men I was seeing. What if they wouldn't listen to my experiences? What if they didn't understand the way systemic racism works? Even worse, what if they tried to center their feelings and opinions as non-Black men as I divulge my experiences as a Black woman?
These were a few of the questions I asked myself as I started to casually date Alex* a year later. We met at a close friend's birthday party and immediately hit it off, quickly exchanging WeChat information, the Beijing equivalent of getting someone's number. Alex and I had fun and mostly went out for drinks and dinners that often ended back at my place. We talked about our family, music tastes, and Chinese politics. The one thing I hadn't directly spoken with him about was what it was like being a Black woman in America and the many racist microaggressions and blatant racism I experienced living in predominantly white areas my whole life.
That summer, two more names were echoing in my mind: Tamir Rice, murdered by police at only 12 years old and Sandra Bland, 28 years old, found dead in jail. Both sparked further protests reminding America that Black lives still mattered and something must be done about police brutality. 
After hearing about Sandra Bland, I built up the courage to finally open up to Alex. Sitting together at a local bar, I broached the subject and asked him, "What do you think about what's going on with the Black Lives Matter Movement? I've been so sad hearing about what's happening." As a white man, I didn't expect him to fully understand. I hoped he'd empathize, ask me deeper questions about how I felt and be supportive. That wasn't exactly what happened. 
I waited to see if he'd ask me about my own experiences and what I've seen allies do in my own life. He didn't. 
He responded emphatically that the many murders of Black people were horrible. As I asked more about what he's done as an ally, he started telling me that he had tried to join anti-racism groups in college but felt unwelcome as an ally in the space so he stopped going. As he relayed the story to me, my body started tensing up, and I waited to see if he'd ask me about my own experiences and what I've seen allies do in my own life. He didn't. 
At that moment, I put his comfort above my own and I changed the subject to something lighter. I didn't bring up the Black Lives Matter Movement or my own experiences with racism as a Black woman again. We continued seeing each other for a couple more weeks until he moved back to the U.S.
Now, six years later, I've moved from Beijing to San Francisco and have continued to date. Since that conversation with Alex, I started asking potential dates one question about race: Have you dated a Black woman before? 
Some would answer yes, others would answer no. At the time, I thought that was a great screening question to know if they wanted to hear and know about my experience as a Black woman. It made me assume they could sit with, be present, and honor my experience as a Black woman. 
I hoped if they said yes to that initial question, it would automatically mean they were saying yes to the deeper questions I was afraid to ask about systemic racism and their actual actions to dismantle white supremacy. 
I realized I could no longer be silent about race in any part of my life.
A few men I dated I discussed race and the microaggressions I faced or they directly brought it up. There was Brett,* who witnessed my former roommate's boyfriend say something racist about Black people and quickly came to my defense. There was Kyle,* who told me he wanted a girl who could backcountry ski not realizing that automatically excluded many Black women and other women of color. 
Through these conversations with them, I often shut down. I couldn't trust that they could have an honest and open conversation about race. Even with Brett, who made me feel more comfortable, I couldn't bring myself to go deeper with him. I remained complicit and silent on the more systemic ways racism showed up in my life at work and in my daily life. That was until recently.
In the last month, as I heard and saw the horrific images of George Floyd and Breonna Taylor murdered by the hands of police, I went into a deep grief. As I heard more names of  Black transgender people murdered — Nina Pop, Tony McDade, so many others —  I took a week completely off to process and be there for myself, my family, and my community. 
Their deaths woke me up. I realized I could no longer be silent about race in any part of my life. I needed to speak up about anti-Blackness in America and the prevalence of systemic and institutional racism. I knew this meant addressing race in my dating life, too. 
In early March, I reconnected with John,* who I met on Tinder, and planned a first date for March 15th, a few days after he was set to move to my area. With COVID-19, everything got canceled and we settled on getting to know each other over text, phone calls, and video calls. 
As soon as I read his words, I started tearing up.
While we hadn't met in person yet, I knew I couldn't be complicit anymore and avoid asking him more difficult questions about race, at least early on. But during my week of processing the grief, when John texted me asking how I was, I told him the truth. I felt sad and angry about all the Black people who'd been murdered and how exhausting it was being Black in America. I was honest that I wasn't sure how he'd react to me bringing it up and asked if he was someone who spoke up and took action against racism toward Black people.
While I knew he experienced racism as an Indian-American man, I wasn't sure he would understand the depth and pain of the systemic racism against Black people. Initially, he told me how he experienced racism of his own and had the cops called on him for simply walking through a local neighborhood. He went on to say he also believed in fighting for racism against anyone. As he told me more, I worried this would turn into an All Lives Matter conversation. 
I calmly explained to him that turning the conversation from racism against Black people to racism against other people of color missed the point. I thought he might get more upset but John softened and his response surprised me. He explained "I stand with George Floyd. I stand with Ahmaud." In an even bigger surprise, he told me with certainty, "I will make sure I will be your shield. I will protect you at any cost. I will fight the people who are being unjust to you." 
As soon as I read his words, I started tearing up. Even though we had yet to meet in person, he made me feel more heard and seen than many of my exes. I was touched by how he pledged to show up for me and my community. I loved hearing more about the various protests he participated in and how much he liked that I believed in strong activism. He was more than an ally to me at that moment, he was an accomplice. 
I immediately felt closer to John knowing he really saw me and it allowed me to open up to him more about my past, my present, and what I wanted for my future. No matter how long we continue to date, I know I've experienced being seen not just as a girl he's dating but as a Black woman containing multitudes.
Hope Lewis is a freelance writer and author of "A Student's Guide to Being Happy in Argentina" who can often be found reading a new Black romance novel or meditating before her morning chai latte. You can connect with her on Instagram.
Image via Pexels
Like this story? Follow The Financial Diet on Facebook, Instagram, and Twitter for daily tips and inspiration, and sign up for our email newsletter here.