How My Husband And I Refused To Let Debt Bring Down Our Marriage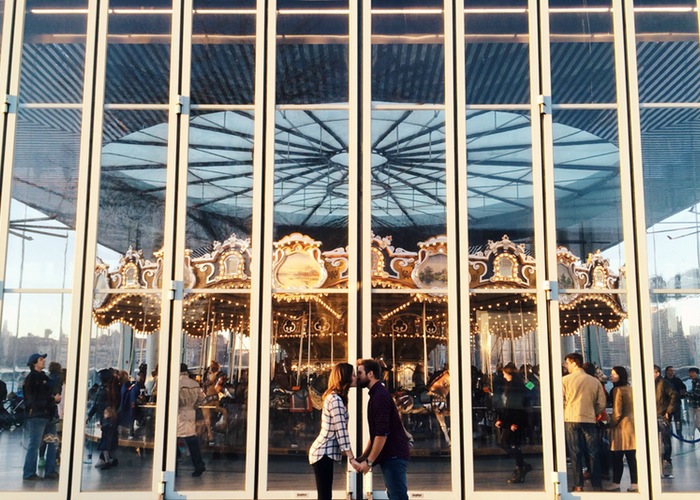 Even back when I was young, texting my best friend in Algebra classes from my Nokia phone, I knew what I wanted to do with my life: go to journalism school at Mizzou, get a great job, get married, settle down, buy a house, travel a lot, and maybe own a nice handbag (or a few). Check. Check. Check. Check.
Over the last eight years, I've accomplished most of the goals I set when I was 17. I graduated with merit from the University of Missouri School of Journalism. I earned another bachelor's degree in international studies. I studied abroad in Europe. I met a great guy who was a MU Law student. I got a job while he finished law school. He passed the bar exam. He got a job in my hometown. He put a ring on it. I got a job back home. We got married. And a month ago, we moved into our first home. Check. Check. Check. Check.
But along the way to my "happily ever after" in suburbia with my husband, Kevin, something popped up. I'm sure you're familiar with our obstacles — student loans, credit card debt, car payments and a taste for increasingly expensive furnishings, and the occasional luxury items, like the aforementioned handbag, or nice wine. When I met my husband at the end of that aisle, I knew what I was marrying into financially (the mortgage of a modest Ozarks home and student loan debt), and I was happy to do it.
When we got married, we collectively had $27,000 in debt, plus Kevin's additional student loans from law school. But we were focused — we were going to tackle our debt together, and our long term goal was to have the financial freedom to travel.
Once we got back from our low-budget (but perfectly lovely) Mexican honeymoon in the Rivieria Maya, we went to work. We unloaded my bags and unpacked them in Kevin's 900-square-foot apartment, and we started slashing the budget. We hardly ever ate out; we cut out cable. We dramatically reduced our personal spending habits (i.e. my handbag addiction) and we took our lunch to work everyday.
We skipped new clothes. I sold my gently-used clutches and wallets to pay for Christmas presents. He gave up his habit of buying coffee.
We scrimped, we saved, we sold, we streamed, and in 14 months, we paid off $27,000 in debt by living on the income from my full-time job alone.
At our peak in April of this year, we paid off $2,200 in debt in one month.
But along the way, I was saving up for the trip of a lifetime. I'm a solopreneur (my new favorite term) and own a digital marketing agency in addition to my full-time job, managing and curating social media platforms for small businesses and organizations. And with each paid invoice, my business account swelled while our checking account dwindled to pay off our debts quickly.
But for every handbag I didn't buy, I had another goal in mind — heading to the Mediterranean with my husband for two glorious weeks in April and May of next year. We booked an 12-day cruise to Rome, Naples, Mykonos, Santorini, Ephesus, Athens and Istanbul, bookending our trip with nights in Rome, so my Catholic husband can spend time in Vatican City.
We had a plan and a few bucks in savings for both a trip and a home. I spent afternoons daydreaming about white buildings with blue roofs, and teal walls with white curtains.
Thanks to an unlucky break, and an idiot teenager who hit me head-on and broke my foot two weeks after we got married, I had a sizable settlement that provided us enough money for a down payment on a house. And I just kept depositing checks into my Checkmate Consulting business account.
We were solid. We were settled. We found the perfect home in the perfect location.
And then everything started falling apart.
An extra $960 in closing costs were disclosed to us the day before we closed on our home. Poof! There went most of our personal savings. Then, the refrigerator was going to cost $1,000 and a washer/dryer set would be $1,000 and we had no furniture from our crappy apartment that worked in the new house, and couches were $450, and we needed curtains, and the walls needed to be repainted. Oh, and there were a few issues on the inspection, and we needed to buy a lawn mower.
And. And. And. And.
All of sudden, that business checking account with almost $4,000 in it, that was going to pay for our trip to Europe before we started a family, looked like it would become the "move into our house" fund.
I sat down one night on our torn, red floral couches (that we got for free) to bury my head into my laptop and check numbers again, to figure out how we could make it all work. I was defeated; we had just gotten out of all this debt, and I was back on the hamster wheel. I wanted out, and emptying my business account made sense.
But Kevin took the laptop from my knees and looked me in the eye.
"Do you want to go?"
Everything within me lit up at the thought of being in Europe again. I had looked at itineraries for weeks of Mediterranean cruises, and I had always wanted to go to Greece and Turkey. Istanbul was a dream destination for me, and eastern Europe was on my list after I had explored most of western Europe, when I studied abroad in Belgium (we already paid off that $13,000 loan). Kevin had never been out of the country before we headed to Mexico, and for him, growing up surrounded by farms in central Missouri, Rome might as well have been Mars.
Everything in me was yearning to travel, to head out on a grand adventure before we started a family — to explore with my best friend.
"I want to go. I want to go to Europe with you before we start a family. We won't get this time back."
My husband and I are hoping to bring a little one into the world in 2017 (fingers crossed). My 30-year-old guy wants to be a "relatively young" dad, so it's important that we get the ball moving soon. But if we paid for all of the initial house-related expenses in cash, we wouldn't have had time to save up for a big trip in six months without stretching our budget too thin.
We would miss the opportunity to go and do and travel before our first child becomes our first priority. And we would be set to spend the last summer before we become parents at home, because of a sectional we paid for in cash. We wouldn't get that time back.
We wouldn't get the time back to travel until our children were old enough to come along, or be left at home. It would be years before we could travel again, just the two of us.
My heart broke at the thought. And as much as I know Dave Ramsey would disagree, we decided to pay for our 12-day Mediterranean cruise in cash, instead of our couch.
We made travel a priority, and we put a handful of house purchases on a credit card.
Now, we're not abandoning our debt-free habits; we've got a plan to pay off our fridge, washer/dryer, and a small, used car within the next six months. But for six months of minimal interest, and a few months of payments, we're not giving up an amazing adventure together for the sake of saying we're debt-free. See you in April, Athens.
Ren is a 20-something writer, business owner and social media guru in the Ozarks.
Image via Pexels