How One Couple Planned 3 Different Weddings For Less Than $7K Total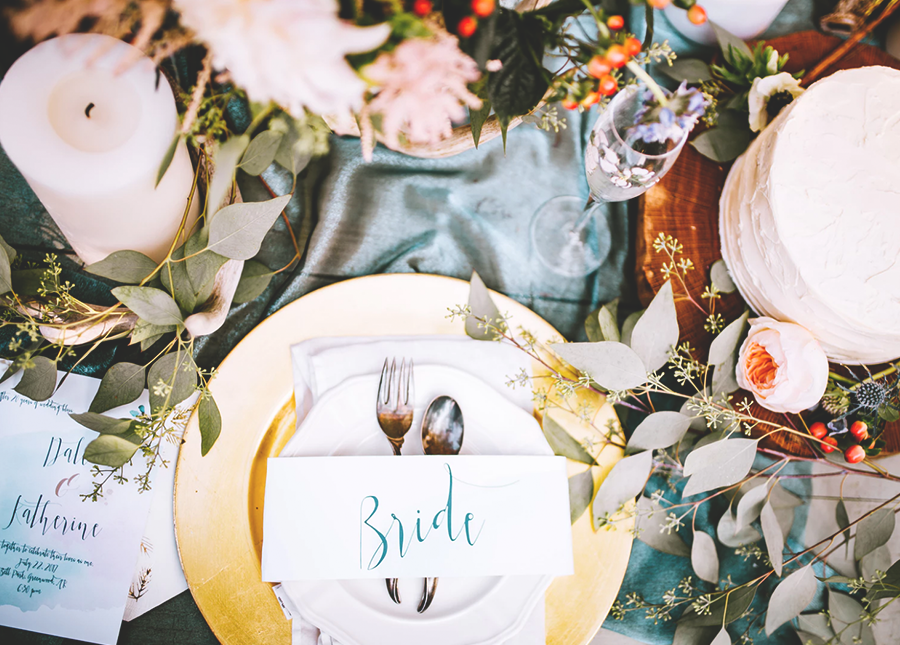 In April 2011, Bob Lai, then 28, got down on one knee and proposed to his girlfriend, Ayoe, at her 30th birthday party in front of their friends. Just a month later, the college lovebirds said "I do" at one of three wedding celebrations. The first, a legal ceremony at a Vancouver park, cemented Ayoe's permanent-residence status in Canada. Over the next year, they'd host a reception for 40 friends and family in Vancouver and another party in Ayoe's home country of Denmark.
If you're thinking, "Hmm, sounds expensive," you'd be right — and wrong. In 2011, the average wedding cost about $27,000, yet the Lais managed to spend less than $7,000 on all three of theirs. We talked to Bob about how they shaved thousands off their tab.
Grow: What inspired you to host three different weddings?
Bob: A month after our legal wedding ceremony, Ayoe's parents were visiting. Since our first wedding was so small — a park ceremony followed by dinner at a restaurant, courtesy of my parents and a Groupon — we thought we'd have a small reception. We even had a "fake" ceremony, where a friend acted as the [officiant] and married us again. A year later, we went to Denmark and had the third wedding, with 50 people from Ayoe's side.
Did you set a budget for each celebration?
Not exactly, but we agreed that we didn't need to spend a ton or go into debt. When we were planning our first wedding, we had similar ideas [about what we wanted], and it naturally evolved into a frugal wedding because we planned a lot of DIY elements. We didn't feel like we needed to pay someone a lot of money to do things we could do ourselves.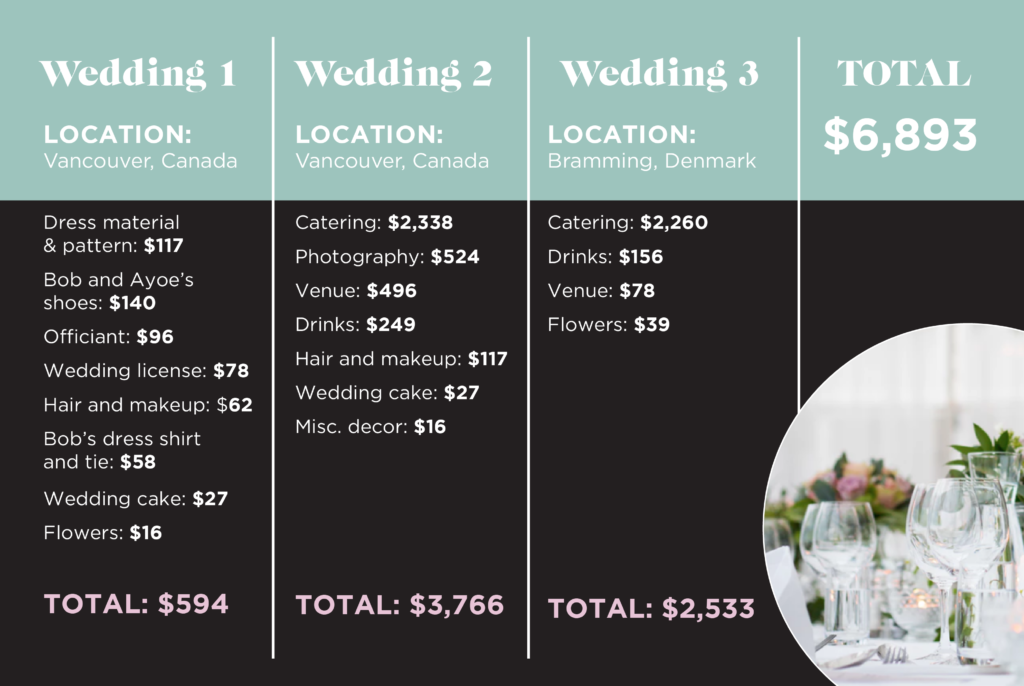 What kinds of DIY projects did you tackle?
Ayoe has a degree in fashion, and always wanted to make her own wedding dress. She made her dress for the first wedding, then made slight modifications (additional flowers and patterns) for the second and third. She also loves baking, so making our cakes was an easy decision. At the third wedding, she made macaroons instead. When we started looking for bouquets, we were surprised by the amount flower stores were charging — so we bought flowers from local stores.
Basically, we thought we could make many wedding items ourselves for less than half the cost that a store or someone else would normally charge. We had a lot of fun planning, designing and making these items. It brought us closer together.
You also enlisted help from family and friends. What's the best way to ask that favor?
Just be honest — and be okay if they say no. Don't put pressure on them. We were lucky our families and friends were more than happy to help. My brother was the DJ at our second wedding, and a friend took photographs at the first wedding. All we had to do was ask nicely!
What other strategies did you use to save?
We made sure to choose venues (the community center in Vancouver and a school cafeteria in Denmark) where we could bring our own food and drinks. For the second wedding, we hired a local caterer I knew, who made the tastiest beef short ribs. Years later, many of the guests still talk about them! For both the second and third weddings, we bought alcohol in bulk and got a discount for doing so. We also made other small changes, like hiring a student from a beauty school to do Ayoe's hair and makeup in the first wedding and wearing a suit I already owned with a different colored shirt for each wedding.
How much do you think you saved through all of these strategies combined?
I think we could have easily spent at least $15,000 [USD] more without them.
What advice do you have for others planning a wedding on a budget?
Weddings can be as expensive or as cheap as you want. Just remember: Getting married only requires one piece of paper (the marriage certificate) and a wedding commissioner. Take a minute to think of the weddings you've attended. Which do you remember more: the centerpiece at the table, or how much fun you had at the wedding? When it comes to planning a celebration, as long as you have good company and good food, everything else is extra.
Read the original article on Grow. Copyright 2018. Follow Grow on Twitter.
More from Grow:
Image via Unsplash