How The TFD Team Is Coping With Our Canceled 2020 Plans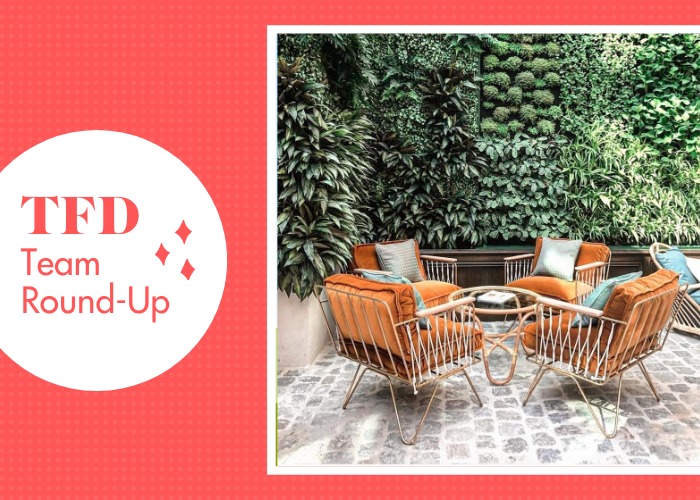 If your 2020 travel plans have been nixed, you're not alone. In fact, a handful of you told us what you're doing to cope with the fact that all the things you were looking forward to this year — vacations, weddings, BBQs — are most likely not going to happen.
We thought we'd join the conversation and share how we're spending our summer, too. Here's how the TFD team is coping with all the plans we had to cancel this year — and maybe beyond.
Chelsea Fagan, CEO
2020 was primarily strange for my family for reasons other than COVID (which is really saying something). My husband Marc, like many people living in this country, is dealing with unexpected immigration issues that mean we don't really know when — if at all this year — he'll be able to live back in our apartment in New York with me. We are really taking each day as it comes and being more grateful for the time we do get to be in the same country than bemoaning all of the things we don't have. I'm going to be spending time over there this year, and hopefully he'll be able to at least make one tourist trip back to New York between now and when he eventually gets his paperwork sorted (though with the visa moratoriums, there's really no telling when that will be). There are a lot of things I feel acutely disappointed about, but this immigration situation has forced us to take this year month by month and give up the idea of knowing what six months from now will look like — which in some ways has been a blessing in a time of COVID.
Holly Trantham, Head of Content
Sooo many canceled plans. We booked a two-week August trip (my dream trip tbh) to the UK back in January and obviously canceled all of those tickets in the past few weeks. I'm not kidding when I say I get just as much joy out of trip planning as I do actually vacationing — I spent hours putting together my perfect itinerary down to the specific hikes I wanted to take and tea rooms I wanted to visit.
As much as I love planning, I haven't looked at that itinerary since lockdown began. It just bums me out too much! Not being able to plan ahead has been the toughest part for me to deal with — but the thing that helps most me emotionally is reminding myself how lucky we are. We still have our jobs and a safe, cozy home, and when it's safe to travel overseas again, that itinerary will be right there waiting for me. I've also started planning my days as meticulously as I plan vacations because having something to look forward to (even in the short term) is crucial for my emotional well-being. I've also started paying more attention to my habits, and I've been using the Fabulous app to stay on top of everything from exercise to reading every day to remembering to floss. The app's interface is very silly, but I actually enjoy using it. Also: home date nights with my husband where we actually get dressed up. Essential to feeling like a real human being, and give me more plans to look forward to!
Monica Killblane, Sales & Partnerships Manager
It's sad to think about how many plans I have had to cancel this year. The main one being my annual birthday trip. This year during quarantine I turned 30, and instead of going to Europe and celebrating with my friends, I have had to pivot my plans completely. What has helped me get through these times is by having a social COVID bubble. I am by far an extrovert, so this has been very challenging for me. By having a COVID bubble of friends, we can plan wine nights at each other's apartments, order in and watch a movie, and now that NYC has outdoor dining we have been able to support local businesses and have dinners outside together. Being safe and getting tested regularly makes us all feel comfortable socializing in small groups. I for sure have only been able to get by with a little help from my friends.
Kristin Wong, Managing Editor
So many canceled plans! My best friend from Houston was going to visit and stay with me for a couple of weeks. My husband and I were planning to take a vacation. I'd planned a weekend getaway with another group of friends, and it looks like that won't be happening, either. I miss traveling, but I also miss seeing people I love face-to-face and laughing over a glass of wine or exploring a new city together. My husband and I are coping by making a bucket list of places we want to see someday, then planning for the first big trip we'll take whenever travel opens back up. For now, at least, we're just trying to enjoy the planning process — it helps us stay optimistic and focused on the light at the end of the tunnel!
Annie Atherton, COO
We had many plans not come to fruition this year, but have been consoling myself partly by trying to enjoy the simple things — jumping in the lake, sitting in a friend's backyard, taking a walk and actually looking around, and so forth. In some ways, I feel more healthy and well-rested than I have in my entire adult life, and while I'd gladly trade some of that chill for a little more activity and excitement, I can tell my body appreciates it.
Lauren Ver Hage, Co-Founder, Graphic Designer
There have been a lot of canceled plans this year, but honestly, I've been largely distracted from the disappointment of it all by the fact that my husband and I got a puppy. Luna has not only provided endless joy to our lives, but caring for her has given us structure, responsibility, and an insane amount of casual socialization.
I talk to nearly every person that passes by us when we're out on walks, I've made friends at the dog park here in Jersey City, and have "dog parent" acquaintances that I pass on stoops throughout our neighborhood while on walks every day. I've grown more patient and find myself leaving the house without my phone a lot, so I can just focus on her and my time outdoors. And throughout the process, I've learned a lot about myself and my husband — overall it's been a very emotionally stabilizing thing to have in my life.
Image via Pexels
Like this story? Follow The Financial Diet on Facebook, Instagram, and Twitter for daily tips and inspiration, and sign up for our email newsletter here.