15 Readers Share What They're Doing Instead Of Their Canceled Summer Vacation Plans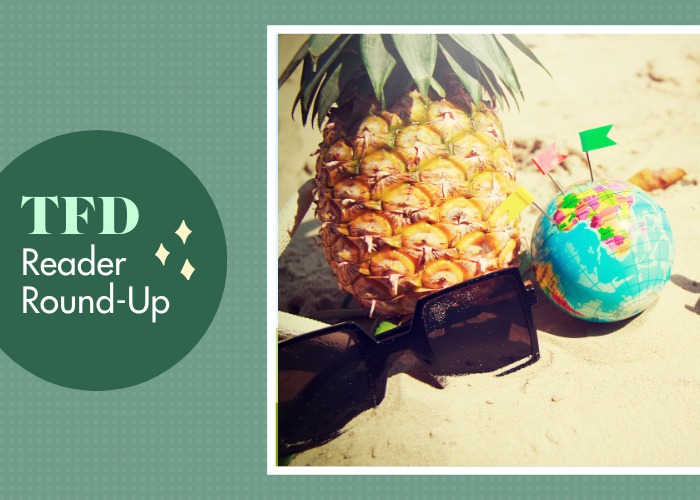 Most of our travel and vacation plans for 2020 have been canceled, and we're collectively bummed about it.  To compensate, some of you are getting creative about how you're spending your summer, and some of you are hunkering down to get stuff done and sort out your finances. This week, TFD readers were nice enough to share what they're doing instead of their canceled travel plans.
"Cancelled trip to Vegas — started a joint high-interest savings account to take advantage of the money we didn't gamble away" —Jasmine
"I've been watching online concerts on Zoom which are super fun because you can see the other audience members! It feels like a nice community." —Whitney
"We ordered Kiwico for my 2-year-old to help keep her occupied, we have started 'bad date nights' where we do something essential and boring together with snacks, 100%ing old video games and lots of playdoh and bubbles. Tomorrow we are having a tea party for dinner as well" —Cara
"My mother had planned a cruise, and instead, I'll be using that time to work on my freelancing. Writing is my official job now—Might as well put 100% into it!" —Mercy
"Training for a half marathon and being grateful to be outside and explore my city in a totally different way. Also using time to start my own blog and my own business" —Padma
"I had to cancel a trip to Dallas for a concert that postponed. The group I was going to see is doing an online show next month that I'll be watching instead. I got news that I'm likely to be furloughed as of August 3rd so I'm mostly saving money and planning for that." — Stephanie
"We had to cancel our honeymoon to Scotland, so my sister and brother in law hosted a scotch tasting for us!" —Kellie
"I had to cancel a side trip after a friend's wedding was rescheduled to Sept, so I'm doing a staycation spa setup at my apartment. Saving $$, but getting much-needed pampering" —Rebecca
"Bought a new couch with summer travel refund. I'd consider it an investment in quarantine" —Jenn
"Was planning to visit home & Houston to meet my bestie's new daughter. Rolled that trip money into savings for a future trip to Paris/London/Scotland for us & to NZ for LotR tours w/another bestie. Also increasing IRA contributions & getting 2 months ahead on budgeting." —Kate
"Finishing a book manuscript, prototyping a cost-effective idea to do social-distanced board-gaming in outside spaces" —Jacob
"Cancelled a trip to the Bay Area, bought an Apple Watch instead to help me keep active as it's very easy to be a couch potato while staying at home. Also am trying to brush up on my Latin after ignoring it since high school. Wheelock's Latin is kicking my butt!" —Trevor
"Cancelled a road trip in Atlantic Canada, but instead we're finally starting our basement remodeling project!!" —Alina
"I bought a stand-up paddleboard! Gonna explore every inch of water in the tri-country area." —Maggie
"Was suppose to be on tour for three weeks across Canada then a six week trip to Churchill for a volunteer exchange( my dream destination ) instead bought myself a mini pool for my backyard. + enjoy local take out picnics!" —Catherine
Like this story? Follow The Financial Diet on Facebook, Instagram, and Twitter for daily tips and inspiration, and sign up for our email newsletter here.