How To Create A Healthy Grocery List To Fit Any Budget, According To A Nutritionist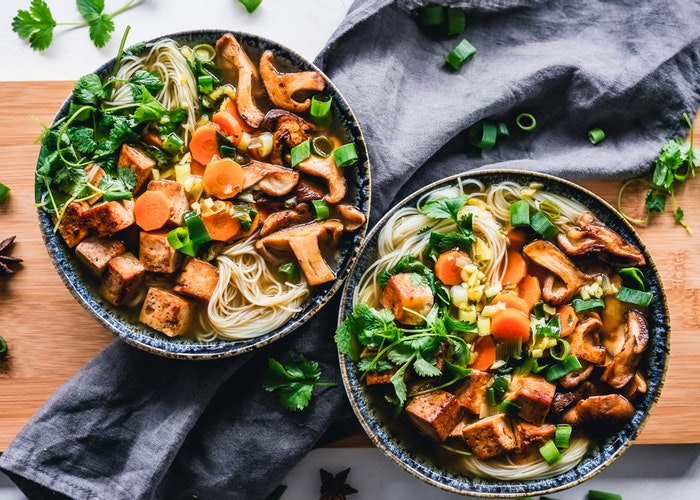 If I told you to imagine a plate full of "healthy" food, what would you picture? 
There's no one-size-fits-all approach to healthy eating, as it depends upon a number of factors, including health status, financial and living situation, culture, traditions, and taste preferences. With the most up-to-date and evidence-based dietary guidelines in mind, a good rule of thumb is to eat a wide variety of foods, choosing nutrient-dense and unprocessed options most of the time and limiting foods that are high in saturated fats, salt, and added sugars. 
Think of nutrient-dense foods as giving you the most nutritional bang for your buck. When Michael Pollan suggested that we all "Eat food. Not too much. Mostly plants," I bet he didn't realize how many times he would be quoted on that. But it really is great advice. If I were to plate up a "balanced" meal for you, vegetables would take up the most room (the more varied and colorful the better), followed by some sort of carbohydrate (preferably wholegrain), a good-quality protein, and a modest drizzle of extra virgin olive oil. Personally, that often looks like a curried egg and veggie scramble on buttered wholegrain toast, or pan-fried salmon or chicken and steamed broccoli with sweet potato and butter bean mash. And if my pantry – or wallet –  is almost empty, then pasta with tinned tuna in olive oil, frozen peas, lemon, and chili flakes will have to do.
Following a healthy eating pattern throughout the course of your life is one of the best investments in your health you can make. It's more about embracing daily decisions that improve your health in the long run, and less about focusing on individual nutrients or foods. I have days where nothing but a warm chocolate croissant and a hot mug of full-fat milky coffee will do for breakfast. And if time and my wallet permit, then I indulge. Some of the basic, healthy habits I've picked up along the way include meal planning, batch cooking, eating seasonally, snacking on a handful of nuts or a piece of fruit if I'm hungry between meals, making sure I eat enough fiber, carrying a reusable bottle full of water around with me wherever I go, adding a handful of greens (usually baby spinach) to at least one meal a day, and prioritizing nutritious fats like those found in extra virgin olive oil, oily fish, nuts and seeds, and avocado. 
Oh, and if I want that damn croissant then I'm having it.
It's a common misconception that healthy eating is expensive. If you focus on fresh and seasonal foods where possible, it really doesn't have to be. Forget expensive ingredients that you can only find at your local health food store, the real "superfoods" out there are foods like whole grains, fish, legumes, eggs, sweet potato, broccoli, dark leafy greens, tomatoes, mushrooms, berries, nuts and seeds, extra virgin olive oil, kefir and plain yogurt, garlic, ginger, and turmeric. Just good old-fashioned foods that happen to contain high levels of antioxidants, vitamins, minerals, good-quality protein, unsaturated-fats, probiotics, and fiber. Often ultra-processed foods are actually more expensive than their fresher counterparts. For example, potatoes are much cheaper per kilo than potato chips, and fresh fruit is often much cheaper per kilo than fruit juice. 
To eat healthily on a budget, plan your meals, write a shopping list and don't go grocery shopping hungry. Be patient and wait until costlier items such as extra virgin olive oil or a good-quality flake salt go on sale – they will eventually. Buy fruits and vegetables that are in season because choosing to eat seasonally is not only casting a vote for a sustainable food system, it's also cheaper! Where fresh isn't available or too costly, buy frozen and tinned varieties of fruit, vegetables, legumes and fish (more on that below). Grab all the items on your shopping list first before considering any extras. Opt for generic or supermarket brands and purchase dried goods like rice, pasta, and oats in bulk. Often poultry and red meat are also cheaper when you buy them in bulk (they're also very freezer-friendly), and you can stretch out these purchases by replacing some of the meat or chicken in a dish with lentils, beans, or chickpeas. Make a big batch of vegetable-based soup once a week and you'll always have a quick, nutritious meal to eat during busy (or lean) periods. And don't forget to try and always re-purpose or freeze any leftovers. 
While some might turn their nose up at frozen or tinned foods, there is absolutely nothing wrong with them. As well as often packing a nutritional punch (I'm looking at you chickpeas), they're both convenient and economical. Where possible, opt for low-salt varieties of tinned food with BPA-free lining.
When purchasing red meat, poultry and fish, I suggest buying the best that you can afford, and that doesn't have to mean draining your bank account. By choosing budget-friendly but still quality cuts (like the ones listed below), you may find that you're able to support your local farmers. Here are some basic, budget-friendly and nutritious foods to include in your shopping basket.

Pantry staples

:

Rolled oats, tinned or dried lentils, beans and chickpeas, dried basmati or brown rice, tinned tomatoes, corn and green beans, dried pasta, tomato paste, tinned oily fish such as salmon, kippers, sardines and anchovies, dried herbs and spices (a good place to start is turmeric, cinnamon, red pepper flakes, garlic, ginger, and mixed herbs), whole-wheat flour, and an all-natural broth powder or cube. 

Fridge and freezer:

Chicken thigh or tenderloin, beef chuck or skirt steak (perfect for slow cooking), ground beef or pork, frozen fish, eggs, plain yogurt, parmesan cheese and frozen fruit and vegetables such as mixed berries, peas, carrots, broccoli, cauliflower, and spinach. 
Put simply, eating well promotes health and well-being, providing you with the vitality to enjoy a long and happy life. It also supports the normal functioning of your immune system, helps you to maintain a healthy weight, and reduces your risk of developing a diet and lifestyle-related chronic illness or disease, such as high blood pressure, high cholesterol, diabetes type two, heart disease, and some cancers.  
Lauren is a university-qualified Nutritionist based in Melbourne, Australia. Put simply, she just digs food and loves sharing that enthusiasm with others. Follow her adventures on Instagram @bforapples where she blends her background in photography with a particular fondness of food, travel and writing.
Image via Pexels
Like this story? Follow The Financial Diet on Facebook, Instagram, and Twitter for daily tips and inspiration, and sign up for our email newsletter here.