How To Move In NYC (If You're Not A Millionaire)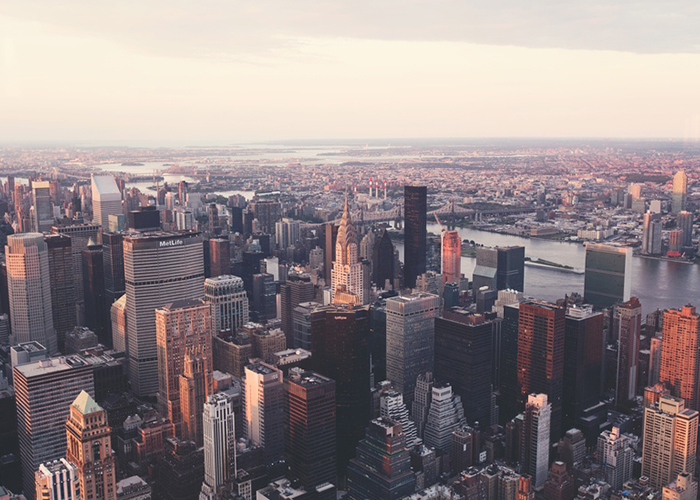 I just moved from the Upper East Side to Morningside Heights on the last weekend of June, but I had been thinking about and planning my move since last September, when I first got my new job. I went from having a twenty-minute commute that entailed walking to the train and popping out three stops later at the corner of my office to a fifty-minute one that involved a bus, a train, and a walk. I had fantasies of Upper West Side living from the minute I sat down on that bus the first day. I also was having nightmares: about the timing, the logistics, and, most importantly, the costs.
After months of careful planning and research, I finally pulled my move off, and it went better than I ever expected it to. As an early-twenties young professional woman, I sometimes worry that I don't have enough authority or experience to do something like manage a cross-town move. I feel like I'm going to call up movers and have them laugh at me and say, "You don't know what you're doing!" And maybe I didn't at first. But getting through this move gave me a big confidence boost: I learned I could organize and follow through with contracts and decisions involving multiple companies, and that I could save myself some money in the process. These are the ways that I was able to cut costs, feel good, and save my sanity.
A brief preface: it's going to be much cheaper to move when you're doing it in-borough! Involving bridges and tunnels obviously ups the costs.
Avoid broker fees where possible. During my first apartment hunt, my roommate and I totally got the raw end of the broker-fee deal. We found an apartment on StreetEasy, texted the guy on the listing, and had him open the door for us so we could look around. For that privilege, we got to pay him a  $2,000 broker fee when we decided (twenty minutes after he opened the door, because this is New York, and you don't have time to dilly-dally about if you'll take the place or not) to sign the lease. This time around, my new roommate and I decided to re-up the lease on her current apartment instead of moving to a fresh place, largely because we would save a ton of money in broker's fees. Unlike with a security deposit, there's no chance of getting that broker's fee back, so avoid it if at all possible! Try for a no-fee apartment (the higher rent evens out because you're not forking over a ton of money upfront for a nonrefundable cost) or to move into a place where you're renewing an already-signed lease.
Don't be afraid to hire movers (if you need them). From the moment I decided to move, I was stressed out about the whole thing. I needed a new roommate, a new apartment, and to get all of my things from the East Side to the West Side. I remember having a thousand thoughts and worries, foremost among them being things like, "Where do I get the stuff to wrap the mattress in when I put it in the truck?" For someone who dislikes driving (and has never driven in a city, ever) and doesn't have an army of friends willing to take pizza and beer as payment for hauling furniture all across Manhattan, hiring movers was the best choice. It's also reflective of some of the best advice my parents ever gave me, which was that, if something is going to cause you turmoil and distress, it's worth it to pay a little more money and have the problem taken care of for you.
Do your research. Once my new roommate and I settled on staying in her apartment, a sixth-floor walk-up, it took about two seconds for me to settle on using movers. After riding the subways for two years and seeing constant ads for FlatRate Moving, I was pretty set on using them – they had good Yelp reviews, and I liked the idea that you get a locked-in fee. All that changed when I called to get a quote, though. For the equivalent of a one bedroom apartment's worth of stuff, FlatRate quoted me $900.* They claimed that it's normal to spend a month's rent on a move, but, as a young professional whose salary doesn't crack $50,000 a year, I couldn't justify that price. I proceeded to get quotes from two other companies. A company with middling reviews on Yelp quoted me $730 – better, but still not great. Finally, I contacted NYCityVan, which had almost unanimous praise online (and actually made me a little wary because, seriously, who has reviews that good?), and said they charge by the hour. Their end-of-the-month rate was $180/hour plus a $50 insurance fee, so even if my move wound up taking four hours, it still would be equivalent in price to the middling company with the $730 quote. I decided to take the chance and go with them, and it was a great decision. They completed my move in under two hours and were totally game in spite of my insane walk-up and the hot, humid day on which the move took place. Total cost: $418 before tip. 10/10, would move again. You can also save even more money by moving before the last weekend of the month, when prices for all moving companies spike in New York. Be smart and move in mid-month!
Do what you can yourself. I am all about hiring movers after my great experience, but I also know that I was able to save some money in the process by doing a couple of easy things myself. Admittedly, I enjoy packing and organizing, so maybe this isn't for everyone, but I had everything (and I mean EVERYTHING) packed and ready to go on the morning of the move. There wasn't one stray item, which saved the movers a lot of time in loading up the truck. Also, although the movers were capable of disassembling and reassembling my furniture, since they were charging by the hour, my boyfriend and I decided to disassemble my bed frame ourselves. It took about 45 minutes each to take apart and put back together, and since it only required an Allen wrench and a Philips-head screwdriver, I'm glad we did the job ourselves and saved the money. He and I also helped the movers as much as we could on the day of the move, although the work we did was a drop in the bucket compared to what they managed!
Rent bins. When I was doing the initial research on my move and found myself really leaning toward FlatRate, I read in their Yelp reviews about the company BinIt, which rents large storage bins for moves. I try my best to be green whenever possible, and so I immediately latched onto the idea of renting a bunch of bins in lieu of buying and then discarding flimsy cardboard boxes. Plus, the company delivers the bins to your old apartment, you get two weeks with them, and then they pick them up from your new one. I went with the smallest package of bins: 15 bins for $60, plus a $28 fee because the pick-up and drop-off locations were both above the first floor. I had a large suitcase and duffel bag that I figured I could stuff with whatever didn't fit. It wound up working out perfectly, and it made me feel great that I used an eco-friendly solution. Just remember not to over-pack them, if you can – the heavier they are, the longer it takes for your movers to, uh, move them.
Source your furniture from Craigslist. Speaking of eco-friendly, there is no better way to furnish an apartment in New York than Craigslist. Why do you need some brand-new IKEA particleboard piece of crap that you'll have to assemble yourself when you can score your neighbor's two-year-old IKEA particleboard piece of crap, already assembled, for a fraction of the price? Get your mattress new (and on sale – never buy a full-price mattress), but everything else is fair game. I wound up getting almost all of my furniture off of Craigslist, in great condition, and all without ever leaving my neighborhood. Just remember to bring a buddy with you when you go to check out the goods, for safety's sake. I never once had a scary Craigslist experience, but it doesn't hurt to have back-up in case your Sketch Alarm starts sounding. And at the end of the month when everyone's moving out, check the curbs for discards. A lot of times people unload things because they don't have the space or can't afford to move it, not because there's something wrong with it.
New York is expensive and stressful, but your move doesn't have to be. Plan ahead, be strategic, and go forth and move!
*FlateRate charges by the amount of stuff you have. I was moving with all of my bedroom furniture (mattress + box spring + bed frame + nightstand + dresser + end table), plus my living room furniture, which is a decent amount. If you don't have a lot of stuff and would like the security of a locked-in rate, they still might be a good choice for you.
Taylor Cook works for, studies at, and lives a ten-minute walk away from Columbia University.