How To Use A Household Ledger To Give Your Financial Life A Fresh Start This Year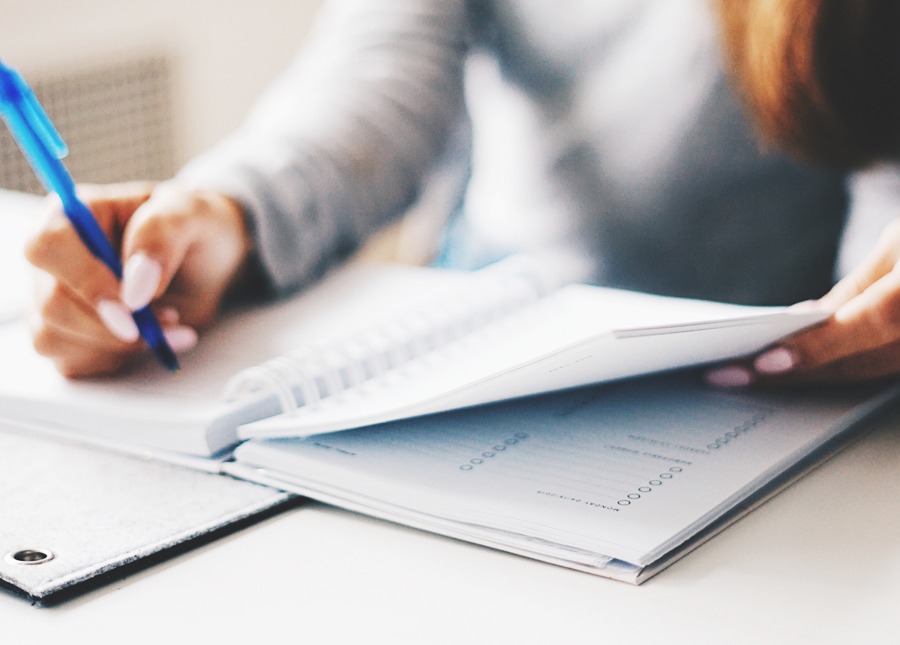 I came across the idea of a household ledger (a kakeibo, 家計簿) during a trip to Japan a few years ago, even though at the time I didn't quite realize what they were. They're often found in stationery stores and are essentially an inexpensive way (costing around $6) for Japanese women to keep track of their finances, bills and outgoings/incomings. 
Originally they were designed for housewives, traditional keepers of the Japanese household, and became a thing. Now you can get kakeibo in dozens of designs from cats to Moomins. Amazon Japan has pages of them up for sale at year's end and many have plastic pockets for a pen or receipts. Most keep the same design: sections for pay, bills, and then the ability to input things you buy (on a weekly basis), be it an onigiri from FamilyMart or the cost of the internet bill. Recently, they've been imported into English language and become a thing. There are loads of videos on YouTube showing "Budget Plan With Me"s and many households keep what the US terms "budget books," often oversized binders which live at home but contain every aspect of their owner's financial lives.
I started using a somewhat overpriced kakeibo that had just been released (essentially a blank journal designed for finances in the Japanese style, with goals and motivational quotes, I've linked to it so you can see the inside and get a better idea of the basic layout). Then I realized it would be more efficient and cheaper to just make my own when that one ran out. So, to make yourself a kakeibo, you just need a pen, a ruler, a notebook of your choosing, some time and a couple of coffees as a motivational bonus.
I used it, at first, to help me get some personal debt down. But I found the idea of categories of spending fascinating. You see, aside from bills and big expenses, the idea of a kakeibo is that it works around categories, not each individual expenditure. What they are depends on you but I use ones like 'groceries', my guide dog (who has a carrot obsession) to the obscenely terrible 'coffee/drinks out'. Each week you add or remove categories until you've refined what you use, personally. At the end of the week is a tally where you can add up how much you've spend in each category and across the board to get a better idea at where your money is going (be it spending in cash, purchases on Amazon or carrots).
Each month starts with a page where you write out your incomings (pay, benefits, side-hustle cash) and your bills. Most of the latter, in my case are paid by Direct Debit (the UK version of automatic payments) on the first of the month but there's something almost calming about having a single page spread with dates, names and precise amounts. Especially if you then go over the paid expenses with a nice highlighter. 
All the details are there and if something changes, like the cost of your phone bill, it's very easy to change. I also add in monthly non-utility subscriptions like Spotify, Patreon, YouTube and Netflix, all of which go out automatically but take their own chunk out of my monthly incomings. Ouch but totally worth it for keeping me sane.
The original book I using was size A5 and felt huge. Now in my second year, I wanted something smaller but still portable and something which was uniquely me. My kakeibo has plenty of numbers in but no personal information, aside from my email address in case of misplacement. Just figures and dates. Oh, and it's one of the core items in my Every Day Carry.
I bought myself a tall slim Hobonichi Weeks Mega made using very thin but forgiving Tomoe River paper from Amazon Japan, split into a diary at the front and a good 200 blank pages at the back. The paper thickness means it doesn't take up a lot of room but can also go anywhere with me.
I use the diary section to record notes about expenses, things I need to do (like double check a payment for the following month or note when my shopping will be delivered and the cut off for editing the order). I note my balances each day (from my current accounts to my credit card balances). I note "no spend days"(which I'm trying to do more of) and keep lists in the back like my financial goals for the next few years. 
There are "spreads" (a Bullet Journaling term referring to a double page spread) where I work through the cost of a holiday to Dublin I'm planning, how much that PlayStation 4 Pro I've been coveting for a year and a half will actually cost me. There's also a list of important items I need to buy in the next few months and, of course, the weekly spreads which let me track my spending. Yes, it involves a little set up but this is easily done with that first Monday morning coffee.
I keep my kakeibo in a cover which allows me to add in a pen, a Liquid Paper pen for those annoying mistakes, a ruler and a scratch paper notebook from Muji where I can do calculations. This also comes in handy when I note down the standard cost of coffee in my favourite coffee shop chains (which really helps when you realise you drank one coffee at Costa, another in Starbucks and a third at the pub with brunch but didn't think to get receipts).
I keep a pencil case with me which allows for color-coding payments, highlighting when my income has been paid, as well as noting down when subscriptions are due or when I get paid from my side-hustle. I have three bookmarks: one marks my week in the diary portion, the second my weekly spread and the final one whatever spread I'm working on (right now it's a year end review).
The most important thing it's taught me is the accountability of purchases and the peace which comes from having everything you need to hand. I plan a month ahead and am able to know how much I need for all my bills going out on January 2nd. I know exactly when I'm being paid and when those big expenses, like services charges, will be due thanks to a dedicated household expenses single spread which goes through each month of the year and lets me be able to prep for expenses a whole year in advance, from my MedicAlert subscription through to household contents insurance.
But it's also a place I can dream, including plans for holidays and savings. One of my big aims for 2019 is to be able to get a nice £5k "cushion"/emergency fund in place for…well, emergencies. Thanks to my spread on my plans, to do that I know I need to put £100 away each week to reach my desired amount by year's end. That's a nice thing for aim for and I'll probably have to find a savings tracker spread, blocks to color in or something.
I love the portability and, at the end of the year, when I do my review, I'm curious to see where I spent money for the last two month of use. I'm pretty sure that it will also help me, especially as, right at the front of I have the maxim of a British finances expert reminding me: Do I need it? Can I afford it? Will I use it? Is it worth it? Just asking myself those questions has already saved me from several impulse/Bipolar-inspired stationery binges.
I tried noting every expense in a spreadsheet, but I've found the old schoolness of pen and paper to be more useful and cathartic. I write things down to remember them (which reminds me to renew my Field Notes subscription…) and, surprisingly, I do. But I also have the space to plot, to focus on a more positive financial future and then try to bring it into being. Okay, there might be little deviations, but each week is a new one — and that mentality, plus that Monday morning setup time, is totally making the difference.
With the new year upon us, I really do recommend considering making your own kakeibo. If only for the amount of financial-related anxiety it helps to do away with. It's not about fancy spreads, it's about numbers and dates, about looking ahead and writing down those things you'd otherwise forget like car payments or an insurance renewal. Planning, writing down important payment dates and then having it with you, is a part of financial responsibility that no one tells you about but is just as important, in my humble opinion, as actually being able to pay for these things. I hope it helps you as much as it has me and, the most important thing, it doesn't have to be something you start on January 1st either. Remember: every week is a fresh start.
Asha Bardon is a former freelance journalist turned sci-fi author and manga adaptor. They can be found on Twitter and Instagram as @ashabardon and lives in a quaint English market down with three cats and a carrot-obsessed guide dog. Their much-neglected blog can be found at www.ashabardon.com.
Image via Unsplash
Like this story? Follow The Financial Diet on Facebook, Instagram, and Twitter for daily tips and inspiration, and sign up for our email newsletter here.