How We've Taken 4 Trips In 2018 For $3,000 Total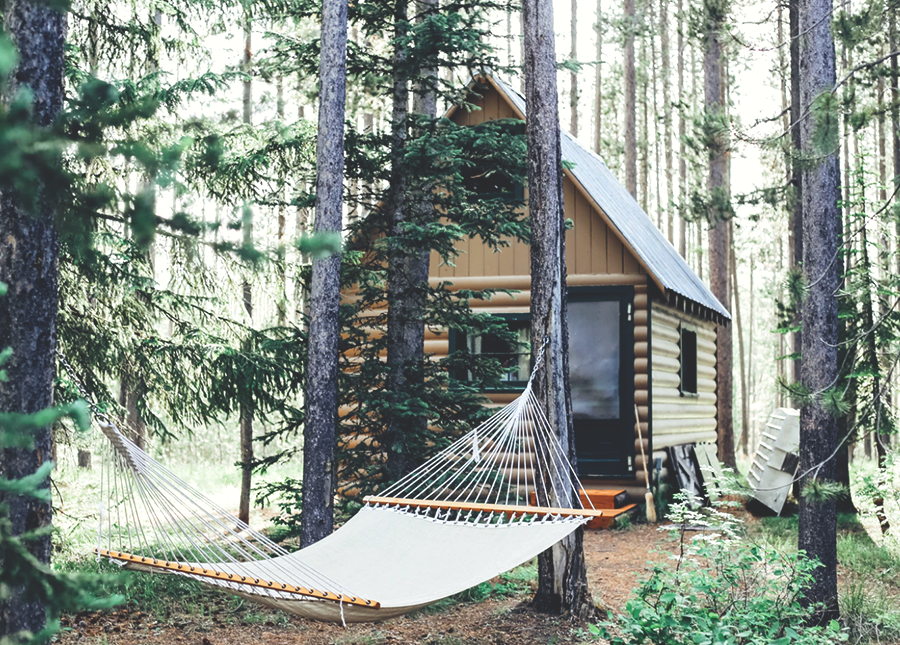 The year 2018 has, thus far, also been a year of travel for my partner and me. We're both people who are happy playing board games and cooking at home, but who also love getting out and exploring the world. I recently took the time to price out the trips we've taken so far this year and figure out how we managed to save (and splurge) in different places. Here is a run-down:
Cozy Cabin Long Weekend ($300)
In February, we went to a state park about two hours from our home ($30 in gas, round-trip) for a weekend of winter hiking and snowy natural sightseeing. The park's cabins are notoriously pricey, but for a random weekend in February, it was only $100 a night to get a tiny cabin that was basically one room and a bathroom. The bed was a comfy futon that was also the living room couch ($200 total for lodging). The hiking and waterfall-watching were all free, and the cabin had the Olympics on TV, so we could spend the evenings playing cards and watching ski jumping. Lastly, we brought groceries for almost all of our meals, eating out only once ($30 for eating out, $40 for groceries). All told, a very reasonable weekend away.
Hack: Traveling off-season, to places where attractions are free and restaurants are sparse, can be very affordable. It was kind of chilly, though!
College-Town Friend Meet-Up ($300)
One of my best friends lives seven hours away from us (driving), so a weekend trip is a major hassle for either of us. However, with a three-day weekend, we thought we'd look and see what was three or four hours away from each of us; we settled on a bustling college town that was otherwise not much of a destination ($50 in gas). We found a cute apartment rental above a brewery ($220 for two nights, split with her approximately three ways, so we paid $150). She treated us to a nice meal one night, though, and otherwise, we ate cheaply at food trucks and college bars, wandering bookstores and free art museums and dropping into small shops. Our total food bill was a little higher than a grocery bill, but we escaped for about $100 total, including many cups of coffee. The important part was that we were able to spend time together — reading books in the park, chatting, and sharing memories.
Hack: Split an apartment with a friend, explore a new town without doing major attractions like expensive museums or theme parks.
Whirlwind Family Visits ($150)
All of the costs for this trip were gas ($80) and treating family to meals ($70), since we were given free lodging and were fed for most of our meals. We got to see multiple folks in only a three-and-a-half day weekend (half-day on Friday), but traveling that much is pretty exhausting overall. I wouldn't call this a "hack," really, but it is true that if you drive a ton, you can usually get to somewhere where a family member will put you up for free. It was important to me to see family once or twice a year, so it was worthwhile, but overall, I tend to prefer quantity of time over savings when it comes to seeing family. Even though this was the cheapest trip, I'd recommend saving up a little and taking the longer, more scenic drive if your family is far away: stop at a hotel, bring gifts, etc. Whatever makes the trip meaningful is usually worth it.
Mexico Beach Vacation ($2250)
Here's the real clincher: we decided we needed a week at the beach, and when we compared all the costs, an all-inclusive resort in Mexico wasn't the cheapest, but we were convinced it'd be the nicest combination of luxury and carefreeness. All-inclusives give you the one bill up front, and as long as you budget in some tip money, that's the only thing you have to buy! We loved getting to eat at the on-site restaurants and get a drink at the swim-up bar without deciding whether or not it was in the budget. Yes, this required a flight and a nice hotel room and meant that we were away from our jobs for a week, but I stand by it: all the other low-cost trips meant that this kind of trip can happen every couple of years without destroying the budget.
Hack: Freed ourselves from thinking too much about costs, even though this cost far more than the other five trips combined.
Bonus trip! Work Conference in Minneapolis ($0)
I was presenting at a conference in Minnesota, so I was able to get work funds for lodging, airfare, and food while I was there. While I was working through much of the conference, I made time to walk through the city each evening, visit their art museum, and generally enjoy the comfort of staying in a room that wasn't full of all the stuff I owned… I like hotels. I firmly stand by the feeling that you can do eight or more hours of work per day on a work trip and still treat the rest of your waking hours like a vacation, all while not spending a ton of extra money.
Hack: Saw a city I've never seen while advancing my career, for no total dollars out of my account. Work travel shouldn't count in a round-up for how to spend your vacation dollars, since not everyone can do it, but if you can, it certainly counts as a way to maximize your travel options.
*****
No two families choose to prioritize travel spending the same way, but I'm curious as to how your trip breakdowns look like for the first half of 2018 or for 2017. What do you wish you could do differently, and what hacks have you found along the way? I'm always looking to "level up" my own savvy when it comes to traveling in a prudent, fun, and mind-expanding way.
Laura Marie is a writer and teacher in Ohio. 
Image via Unsplash