I Organized A Bake Sale And Got A Career Epiphany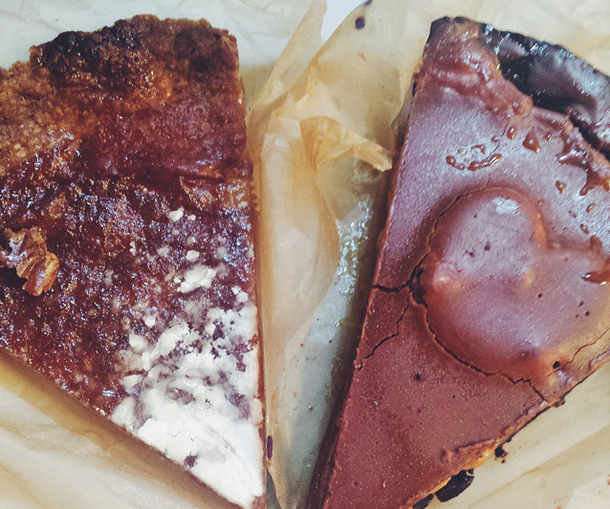 If there's one thing that my co-workers in the newsroom of the Milwaukee Journal Sentinel hated, it was the annual United Way drive.
They loved to criticize others for not being charitable, but they were less than enthusiastic about chipping in themselves. The poor slob who had to cajole others in the newsroom into signing up for United Way contributions was a piteous sight, as neither guilt nor charm separates cheapskate Milwaukeeans from their hard-earned coin.
Then I was assigned to be the poor slob. I'm pretty sure it was an inside joke on the part of the top editors, who were not too fond of me. But the joke was on them, because I used my subversive journalistic skills — and my world-class domestic skills — to turn the chore into a test case for a proposal that turned into my latest book.
The book is about the power of lateral career moves – taking on assignments that are at your same level – to gain new skills, grow your network, and position yourself for career advancement. I was collecting research, but I hadn't made many lateral moves of my own. The United Way assignment was a way to test my theories.
I applied my editing and writing skills to the new-to-me challenge of internal communications – the 'please give' pitch. I teamed up with one of the designers, and together we created a mock newspaper that showed how United Way charities had actually solved some of the local social and educational problems that the paper had been covering. Sorry, cynical journalist-colleagues: you were part of the solution, after all!
That got their attention, but I got their money by amping up the traditional newsroom bake sale. I sewed some vintage-style aprons as prizes and set up beautiful setting of vintage tablecloths and glass cake stands (all hauled from home) for the sale itself.
And I won, because we made the most ever at the bake sale and got the most donations ever from the newsroom.
But I kept winning. A few weeks later, I was summoned to the publisher's office. Turns out she loved the mock newspaper I'd ginned up. She brought it to a regional meeting of corporate honchos and they all agreed it was the best internal communication piece they'd ever seen. I made my boss's boss' boss look really good to her peers. And that made me look good to all those other bosses down the food chain.
I also proved my concept for the book, which I proceeded to write. Here's how I translated my experience, and that of others, to career strategies in The Career Lattice. (And if you want to get this concept into gear, I'll be presenting workshops on powering up your lattice on May 2 in New York workshop and on June 10 at the "Lattice from Staff to Freelance" workshop at Interlochen in northern Michigan.)
Making a lateral move is taking a job that's different, and that offers new ways to grow and learn, though not more money, and definitely not more power or prestige. The great thing about lateral moves is that you make new contacts, gain new skills and see new opportunities. Essentially, you widen your rung of the ladder into a lattice that offers additional ways to eventually move up.
Many companies are offering lateral moves as a way to keep talented millennials on board. They might not call them 'lateral moves,' so here's how you can decipher a lateral move from the HR-speak:
The new job is in a different department or function.
You will learn new skills that probably complement what you are doing now (for example, if you are on the marketing team, you might move to a regional headquarters to work on internal communications).
You might get short-term skills training or on-the-job training.
You will represent your team or department on another department's team or project – thus getting to know others whom you would normally not meet. That's what I did with the fundraising assignment.
The opportunity might be short-term (you are filling in for someone who is out on maternity leave) or permanent (you currently manage consumer facing accounts but are being offered a position managing institutional accounts).
You might have to officially learn some additional skills to qualify for the job-after-this-one (for instance, you might have to take a college level course in business finance so you can manage a budget, if the lateral position results in a promotion.)
You're not making (much) more money.
You are not moving up the org chart. I definitely did not win a promotion from my baking exploits.
Whether your employer officially offers lateral moves or you get to figure it out on your own, you still have to fit the move into your overall career direction. To think through whether a lateral move is worth it, ask yourself:
Will I meet new people who can introduce me to projects, assignments and opportunities that definitely will not come my way if I stay put? Even if you love your current boss, it's smart to have a mentor who sees your company from a different perspective. Lateral moves connect you with lots more people. I accomplished this by impressing the publisher. Later, I was able to call her for some career-related projects. She's even a Facebook friend. Maybe some day, we'll be real friends – and if we are, it will all stem from that mock newspaper.
Will I get to work on projects that I know are important to the company's growth (i.e., winning new customers) and/or profitability? Sometimes, assignments that seem tedious ("let's strip 10% from this project budget!") get you in the thick of key business discussions where you can gain terrific insights into what makes your company successful (or where it's going off the rails). The fundraising project polished the reputation of my employer with other employers in the region.
Are the new skills I will learn key to the company's growth goals? For instance, if your company is hanging its hopes on the 'internet of things,' (i.e., appliances that talk to each other), you'd be in a sweet spot if you joined the team that is working on the app that makes window shades and air conditioners dial down together. But if the company's gaga over the internet of things, you probably don't want to be on a project that just fixes problems with stuff it sold five years ago. The fundraiser and bake sale did not accomplish this. Though the way the newspaper business is going, they might want to hire me as a consultant, because cookies might be their only hope for revenue growth. Score another potential lateral move for me!
Joanne Cleaver authored The Career Lattice (McGraw Professional, 2012) and leads workshops on lattice topics for executives and regular folks. Her firm designs and manages research projects that shows employers how well they are doing in terms of advancing women and how they can do better.