How I'm Getting By After An Unexpected 50% Pay Cut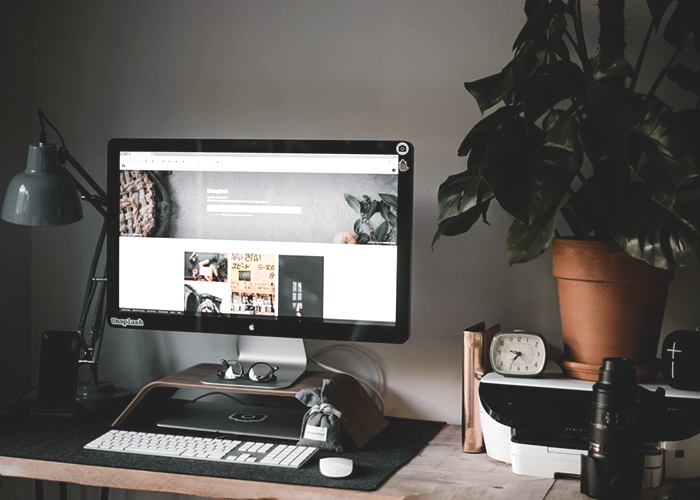 In August, after two years of fearful what-if-I-totally-fail?!?!?! debate on whether I should pursue freelance writing as a career, I finally ignored Fear's doomsday warnings and went for it. I spent a year after college working a full-time corporate job, and then another year working a full-time Americorps service position. When that service position's contract date ended in August, I figured I might as well give this freelance thing a go — after all, I'm 25 years old, single, without debt, and the only other lives I'm supporting besides my own are a Poodle and alarmingly-fat cat, so now is perhaps the best time in my life to take this career risk.
Despite Fear's ominous threats that if I tried freelance I'd fail and have no money and have to become a wanderer crashing on friends' couches, I actually managed to obtain freelance clients; coupled with the part-time job I've had for the last year and a half, my income remained consistent from my Americorps year (as in, I can pay my bills — victory!). December brought in another freelance client, making it the most I'd earned in a month since leaving my corporate job nearly two years ago.
I felt pretty confident, like a TAKE THAT, FEAR! level of confidence. But then January happened.
My new freelance client (understandably) had to go on a month's hiatus from her business due to a family emergency, which put a pause on my work with her and meant I didn't get paid this month. That client was 50% of my January income.
In addition to this, my hours were cut at my part-time job due to additional staff hires and a near-empty January schedule. My car wanted in on the financial fun, so the battery died and I had to drop $150 for a new one, an expense I hadn't budgeted for this month. I also had a trip booked to Phoenix for a week (HELLO SUNSHINE I MISSED YOU!) — a trip that fortunately was not too expensive, but one that I had fully planned on using that lost client's paycheck for.
January unexpectedly turned into a tight, where-the-hell-am-I-going-to-get-money-for-this month.
Full disclaimer of privilege before I continue on: I may not make much money in comparison to many of my peers, HOWEVER, I'm fully aware that I have safety nets that others may not be as fortunate to have. If my financial life went to absolute pieces and my coffers were empty save for a lone tumbleweed blowing by, I know that I could go to family for a loan until I was back on my feet again. God forbid this ever happen, but I wouldn't face a financial crisis in the same way others might.
Reluctant to pull from my meager savings, I used this month to challenge myself to creatively consider how I might stretch the dollars I did have and add in some last-minute income.
GROCERIES
Pantry Sweeping + Meal Planning
My grocery budget is already pretty tight, but it's my only variable expense, so I had to bare bones it in order to pay for an electric bill that ended up costing $30 more than I had budgeted for. (Reason #4930 I hate winter.) My pantry is akin to a hastily-abandoned coal mine, full of things I purchased months ago and then forgot to use. So I set aside an hour to organize, throwing out items that were expired (ugh) and taking inventory of items I could use in recipes, like rice and pasta. I then planned out meals for the week using these long-forgotten pantry ingredients.
Chicken is one of the more expensive items I purchase, so I stretched this by splitting one pack of chicken breasts between two different recipes, rather than using the entire chicken pack for one. I also planned for recipes that made plenty of leftovers while using cheaper ingredients, like chickpeas, onions, potatoes, pasta, and rice.
Coupons
I'm not usually a coupon-er, though sometimes I wish I was a Coupon Gladiator who could coupon my way to hundreds of dollars worth of groceries for only $5. I doubt I'll ever have those sort of mad skills, but I did use this month to be more intentional about saving coupons and, more importantly, remembering to bring them with me when I went shopping. I even got a free box of cereal — small wins, my friends.
With these methods, I was successfully able to cut down my grocery budget by $80 while still being able to, you know, eat.
Saved: $80
GAS
GasBuddy App
GasBuddy is a handy app for finding the cheapest gas station in your area. I'm usually pretty lazy about waiting until the very last minute (aka 10 miles left in my tank) to get gas, so this requires me to be mindful about when and where I get gas, instead of waiting until I have no choice but to fill up at the nearest station. (Yes, I realize this is a habit that could very easily land me stranded on the side of the road. Yes, I need to change said habit.)
Gas Points
With each purchase at my go-to grocery store, I earn gas points that offer discounts at their partner gas station. With these points, I've gotten as much as $0.30 knocked off per gallon — that's around $3.00 savings each time! Several gas stations offer loyalty programs — it's worth the savings to find one that works for you.
Saved: ~$10
MATERIAL PURCHASES
Target Gift Cards
For Christmas, I received Target gift cards from fam and from my part-time job. Normally I'd be using these for purchases like cute tableware and additions to my basically-all-from-Target wardrobe. But I had to be a financially responsible adult and use these gift cards instead to purchase essentials this month, like toilet paper, makeup remover, and office supplies. Being a grown-up is such a drag sometimes, amIright?
Saved: $30
FINDING NEW INCOME
Word of Mouth
In addition to cutting my spending, I needed to find a way to earn some additional income this month to make up for my temporary dry spell. Since all my writing clients have come from word of mouth rather than cold-pitching, I reached out to friends, family, and my social networks to share that I was looking for additional freelance writing clients this month. I was also open about my income scarcity with friends whom I trusted, asking them to send any babysitting or dog-walking gigs my way.
While my word-of-mouth crusade has yet to lock in any new writing clients, I received a few soft leads that potentially will develop into work opportunities next month. I did land a few babysitting and dog-sitting gigs from friends who referred me and also helped a friend with her cover letter for a lil money. With this additional income, I was able to pay for my car battery and put a little bit towards my Phoenix trip.
I doubt I'll ever become an aggressive sales pitchy person, but this month taught me not only how important it is to ask for help, but also how it's totally okay to do so. Asking for a reference is not burdening someone else — people won't know you're looking for work unless you actually tell them.
Earned: $330
Coins + Other Random Income
My dad is the reason for the season, aka the reason I collect coins. Every year, he exchanges his jars full of coins to the tune of hundreds in cash. Granted, I don't use cash as much as he does, and you might not either (hello, credit card points), but coins are still worth collecting.
I have a jar of loose change in my closet, and so I rolled $10 worth and deposited it directly into the bank in order to avoid the fee that machines like Coinstar take out. I also received a $10 gas reimbursement from my part-time job. Usually I would use this sprinkling of random income as coffee shop money, but instead, I put that additional $20 toward paying off my car battery.
It's January 26 as I write this, and my month's budget is officially at zero, yet I have a couple of coffee meetings with potential partners for That First Year that I can't cancel on. So I'm taking the rest of my jar of coins to Coinstar (since I don't have enough to deposit directly into the bank), and I'm using those coins-turned-cash for my coffee meetings.
Earned: $30
The silver lining of this unexpected 50% pay cut is that it pushed me to be more serious about seeking out new writing clients. I can't rest on my laurels like I did most of the fall. Those months of relative income stability had rocked me into a comatose state, but January was a wakeup call to the financial realities of freelance life. I have to be prepared for the income peaks and troughs, especially as I'm just getting started: the pendulum swinging back and forth between "I can actually put money in savings this month!" to "Oh hell I gotta pull from savings this month!" I'm an incredibly controlling and fearful person (a maddening combination), so learning to be comfortable with this month-to-month income unpredictability is a humbling, but necessary, lesson for me.
But this is also the first time in my life that I've felt a joy for my work every single day. I'd much rather penny pinch (and coin roll) to continue on this career path than return to a cubicle just for a consistent paycheck. While one day I may return to a steady 9-to-5, this season of life is too sweet to give up on just yet.
Ally Willis is a public relations graduate who buys way too many concert and plane tickets and then writes about it. She puts all things British on a pedestal. She runs a blog about post-grad life and also writes about music and travel on her own personal blog.
Image via Unsplash