Introducing The Great American Credit-Off!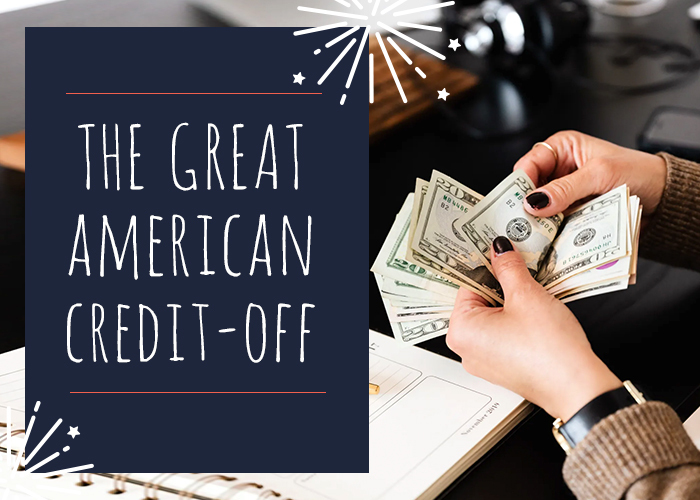 This series is sponsored by CreditRepair.com.
Whether you need to finance a car or get your name on an apartment lease, we all know how important it is to have a solid credit score. Of course, growing it can be a pain, not to mention elusive — but even though it takes time, it doesn't have to be so time-consuming.
In partnership with CreditRepair.com, we're launching an exciting new contest: the Great American Credit-Off! We've chosen three contestants to compete over a six-month period to improve their credit scores. They'll be competing in 3 different categories: 1) the largest increase in credit score, 2) the biggest improvement monthly credit utilization rate, and 3) paying off the highest percentage of consumer debt.
CreditRepair.com has provided all participants with 6 months of free access to their services. We'll be following their progress here and on our Instagram page and announcing the winners in October. Here, we've asked each participant to tell us a little about themselves, including where they currently stand credit-wise, and what they hope to gain from increasing their credit score with the help of CreditRepair.com. Here's what they all had to say!
1. Mallorie 
Current FICO Credit Score: 490
Location: Nashville, TN

Age: 34

Profession: Talent Buyer in the music industry & singer/songwriter
What is your current relationship with credit?
Hopeful, I would say. I've focused up on the issue recently (thanks to TFD), but I definitely need help moving the process along. What debt to pay first, that sort of thing. A plan of action would be great. Like my score is not good, it's embarrassing honestly. So I'd say my relationship with credit is hopeful but also downright embarrassing at times.
What do you hope to be able to achieve with a higher credit score?
Along with peace of mind, I would like to either refinance my current car loan or just be in a place (after other debts are taken care of) to pay off the car entirely. Would love to have a bunch of savings in the bank. Longterm — I'd love to buy my own place someday. Preferably at the beach, haha!
2. Aniesha
Current FICO Credit Score: 523
Location: Hoboken, NJ

Profession: Director of Customer Experience
What is your current relationship with credit?
A constant battle to keep my score up. I have credit card debt of 7K and upwards of 100k in student loans. I'm just now at a place where I can pay regularly.
What do you hope to be able to achieve with a higher credit score?
I would like to get my credit to a 700 so that I can get my own apartment, and no longer live with a roommate.
3. Kayla
Current FICO Credit Score: 351
Location: Brooklyn, NY

Age: 24

Profession: Executive Assistant at a startup
What is your current relationship with credit?
My current relationship with credit is scary, I know it's bad, I hate credit and I avoid it.
In 2019, I came to the realization that homelessness can result from many situations. Humanity usually has a preconceived notion that if you are homeless then at some point in your life, you gave up and you are a statistic. This was not the case in my experience. For the first time in my adult life, I felt what it was like to be homeless in one of the most expensive cities in the world that I grew up in. I had lost my job and my parents threw me on the street after some disagreements. I was then a 23-year-old with nowhere to go and limited options. I had to face the world of capitalism. 
Fortunately, I met a really good friend who allowed me to stay while I recollected myself. People take for granted the basics of life. During this time in my life, working three jobs was the norm and still didn't seem like it was enough. I saved as much as I could while putting some things on my first credit card. This destroyed my credit score because I was not able to pay things back in the time frame that was allotted. I moved around jobs a bit and eventually found a groove to live stable. Most people in NYC are living paycheck to paycheck, especially those under 30 who do not come from parents with money. Social media is vain, you just have to keep going and not share your struggles. Many of my friends are always stressed about money even with full-time jobs. Racism and classism is a real thing. 
What do you hope to be able to achieve with a higher credit score?
Currently, I am looking for ways to improve my score to be able to attain more goals. I hope to be able to take out a loan and also get a new apartment next year! In the future, I would love to be able to give back to social causes around youth and homelessness, have my own apartment, car and live comfortably knowing that I don't have bad credit. At 24, I cannot think of a more perfect time to work on this before my 25th birthday in July! With this challenge, I feel like I can finally make the conscious effort and know that I am not alone! 
4. Jennifer*
Current FICO Credit Score: 654
Location: Crofton, MD

Age: 32

Profession: Development Manager at a DC non-profit
What is your current relationship with credit?
I just bought a house in July, and have struggled with student loan debt and poor money management for a while. I make a really good salary for my field, and I am excited to learn some solid financial skills and hopefully start building a super strong financial foundation!
What do you hope to be able to achieve with a higher credit score?
I'd love to refinance my car and house and lower my monthly payments so that I can build my savings and start putting more money into my home renovation. I'd also like to pay off as much of my debt as possible and just get a grip on building a strong financial foundation. I'd also really love to start thinking about investing and stop living paycheck to paycheck.
*Jennifer prefers to use a pen name.
*****
If you've been struggling to grow your credit score, check out CreditRepair.com to learn more. They can help you work to repair, build, and maintain your credit score by working directly with the credit bureaus to challenge any unfair, inaccurate or unsubstantiated items on your credit report, and teaching you how to understand both your own score and the rating system.
Like this story? Follow The Financial Diet on Facebook, Instagram, and Twitter for daily tips and inspiration, and sign up for our email newsletter here.