Living Abroad Without Going Broke: Andalucía, Spain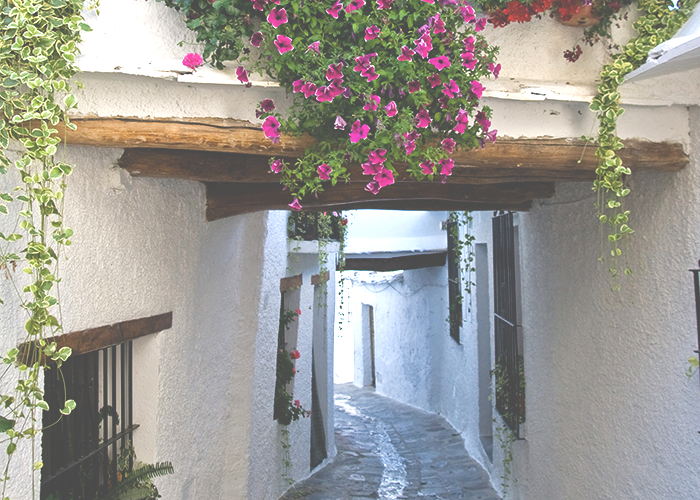 Each week, TFD is taking an in-depth look at the cost of living in other countries, to learn how people like us are able to fund their worldwide dreams. Moving abroad is something many of us regard as an unattainable goal, but it shouldn't be reserved solely for people who don't have to worry about money. We have an incredible lineup of people who have moved to every corner of the globe, and are more than willing to explain what their expenses are, and what it took to take the plunge and move abroad. If you live abroad, or have lived abroad recently, and would like to participate in this exploration, email maya@thefinancialdiet.com.
Last week, we explored Thailand. This week, Chelsea Alventosa,  answered the following 10 questions:
1. What city do you live in, and when did you move there?
I live in Arcos de la Frontera in the Cádiz region of Andalucía, which is basically the deep south of Spain, way down where Spain almost touches the tip of Africa. I moved here in September of 2011, after graduating from the University of Rochester.
2. What do you do for a living abroad?
I'm an English teacher, and my students range from age five to adults. I used to work in public primary schools as an English teacher and cultural assistant (otherwise known as an auxiliar de conversaión) in the mornings, and at a private language school part-time in the afternoon. Now I work full-time at the private language school, where students take extracurricular classes in the afternoon and evenings.
3. How exactly did you get that job, and how did you afford to move there?
I found out about the language assistant "job" through an email my advisor sent all the Spanish majors at the beginning of my senior year of college. I say "job" because technically the position is considered to be a paid post-graduate grant, so the income is not taxed and you come to Spain on a student visa, which means you can't work any other job. 
Anyway, after lots of waiting, I got a placement in Andalucía in March or April of 2011 and I started work in October of that year. I saved all the money I could from my summer job, and my dad pitched in for my one-way ticket as part of my birthday and Christmas gift. I got very lucky in that respect.
4. What are your monthly expenses?
When I first started working here, my monthly stipend as a language assistant was 700€, which easily paid for my expenses, but was not enough to splurge on travel. When I changed jobs, I began to work part-time jobs to make an additional 500€/month, which enabled me to travel more. Now, since I work full-time and am no longer on a student visa or working as a language assistant, my income is about 300€  lower than when I had two jobs. My boyfriend is studying right now, so I'm the only breadwinner of the house.
Monthly, I spend a little more than a quarter of my income on rent, and the rest goes to groceries for two, our phone bills, the internet, my gym membership and dance lessons, propane for our water heater and stove, entertainment expenses, and shopping. Over the past year, I've finally gotten a handle on our budget and have managed to start saving for other big things.
5. What do you like about the culture of your city, and what has made it easy to acclimate?
The best part of living in a smaller town (Arcos has about 35,000 inhabitants) is that you really get integrated into the community, as much as any foreigner who makes an effort can. It's easy, in a big city, to stick with other English speakers because there are so many, but living in a small town forces you to put yourself out there, and to speak Spanish.
The people in the south of Spain are generally really friendly and eager to speak with you and teach you about their culture. Of course, the sunny weather and mild winters make it easy to spend lots of time socializing on the outdoor patios of bars and restaurants, so that helps too. For me, I ended up finding a Spanish partner, which was obviously a very good way to pick up the customs as well. I never thought getting a serious boyfriend would be part of my "live abroad for a year" plan, but now, almost five years later, I'm still here.
6. What is the biggest challenge your new culture presents? Did you experience "culture shock"?
I was lucky to have my study abroad experience in Spain as a little taste test for what it would be like to live here, but staying long term comes with lots of challenges, and opportunities to notice major cultural differences. One interesting thing is that the days very much revolve around meal times. Food traditions are very strong here and straying from the normal meal times, or even the foods typically eaten during those meal times, will get you awkward stares. I still remember one of the first times my now-boyfriend spent the night at my place, and I made scrambled eggs for breakfast. He was shocked and confused because eggs are not a breakfast food here, and it took him a long time to stop thinking I was strange.
Breakfast here is something light before you go to work around 8 AM (maybe a piece of fruit or a yogurt and a coffee), and then mid-morning there is always a break around 10:30, and many people will go to a café and have another coffee and a hearty toast with olive oil and tomato or a spicy pork lard spread.
7. What obstacles did you face when moving abroad, and how did you deal with them?
I was lucky in that my family was very supportive of my move to Spain. Since I already had a job lined up for the summer, I was able to save before leaving, and my dad was able to give me a loan to help get me started, which I would then payback after I was settled.
I was able to easily find a place to live because I live in a small town (it can be more difficult in a big city). And the Spanish way of life really agrees with me. The most difficult part has been being away from my family and friends, but luckily technology helps bridge the gap.
8. What advice do you have for someone looking to move to your city?
Study Spanish! I know it seems silly, but the accent down here is really thick, so if you don't already know some Spanish, it can make everyday tasks much more difficult. Do your best to get over your embarrassment and the mental block of being scared to make mistakes. Not many people here speak English, so knowing a bit of Spanish will go a long way.
9. What was the process like for acquiring a visa before moving? How much did it cost?
Acquiring a visa was annoying because there are so many steps involved. I started the visa process before I even knew where in Spain I was going. I had to get a background check from the FBI, which took a few months, and then get an official seal called an "apostille" on it, which took even more time. Then you need proof that you'll be financially stable and that you'll have health insurance. For me, that information was provided when I finally got my offer letter in June.
Once I finally had all of the documents together, plus a $160 money order, and a prepaid envelope, I took all of it to my appointment at the Spanish consulate in New York City because I'm from Buffalo. Now, they've finally changed the process and they allow mail-in visa applications at the NYC consulate, so that will save lots of people the travel expense of going into the city.
10. Are there certain expenses in your country that surprised you?
I actually was pretty surprised by the start-up costs of moving abroad. Typically, rental apartments come furnished here, which is a godsend, but there are still lots of little things you end up buying all at once in the first few months. Since I didn't get paid until the end of my first month of work, I spent six weeks living purely off my savings, and, at the time, the exchange rate really did not help me out at all. But generally, the cost of living in southern Spain is much lower than I expected, and I am usually shocked when I visit home and see how much groceries cost and how insanely high rent is in the US.
Originally from Buffalo, NY, Chelsea has been living in Andalucía for the past few years with her Spanish boyfriend, teaching English in the land of sun. She's excited to move to Bristol, England in July 2016 to complete a master's degree in nutrition, physical activity, and public health.
Image via Flickr