Living Abroad Without Going Broke: Dijon, France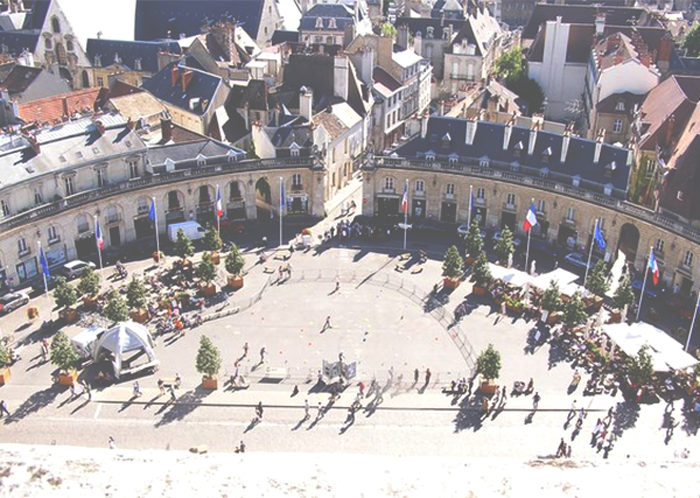 Each week, TFD is taking an in-depth look at the cost of living in other countries, to learn how people like us are able to fund their worldwide dreams. Moving abroad is something many of us regard as an unattainable goal, but it shouldn't be reserved solely for people who don't have to worry about money. We have an incredible lineup of people who have moved to every corner of the globe, and are more than willing to explain what their expenses are, and what it took to take the plunge and move abroad. If you live abroad, or have lived abroad recently, and would like to participate in this exploration, email maya@thefinancialdiet.com.
Last week, we explored Istanbul. This week, "foreign correspondent" Rachel York, an 18-year-old American who moved to France to get her degree in Dijon, answered the following 10 questions:
1. What city do you live in, and when did you move there?
I live in Dijon, France and moved here in July 2015 to start school. 
2. What do you do for a living abroad?
I am a full-time university student. I study political science at one of France's "grandes écoles" that specializes in political science and social studies. The main campus is in Paris, but they have regional campuses throughout the country that each specialize in studying a certain region of the world; my campus focuses on Eastern Europe. In terms of funding my life, currently, my parents pay my tuition and living expenses, which is very fortunate. I pay for any extraneous expenses (weekend trips, alcohol, clothes) with money I saved from my job as a camp counselor last summer.
3. How did you end up going to school in Dijon?
I had never heard of the school that I go to until about one month into my senior year of high school. Although studying abroad for my degree interested me, initially I thought it was too hard and put the idea on the back burner. I then learned about a double degree program my current school has with Columbia University, and I was very intrigued by the French school. I made the decision to apply and attend mainly because a) it specializes in political science, which I knew I wanted to study, and b) the specific campus I attend specializes in Eastern Europe which is a region I am passionate about. I've taken French in school for as long as I can remember, so the possibility of using my French knowledge excited me.  
I pay full tuition here (as opposed to French and European Union students) which is 10,040 euros per year. This is still much less than the cost of a private university in the United States, and that savings helps offset the high travel costs. Additionally, my father is an airline pilot so his airline points help pay for travel costs.
4. What are your monthly expenses?
I live in a student residence and my rent is 250 euros per month before the government subsidy (which I haven't officially received yet because the paperwork takes forever). After the government subsidy it will be around 190 euros per month. The student residence is cheaper than studio apartments but not significantly, which I know because most of my friends who have their own places pay around 300/350 euros per month. We all receive the government housing subsidy because we are all students. There is no such thing as a "meal plan" here, so I cook my own food in the shared kitchen at the residence and generally spend around 200 euros/month on food. This doesn't include coffee, alcohol, or going out with friends, which costs me (at maximum) 100 euros/month. However, often times parties and outings are funded by our student union, so we don't spend too much money on alcohol. Healthcare is fairly cheap, it's about 250 euros per year for international students.
5. What do you like about the culture of your city, and what has made it easy to acclimate?
A lot of what has made it easy to acclimate is the culture of both Dijon and my school. In terms of the city, it's really small compared to Chicago, where I'm from, and I live right in the center, so everything is within walking distance and I don't have to deal with transportation costs in the city. At my school, there are so many international students, as well as French students who are all extremely open and friendly. The student union is always throwing parties and events for us, and the first week was filled with parties and outings to help first years integrate. Additionally, because most people either live in the less-than-deluxe student residence, or alone in a studio, we have dinner together frequently.
6. What is the biggest challenge your new culture presents? Did you experience "culture shock"?
Navigating the educational system here has been somewhat shocking, not only because I am now studying 100% in French, but also because everything from the structure of how they write, to student/teacher relationships are very different here. The relationship is much more strict, and formal, which is hard to get used to. 
7. What obstacles did you face when moving abroad, and how did you deal with them?
The physical process of moving here was very difficult, especially considering most people going to college just drive down with their parents and everything they might need. We ended up paying a lot to get my bags over here (even with the discounts my dad gets as a pilot), and then getting all of my administrative work done was also challenging, and is actually still in process. This involves dealing with the French administration and bureaucracy. It's wonderful living in a country where my education is less expensive than private American universities, housing subsidized, and healthcare is high-quality and cheap, but in order to access all of these wonderful services, you have to deal with a very specific bureaucracy that requires at least two copies of five documents, random signatures, and various trips to offices whose locations seemingly change every week.
8. What advice do you have for someone looking to move to your city?
Do as much of the paperwork and administrative stuff as you can before you move, or at least research the process as much as possible, so that you don't have any surprises when you move. For instance, I researched the process of getting student housing (as it is run by the government and not the school) and had all of my forms done before moving in, which helped a lot, and other people were totally lost when they got there. Also, just be patient when it comes to things like a bank account, phone, wifi, etc. As a foreigner, and especially as a non-EU citizen, it's going to be a hassle and there is no way to avoid it, so just try to be as organized as possible. 
9. What was the process like for acquiring a visa before moving? How much did it cost?
In total, it cost around $200, because there was one fee for Campus France, which is the French government's agency for handling international students before they get a visa, and then the consulate fee for getting a visa. It wasn't that difficult of a process, it just involved lots of forms and a very long wait at the consulate. However, I was lucky because I live 20 minutes away from the consulate in Chicago. There were people at the consulate for their visa appointments who flew in from other Midwestern states, because you have to be there in person.
10. Are there certain expenses in your country that surprised you?
Being a non-EU citizen means paying random fees for stuff that I would have never expected, like a security deposit when buying a cell phone or an extra deposit for my residence. Also, although things like food and housing are cheaper here, but for some reason, services like manicures, hair cuts, or waxing are way more expensive.
Rachel is an 18-year-old political science student from a suburb of Chicago living in Dijon, France. When she is not studying, she likes to cook, read, and write, and hopes to be a journalist or a diplomat one day.
Image via Flickr