Living Abroad Without Going Broke: Dubai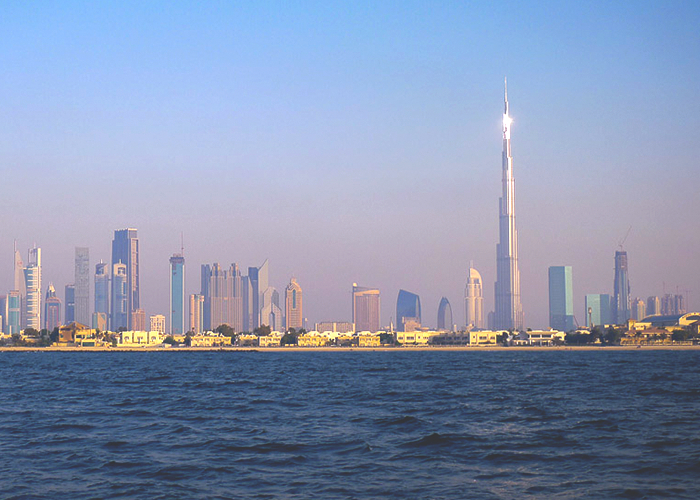 Each week, TFD is taking an in-depth look at the cost of living in other countries, to learn how people like us are able to fund their worldwide dreams. Moving abroad is something many of us regard as an unattainable goal, but it shouldn't be reserved solely for people who don't have to worry about money. We have an incredible lineup of people who have moved to every corner of the globe, and are more than willing to explain what their expenses are, and what it took to take the plunge and move abroad. If you live abroad, or have lived abroad recently, and would like to participate in this exploration, email maya@thefinancialdiet.com.
Last week, we explored Beirut. This week, Claudia Mortimer, who grew up in Haiti but has an American passport, who currently lives in Dubai, answered the following 10 questions:
1. What city do you live in, and when did you move there?
I currently live in Dubai, United Arab Emirates. I moved here in August 2013 to pursue my Master's degree in International Business at Hult International Business School, an American university with global campuses.

2. What do you do for a living abroad?
I am currently the operations manager for a tech and media company. I handle operations for an annual tech event, STEP Conference, the biggest tech event in the Middle East, similar to the likes of Web Summit in Dublin or SXSW in the U.S. I started out as a part-timer during my studies, then was offered a full-time position as project manager after graduating. 
3. How exactly did you get that job, and how did you afford to move there?
Career services at my school, HIBS, had sent out an email about a part-time position as an events coordinator for this tech and media company. The account manager at the company was actually an alumnus of HIBS so the connection started from there. I responded to the email saying I was interested, and then I was invited for an interview. A couple of days later, I was offered the part-time role. So, I didn't exactly move to Dubai for this role, I was already in the city studying. Usually, while living abroad, I like to look for internship or part-time opportunity not only to make extra money, but also as a way to get immersed in the professional life of the city and grow my network. For example, during my undergrad in the U.S., I decided to become a resident assistant, which helped with housing and meal plan costs. While I was in Geneva, Switzerland for four months, I worked with a consulting organization as a communications intern.
I received a Women in Business scholarship from HIBS, which funded part of my tuition fees. My family, who I'm so thankful for believing it was worth it, helped me with the rest of my tuition and living costs. I got the part-time role within a few months of moving to Dubai, which was also a big help financially.
4. What are your monthly expenses?
Between my car loan, rent, utilities, groceries, and gas, which I consider "musts," I spend about 8,700 AED ($2,300) per month. To manage my personal finances, I use my bank apps and am trying budget-tracking apps like Mint. I also try to use cost-saving apps like Entertainer, which is a buy-one-get-one-free platform with hundreds of merchants listed. 
In Dubai, if you are living in a residential tower or apartment complex that is properly managed, rent is paid on average in two-to-four checks, as opposed to once a month. If we take my current apartment, for example, my rent is 41,667 AED for the year, which is $11,354 (excluding deposit, agent fees, and utilities). I live in a three-bedroom apartment with two roommates. It's nowhere near a metro and a bit out of the way from town (which we define as anything along the major highway, Sheikh Zayed Road). Our apartment is great: it has large bedrooms, three balconies, and a large common room space. Although it's out of the way, it is what my roommates and I could afford budget-wise.
5. What do you like about the culture of your city, and what has made it easy to acclimate?
I love how international Dubai is. It's one of the reasons I wanted to come here and stay for a couple of years. I got the same feeling as I got while living in Geneva, which is also very international as most of the international organizations' headquarters are located in the city. I love meeting people from all over. Each person has a different experience and story, so you always learn something new.

6. What is the biggest challenge your new culture presents? Did you experience "culture shock"?
I didn't really experience culture shock in a big way, as Dubai is very "westernized" and everyone speaks English here (80% of the population are expats). Of course, the fact that Dubai/UAE, despite being westernized, is a Muslim state means there are customs that I had to get used to. Ramadan, for one, requires being careful about where you eat and drink since it's not allowed in public for that month. Ramadan also affected my job search because most decision-makers go on vacation during that time; business is slow and ends up picking up again around August/September. The weather, combined with the month of Ramadan during the summer makes the UAE a bit "dead."
I definitely expected to learn and speak some Arabic, but it is really difficult to practice because everyone speaks English or responds in English even when you're deliberately trying to improve your Arabic.

7. What obstacles did you face when moving abroad, and how did you deal with them?
The first obstacle was finding a decent flight. I'm from Port-au-Prince, Haiti's capital, which doesn't have many airlines or direct flights to most places. Also, since I was coming to Dubai for school, I wanted to plan my flight with other students that were flying from the U.S. Another obstacle was the amount of things I was able to bring. Since I was traveling from far away with baggage limitations, I was only really able to bring clothes, which meant I had to spend on other necessities when I arrived in Dubai.
Currency exchange is also something that was impossible for me to do prior to reaching Dubai, so I had to wait until I got to the Dubai airport to get Dirhams (AED).
My family members also had a lot to say about my decision to move to the Middle East. I was legitimately asked, "Don't you have to cover yourself there?", "What about the risk of terrorist attacks?", "Do they like black people there?", and more things I ignored. To this day, they are still unsure about the lifestyle here.

8. What advice do you have for someone looking to move to your city?
Immerse yourself in the local culture. With an 80% expat population, the Emiratis really keep to themselves. I think the greatest part of living here is getting away from what Dubai is known for — skyscrapers, the tallest building in the world, man-made islands, pet cheetahs, and expensive sports cars parked everywhere. My close friends and I got to meet a group of Emiratis who were really cool and open. There's a misconception that Emiratis may not be welcoming or are not interested in anything beyond the UAE. In fact, they are very well-traveled, speak fluent English, and are open to helping others understand their culture. Our Emirati friends have introduced us to local food and customs, and, more broadly, Arabic food and customs. Also, the best way to learn some of the language is speaking and hearing locals speak to each other.

9. What was the process like for acquiring a visa before moving? How much did it cost?
As a student, the university completes the visa process, so that was fairly easy on my end. I just needed to send the necessary documents, like a copy of my passport, etc. The cost was also included in our student fees. After graduating though, your visa gets canceled immediately by the university and the government, so it becomes stressful for those who are in the country because you have to worry about leaving and re-entering, etc.
Although I was raised in Haiti, I also have an American passport, which is considered one of the easiest passports to have when dealing with visa applications and regulations here in the UAE. When you are working for a company in Dubai, that company is responsible for the costs of your resident visa and will help you complete the process. The visa costs about 3,000-4,000 AED ($815-$1,090), but my company paid for it entirely. After I got my full-time job offer, I thought everything would go smoothly but, that wasn't the case. I spent about six months doing what we call "visa runs": going to the Oman border, stamping my passport when exiting, and stamping my passport to re-enter. 
10. Are there certain expenses in your country that surprised you?
The biggest surprise in terms of expenses in Dubai was rent. Not only is it on the steeper end, I had no idea how most rent contracts and payment worked here. You pay two-to-four times per year, instead of paying monthly.
Claudia, currently living in Dubai, UAE, is a native of Haiti. Growing up in a third-world country has fueled Claudia's passion for culture, international experiences, and global issues.   
Image via Flickr