How Much You Can Really Expect To Earn From 5 Popular Side Gigs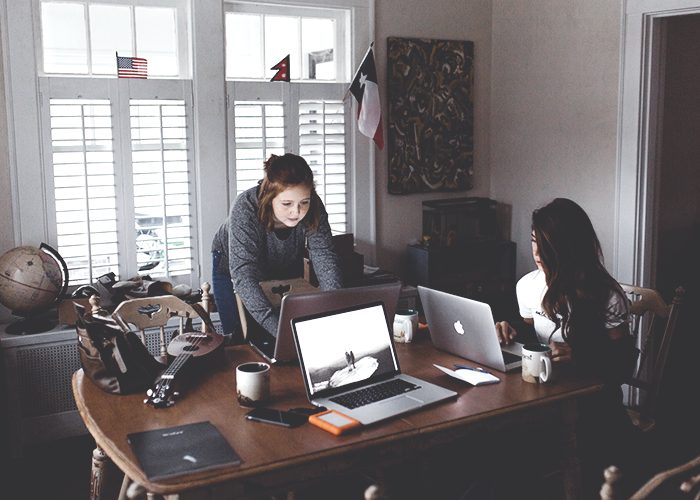 Even if you already have a steady 9-to-5, you may be looking to make some extra cash. You're certainly in good company. According to a 2016 CareerBuilder survey, 44 percent of 25- to 34-year olds pad their income with a side gig.
You may be wondering, though, how much you can really expect to rake in each month. After all, free time is precious — and jumping into a time-consuming gig that doesn't yield much is more likely to cause burnout than move you closer to your financial goals.
So we've looked at some popular side gigs and platforms, like Lyft and Airbnb — and talked to people who've actually used them — to find out how much you can earn, and what you should know before taking the leap.
1. Home Rental Services
Sites like VRBO, Airbnb, and HomeAway provide trusted platforms for renting out your place — a side gig John Liston, manager at home services platform All Set, considers one of the best: It's potentially high paying and low effort.
That's been the case for Dayna Stephens, a 34-year-old actress in L.A., who uses Airbnb whenever she's away. "I make $150 a night, which translates to $300-$1,500 a month, depending on how much I travel," she says. (Rates can vary widely, but a rate of around $150/night is common for a nice studio or one-bedroom in a prime spot.)
While startup costs vary, Stephens says she's just invested in "guest only" sheets and towels and takes care of turnover services herself. (Others may prefer to pay for a cleaning service to come in between visits and may buy extra guest amenities like miniature bath soap and shampoo bottles.)
Of course, one concern with hosting strangers is how they'll treat your stuff, but the platforms have support processes in place for disaster guests, including security deposits. Just remember to check the laws and stipulations for renting out your home before getting started. (Airbnb has a handy cheatsheet of things to consider.)
2. Ride-Share Driving
One of the most popular side gigs today is giving people rides, using platforms like Uber and Lyft. Gene Caballero, 37, of Nashville, started driving for both eight months ago after quitting his corporate job to pursue his startup full time. He drives three or four nights a week, usually earning $50-$75 for two hours of work on weekdays and $200-$300 for four or five hours per night on weekends.
It's not all profit, though. "I normally wash my car — about $20 — every Friday or Saturday to keep it extra clean," Caballero says. "I also get a case of waters every week — about $4 — to keep the car stocked." He adds that drivers should also opt for full insurance coverage, just in case.
Part-time Lyft driver and full-time marketing coordinator Ziporah R. Paskman, 41, who drives in South Jersey and Philadelphia, recommends staying on top of your expenses for tax purposes. "Track your mileage, and save your receipts for car washes, car repairs, maintenance and tolls," so you can write it off at the end of the year, she says.
3. Dog Walking
If you're a pet person, dog walking — perhaps through a platform like Barkly Pets or Rover — can be a fun and lucrative gig. "We have full-time walkers who are currently pacing to earn $50,000 this year," says Dave Comiskey, co-founder of Barkly Pets. "We also have walkers who step out of their day jobs for 30 minutes around lunch to walk a dog, which pays about $20."
Gabby Rains*, 27, made $7,000 a year on the side (through Rover) when she worked as an independent marketing specialist. While she says it's "amazing to get paid to play with dogs," she recommends meeting the owner before accepting a job. "This will tell you more about the type of experience you'll have beyond what's on their profile," she says.
4. Fitness Instructor
While you'll have to shell out training costs — and spend time getting certifications, including CPR and any ongoing education needed — leading group fitness classes can pay off in more ways than one.
D.C. lobbyist (and triathlete) Elizabeth Westbrook teaches two or three spin classes and one bootcamp class a week — making an extra $600-$800 a month. "I get a workout, too, which I'd be doing if I weren't teaching. And I get to use the gym for free," she says. "Plus, a lot of important people in [the political world] take my classes, which has turned out to be a great perk."
To break in, get on an email list at gyms in your area or consider going freelance and training students — or your friends — in a local park to start.
5. Food Delivery
With a plethora of delivery companies like Postmates, DoorDash, Uber Eats and Caviar popping up, extra cash could be as easy as picking up someone's to-go order. Kevin Brown*, 30, an attorney by day and money blogger based in Minneapolis, delivers for many of those companies.
"Delivering food on my bike just makes sense to me. In my mind, I'm basically getting paid to exercise," he says. "I usually do my deliveries using my city's bikeshare system — a $75 annual fee I'd pay anyway — so I don't even have to pay for bike maintenance."
Typically, he spends an hour after work, or an hour or two on weekend mornings, delivering food as a way to get his workouts in, making nearly $4,000 in 2016.
Of course, delivering on a bike has its challenges, Brown adds. "I'd avoid any pizza deliveries because it's too hard to carry a pizza. Same with coffee deliveries — coffee spills everywhere! I'll carry fountain sodas, though, since I've gotten good at holding those. I also usually don't do as many deliveries in winter if it's too cold."
Read the original article on Grow. Copyright 2017. Follow Grow on Twitter.
More from Grow:
Image via Unsplash