How Much I Spend On Makeup You Can See Vs. Makeup You Cannot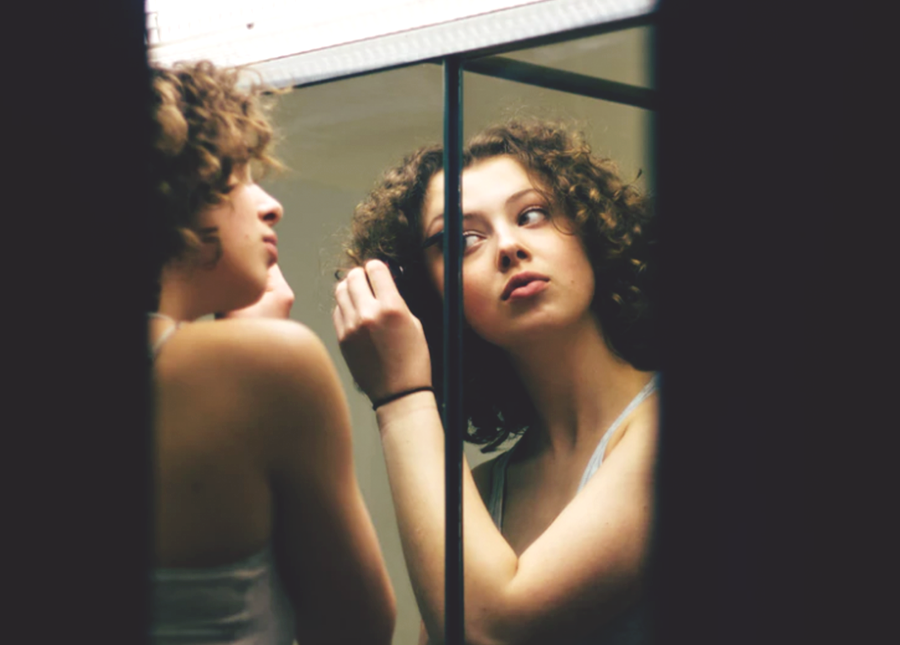 For someone who fancies herself a beauty writer, I don't do too much in terms of my daily beauty. On a good day, I shower, shepherd myself through my three-pronged Glossier serum routine, straighten my hair with time leftover to hydrate my skin and hair follicles with a luscious blend of single-ingredient oils fashioned together into my own elixir. On a bad day, I pick up my partner's clothes from the day before that never made it into the hamper, put them on, baby wipe under my arms and splash my face with micellar water. Ahhhh, I validate myself, I'm French.
But that's neither here nor there. A good day doesn't look like every good day before it, and it certainly doesn't look like every good day that may or may not come after it. Some days I'll be feeling an aqua and teal mermaid eye (as seen on Instagram). Other days will be up to twitter polling my mutuals over my favorite olive green look, monochrome burnt orange, another stab at Rihanna's blue shimmer avec red lips look from the "Wild Thoughts" music video or an over blended cranberry eye. But most good days, I'm after the perfect "no-makeup makeup."
Sometimes you can see the work that I did on my face — it's visible. Sometimes you can't — invisible. Both are by design. I decided to see how much they each cost me. After I get back from polling my mutuals as to which of my "visible" looks is their fave, I'll tally the cost of my both my labor and my products. I'm expensive, whether you see it or not.
When it comes to putting a price on the labor it takes to apply my makeup, I'm a woman. There's no tried and true way to calculate the labor women do in the world to keep it afloat, and there are even fewer methods of calculating the labors of love women perform for themselves. However, for the sake of this article, I had to try. Based on my minimal experience with doing makeup for anyone other than myself, I figured if I were to charge myself, I would charge myself commensurate with experience. After a little research, a freelance makeup artist just starting out would charge about $50 per one hour of work compounding travel, products, insurance, and other business overhead. Because doing my makeup is not my business, and I don't have the same overhead, I decided $30 an hour is a fair way to quantify the work I put into myself. Would I pay myself $40-$50 everytime I was to do my makeup? Could I alter my thinking to understand self-care as an expense worth spending on myself? (I could and I do, but makeup and money are scary.)
Here's what I spend on my two main looks:
No-Makeup Makeup:
It seems insane to spend the time and money investing in makeup that no one will ever "see," but if you possess an olive complexion like myself and have often found yourself under fluorescent light with a well-meaning white woman asking if you feel alright…you know why the expense is worth it. A no-makeup look is my go-to for in-person interviews for a write-up, as well as meetups with old friends from college, flexing on a family member who once passive aggressively shared that I could put more time into my appearance, or, you know, a well-lit selfie to which Facetune wouldn't respond well.
Products:
Tools:
Grand total: $501.80
A Beaten Face:
A face beat for the gods is the look reserved only for the days (and more realistically, nights) when I know I'll be seen. Oh, Ally…but you're seen every time you leave the house. No, this face is for the times I want to be gawked at. This face is for the men who boast about taking her swimming on the first date, unable to tell if my eyelashes are real or fake, or if the black at the inner corner of my eye was placed there by God or myself (and who can tell the difference?). I'd spend the time crafting a face like this for a candlelit dinner with my partner, for the launch of a magazine I have contributed to, or for a day I know I'll have my picture taken.
Products:

Tools:

Grand Total: $886.80
That's a $385 difference. (Keep in mind these are the costs of the products outright, not the cost of one individual use.)
Before I wrote this, I was convinced that my "no-makeup" makeup was my more labor intensive beauty ritual. However, the sheer number of products I spackle on my face to make it look like I've done just that blows whatever labor thoughts I had out of the water. If I were to do either of these looks again, I imagine I'd take a more careful approach, considering I wasn't leaving my house after this particular experiment. In any event, my perceived notions about the amount of time and money I spend on any given look are unreliable.
The difference in tools is only cited in reference to my own laziness. When I'm putting together a no-makeup look, I am going for the misguided but well-intentioned advice of Rebecca Katsopolis to niece DJ Tanner. As a result, I want my makeup to expertly blended into without precision. My fingers compounded with a beauty blender are really all I need, but some old makeup habits (like my discontinued Chanel Foundation brush) die hard. When it comes to crafting a fully painted face, my goal is to look like every speckle of glimmer and shimmer were placed with the expert hand of Patrick Ta. Nothing out of place, not natural, but made to look as if my face were born to wear this look — like color and glow simply emerge with comfort. Brushes are required, and yet I always feel like I'm using more/doing more than this product list has to show.
Ally is a Leo sun, Aries moon, Cap rising with way too much to Tweet, so she started a career.
Image via Unsplash