Why Music Festivals Are The New Country Club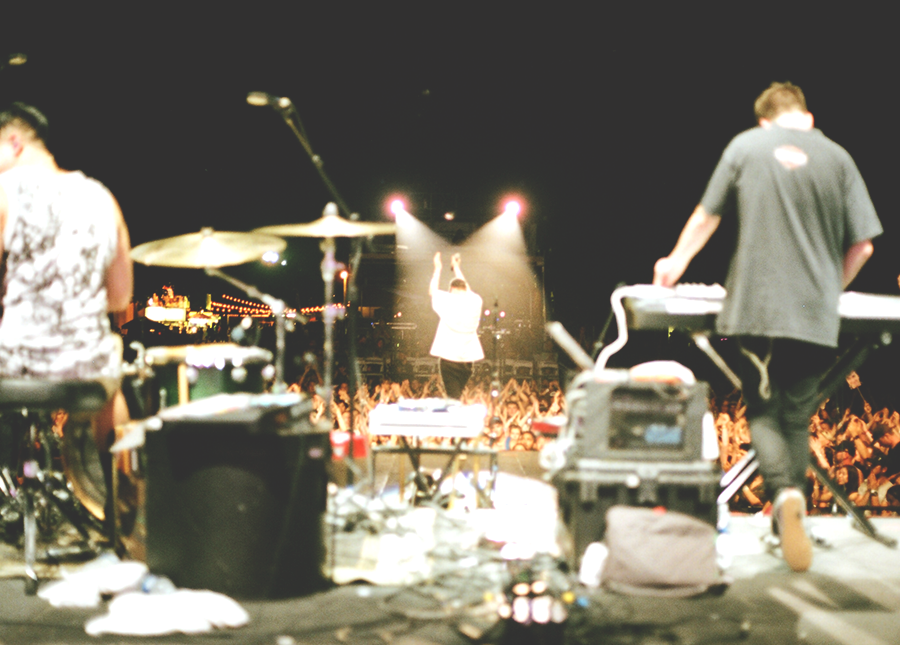 Last week, Coachella and Bonnaroo, two of America's biggest music festivals, released their lineups and ticketing information to the public. I was very excited to discover both events are set to host an impressive set of headliners and lesser-known musicians alike. I haven't been to any concerts (or festivals) in a long time, so my curiosity led me to consider possibly attending this year's events.
And then I saw the cost.
General admission prices to attend either event range from $300 to $500 without food, parking, transportation, or lodging. In addition, both festivals offer several vaguely named "VIP packages" that cost upwards of $6,000. Remember, this is all without the cost of getting to and from the venue.  
It seems outrageous that anyone would ever pay that much for entertainment. And yet, they still manage to sell out every single year.
I'm not sure exactly when or how it got to this point, but I know one thing is for certain: Festivals are not made for the average music fan. They're not even really for the super-passionate fan. I would love to see Beyonce and The Killers perform, but this isn't one of those "if you can dream it, you can do it" situations. Between the triple-digit (and in some cases, quadruple-digit) ticket prices, inflated lodging/travel costs, and expensive fashion, presence at one of these high-profile festivals is rapidly becoming a luxury intended for the only most privileged elite to enjoy.
For example, if you do decide to go to Coachella, in addition to your entry cost, you have the option to upgrade from the "cheap" $113 campsite experience, and pay $8,000 to sleep in a swagged-out "safari" tent for the weekend. Yes, it's still a tent. Sure, it's a pretty pimped-out tent, and it definitely puts the "glam" in Glamping, but this fancy little hut is worth more than the car I'm currently driving, and it makes me angry because the only reason this is even a thing is because people are actually willing to pay for it.
In many ways, these music festivals are becoming a contemporary version of the country club. To be at an event like Coachella, Lollapalooza, Sasquatch, Firefly, or Glastonbury, is to be at a real-life, 21st-century version of Jay Gatsby's parties. All of these festivals maintain the same aura of exclusivity, indulgence, and self-congratulatory sentiments that make an attendant feel like they've "made it" or done something great, simply by being there.
"Oh, you saw Snoop Dogg in concert? That's cool, but you really should have been there for his Coachella set when the Tupac hologram showed up. Psh, that shit was history! ICONIC!!!"  – Actual quote overheard in a San Francisco bar, 2014.
Prior to the late-2000s, it seemed like rich people and their social activities existed primarily behind the shiny, gold gates of America's most distinguished clubs. Of course, many still do, but now these places are largely populated by "old wealth" — the kind one associates with golf tournaments, sweater vests, and a shrimp cocktail.
And though the crowd you encounter at a music festival may look more hip and approachable than what you'd find at a Pebble Beach golf resort, they are still undoubtedly part of that same upper echelon of wealth. It is the kind of wealth that drop $300 (if not much more) on a sequin jumpsuit they won't wear ever again and $130 on a juice cleanse to "detox" before the event, without thinking twice about either. It is the kind of wealth whose life outside of the festival is entirely subsidized by their parents, though they will remind you they aren't rich because they have a part-time barista job to finance their brunch addiction. Their social media profiles are covered with photographs of their numerous travels around the globe, the occasional snapshot of them at a club, or one of the many festivals they attended alongside a B-list celebrity. Like the tennis-playing elite of days before their time, their lives are ruled by leisure, and it's nearly impossible not to envy.
And full disclosure: I have tried, on multiple occasions, to push myself into "cool kids club" due to my own insecurities, and I failed every time. I went to college in southern California, which means festival attendance (Coachella in particular) was about as mandatory as showing up for my statistics midterm.
When I finally charged my credit card to fly to the Bonnaroo festival in Manchester, Tennessee, three years ago, I was motivated in part by a burning desire to watch The Arctic Monkeys and Elton John perform, but also by the very "hip" factor of being a person attending. Of course, I paid immensely for my stupid decision, because by day three, I ran out of cash for food ($80 does NOT get you very far when buying $14 vegan hot dogs) and felt miserable and exhausted for the remainder of the festival.
During that very same weekend, I witnessed the campsite next to me have a very different experience than my own. The group, which consisted of several students dudes from a private northeastern college, spent every evening drinking themselves into oblivion, taking selfies by the entrance sign, and proceeded to sleep through hours upon hours of performances. On the last day of the festival, I asked one of the guys if he felt bad about missing Vampire Weekend (a band he talked about being so excited to see), since he had traveled so far just to be there.
"I'm not worried, I'll catch them at Sasquatch or Lollapalooza. I've got VIP passes to both, so it's chill."
And in that moment, I realized I was way out of my element. But even more so, it showed me that music festivals had far less to do with music and way more to do with the "cool" factor than I'd thought. He didn't care that he missed out on the actual music. What mattered to him was that he got a picture to prove he made it there, and that he partied his ass off for three straight days.
Now, there is nothing inherently wrong with people who have money spending it as they please. And yes, the arts are incredibly valuable, and musicians deserve to be paid and supported by their fans.
But for every member of the upper class that buys into the culture created by music festivals' exclusivity, the more challenging it becomes for anyone without a trust fund to go out and support the artists they love. It is ironic, too, because what the festivals try to sell their attendees is a diverse, communal experience where everything is egalitarian since everyone's there for the music. And in the same way you see a lot of people who, ahem, look alike at America's country clubs, it seems like festivals and their pricing are gradually pushing their attendees to become a more homogenized demographic.
Even if you promised me that it's possible to attend these festivals on a budget, rest assured, I will remind you the entry cost alone is beyond what more than half of all Americans could afford if they had a real-life emergency. The fact that anyone might say going to an event like Coachella can be done cheaply is both insulting and indicative of how out of touch many of its attendees and creators are with reality.
Unless I manage to snag free tickets from a radio contest, it's unlikely I'll be attending any of these big label festivals any time in the near future. In fact, when Beyonce does make her majestic Coachella appearance this year, I know I'll be watching it for free on the live-stream from the comfort of my couch. Because the bottom line is it shouldn't cost me, or anyone, more than an entire paycheck to sit back and enjoy the music.
Savanna is a freelance writer in Northern California whose hobbies include all things theater and dog-related. She hopes for a world where avocados will be included in the price of her entrée and a 12-step program is widely available to people who obsessively collect air miles. Follow her on Twitter here.
Image via Unsplash