My Honest Thoughts On Blue Apron After Using It For 4+ Years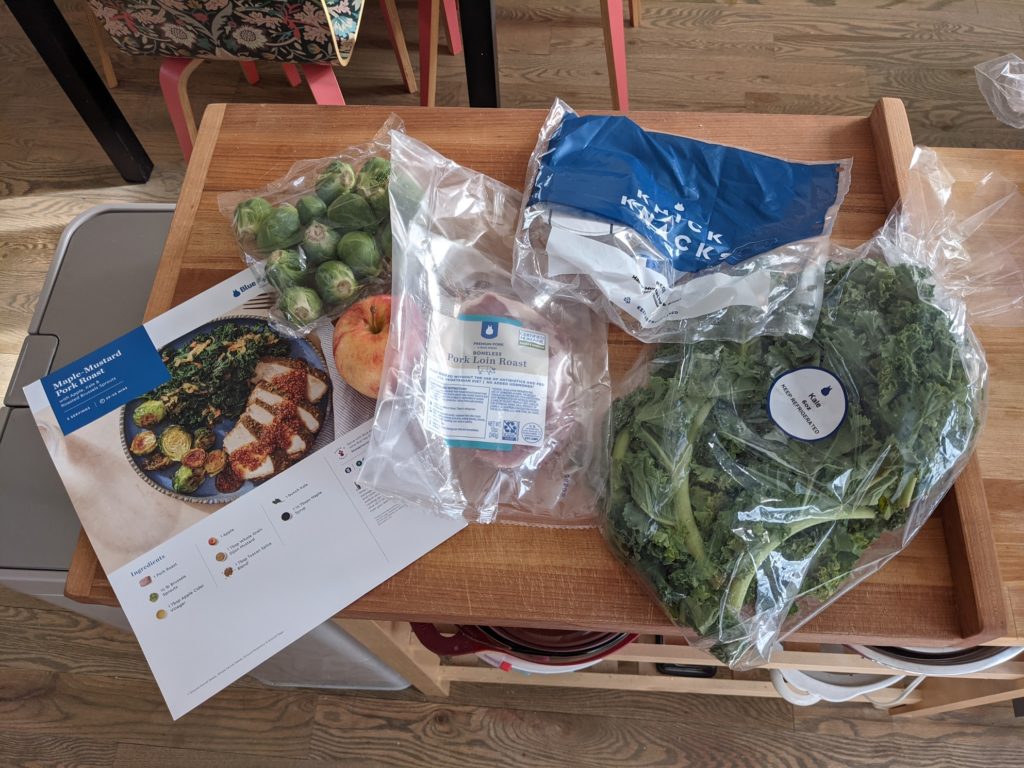 This article is sponsored by Blue Apron.
If you've been following TFD for a while, there's a good chance you already know that I've been a loyal Blue Apron customer since before I started working here. I was introduced to it by my now-husband, Peter, who had started subscribing to Blue Apron when he was newly single and tired of cooking himself the same boring chicken and rice every night. (Meal planning is not his strong suit.) I was hooked from the get-go — as someone who loves food, it was a very simple way to cook delicious, high-quality meals without the effort of grocery shopping or meal planning. So when I found out we were going to be partnering with Blue Apron here at TFD, I was very excited to repeat the same spiel to you all that I've been giving my family, friends, and loved ones for the past 4 years.
Of course, no product is perfect for everyone, no matter how much I personally like it, so I want to help you make an educated choice before deciding to sign up. Here are all of my honest thoughts on Blue Apron, and why I think it might make a great addition to your life in 2021.
How does Blue Apron work? 
Most of you likely know how meal kit delivery services work, but if not, Blue Apron is simple and straightforward — you log into your account on the app (or their website), view your upcoming meals to be delivered, and change your meals if you want something different (as long as it's before the cut-off date). Peter and I have the "Signature for 2" meal plan, meaning we get 3 meals (6 total servings) each week that we pick out of 11 meal options. Blue Apron also offers a meal plan for 4 people, which gives you 7 meals to choose from, as well as a meal prep plan that offers 2 different meal prep packages.
What's included in a Blue Apron box? 
Literally everything except cooking oil, salt, and pepper. Every single box comes with all the ingredients you need for each of the meals you selected, in only the exact increments you need. I do feel like using Blue Apron has helped us waste less food, because we don't have any leftover ingredients after we've cooked that week's meals. (I can attest that all of the ingredients are super high quality, especially the meats!)
Maple-Mustard Pork Roast Ingredients
The only item we end up having more of is garlic. Even if your box just has one dish that includes garlic, they will send you an entire bulb. We literally never run out of garlic now.
That said, because the ingredients are portioned so well, they do have to be packaged individually, so you are likely left with more to recycle than you would be if you were only buying food at the grocery store. (Blue Apron's packaging is 85% recyclable.)
Each box also comes with super detailed instructions for cooking each recipe, which never require any fancy cooking equipment — usually just a spoon/spatula, pot and pan, and maybe a sheet pan if you're roasting something. 
Is it healthy?
I don't personally subscribe to a specific diet, but I find that even the more "indulgent" Blue Apron offerings are well-balanced meals that leave me feeling satisfied but not gross. They all have a solid focus on protein and a significant vegetable component. 
They also offer tons of options that are more carb-conscious, as well as options that are Weight Watchers-approved, if that's something you're looking for. I regularly try to select at least a couple more carb-conscious options each week to help us feel a bit more balanced, and they are just as delicious as the "regular" options. 
Blue Apron also now offers wellness meals designed in collaboration with nutritionists with your holistic health in mind. One of my favorite recent health-conscious recipes was their Maple-Mustard Pork Roast, which had really juicy pork, a delicious mustardy sauce, and tons and tons of veggies. And in our upcoming deliveries, we're super excited to try the Miso-Ginger Rice Bowls, Provencal-Style Baked Tilapia, and Sheet Pan Chipotle Pork Roast. 
Maple-Mustard Pork Roast
How much does it cost?
Our base rate has always been less than $60 a week for 3 meals of 2 servings ($59.94, to be exact), so each serving is less than $10. We do sometimes upgrade to a "premium" option, like a Cheesy Beef & Pork Sausage Meatball Bake recently (omg it was so good), which can add $5-10 per serving for one of the meals. That being said, the premium options always include a lot more food — we usually end up with leftovers and get 4 servings out of those!
We still do plenty of regular grocery shopping — since the beginning of COVID, I'd say we spend $150 a week on average on groceries (but keep in mind that covers nearly all of our non-Blue Apron meals, aside from occasional takeout). So with Blue Apron, we're spending a little more than $200 a week on groceries for two people, which does include the cost of my baking hobby and some occasional craft beer. To me, that doesn't feel like overkill (especially in a city like New York), but you should keep your own budgeting constraints in mind.
Who is it for?
If you like cooking, trying a variety of foods, and having health-conscious meals, but don't want to have to plan a huge menu each week, I think Blue Apron is a great option. There are lots of meal options they offer that we wouldn't normally go out and procure ourselves (we get so excited every time there's a steamed bun on the menu).

Calabrian Chile-Glazed Meatloaf
We also typically cook two other meals that provide tons of leftovers in addition to our weekly delivery, so it's not like Blue Apron alone is forcing us into the kitchen. That said, with the very easy-to-follow recipe instructions, I do think it's an awesome introduction to cooking for anyone who's not super confident in the kitchen.
Who isn't Blue Apron for?
While Blue Apron offers tons of vegetarian options, it's not the right option for you if you're vegan. And if you have a ton of allergies or food sensitivities, it may not be the best choice for you — luckily, each upcoming meal lists every ingredient on the Blue Apron website, so you can peruse and make the right choice for yourself before committing. 
And while I personally think the cost is worth it, thanks to the quality of ingredients and variety of meals (and, not to mention, the convenience of not planning or shopping for three meals), $10 a serving is admittedly more than the rest of the meals I cook during the week. Blue Apron has helped me cut back on food waste, which can help save money in the long run, but I totally understand that some people need to pinch every last penny these days.
Ready to try it out? 
Click here to check out Blue Apron's new healthy options and lock in your next order, and get $60 off over your first three boxes!