Naomi Osaka & The Steep Price Of Prioritizing Mental Health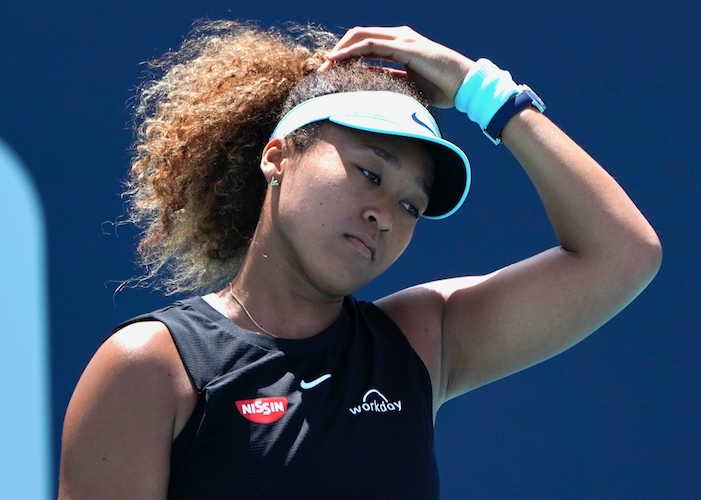 Yesterday (June 7), it was revealed that tennis phenom Naomi Osaka officially decided to pull out of yet another major tennis tournament, this time opting not to play in Berlin's upcoming tournament. Osaka's decision comes a week after the 23-year-old star athlete pulled out of last week's French Open on the grounds of her mental health.
So… What's Happening Here
ICYMI – Naomi Osaka, currently the highest paid woman athlete in the world (she made $55.2 million in the last 12 months – $5.2 million prize money and $50 million in endorsement deals), was trending in both the sports and non-sports world, after she took to her Instagram to drop a personal statement regarding her decision to back out of the French Open, on the grounds of mental health. 
You can read her IG statement below: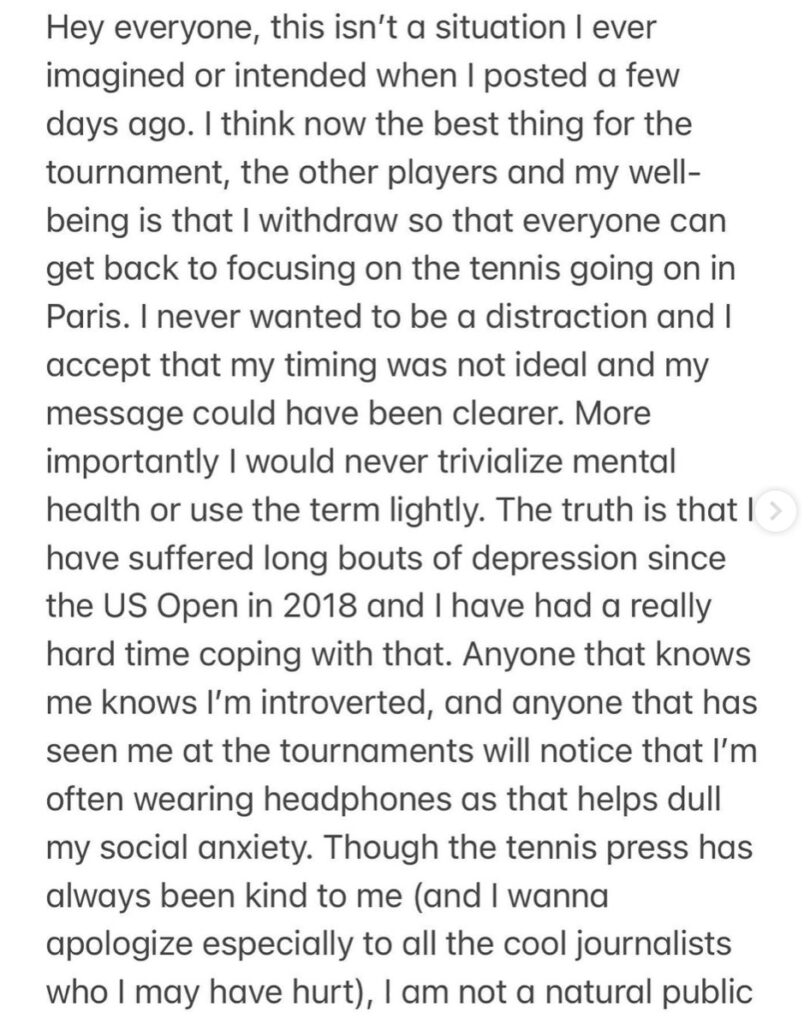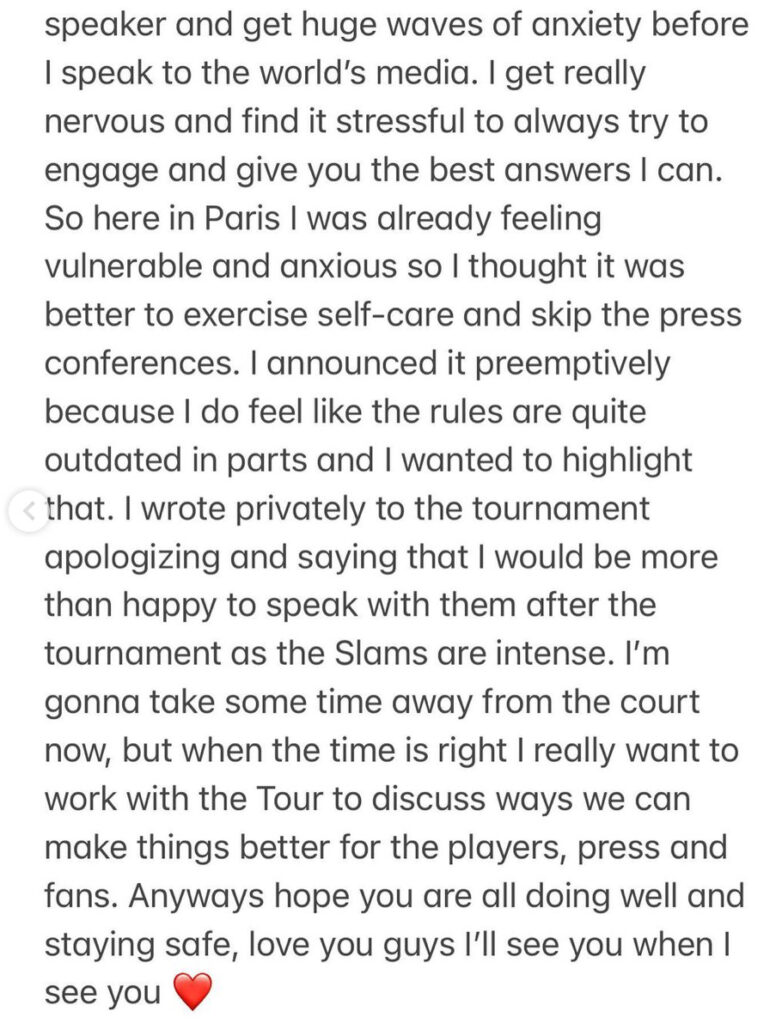 It all began last Wednesday when Osaka disclosed to French tournament officials that she wouldn't participate in any post-match news conferences, because negative questions affected her mental health. It came to a head-on Sunday after her first-round win in the French Open, when she made good on her word and skipped the post-game interviews. Soon after, Osaka was fined $15,000 by the tournament's referee and, if that wasn't insulting enough, leaders of the four major Grand Slam tournaments — Australian, French and United States Opens, and Wimbledon — threatened that Osaka faced being expelled from the French Open and other "harsher" penalities if she failed to fulfill her media obligations and appearances. 
Yes, seriously.
It's pretty concerning that, in 2021, an anxiety attack isn't looked at with the same regard as a sprained ankle when it comes to a valid excuse for missing a game (or in this case, a press conference), considering that both involve some level of strain – be it physical or emotional and/or mental. It's also crazy that some of the best athletes are taught and coached "mind over matter" when it comes to strength endurance and perseverance, but when it comes to self-preservation, we tell them that their minds don't matter.
And considering that tournament officials used fire to smother the flames, my guess is that last week's backlash from the organization, as well as negative news coverage surrounding her decision, did nothing to help Osaka's ongoing issues with depression and anxiety. Thus, leading her to not only back out of Berlin next week, but also leaving no word on whether she'll be playing in the upcoming Wimbledon on June 28, and the Olympics next month. Good job, sports world.
"Some of the best athletes are taught and coached mind-over-matter when it comes to strength perseverance… but when it comes to self-preservation, we tell them that their minds, in fact, don't matter."
Naomi's History Of Mental Health:
The 23-year old has been extremely transparent and honest about her struggles with anxiety, particularly as it relates to the sport of tennis. In fact, when a then 20-year-old Osaka won the 2018 U.S. Open against tennis icon, Serena Williams, while most burgeoning athletes would've relished in ousting their role model, Osaka found the defeat more bitter than sweet. Not only was she a huge fan of Williams, but many in the stands were also. And while her win was met with some booing from #TeamSerena fans, it immediately catapulted the self-proclaimed introvert into superstardom. Making her not only a recognized star athlete but an overnight celebrity. 
"Anyone that has seen me at the tournaments will notice that I'm often wearing headphones as that helps dull my social anxiety," Osaka wrote in her IG statement. She also revealed that her decision to skip out on interviews at the French Tournament was actually a form of self-preservation, and nothing personal to fans or the press. "Here in Paris I was already feeling vulnerable and anxious so I thought it was better to exercise self-care and skip the press conferences."
I think what's important to note here is that, while Naomi signed up to be a tennis player (with a goal, of course, of being successful), not every athlete signs up to be a celebrity. It just sort of comes with the package of being that damn good and, if we're being extremely honest, that damn marketable, as it's no secret that women, and especially WOC, are on everyone's media radar now. Hashtag-Simone-Biles. #GOAT. So with that said, for a person with ongoing mental health issues, this isn't always the easiest thing to deal with, without fear of either feeling ungrateful or being labeled as such.
Backlash
"Get over yourself, Naomi Osaka – playing the mental health card to avoid legitimate media scrutiny is pathetic!" – Piers Morgan
Speaking of being labeled ungrateful —Once TV host Piers (iHateWomen) Morgan caught wind of Naomi's statement last week, he immediately took to his own Twitter to say the following: 
Get over yourself, @naomiosaka – playing the mental health card to avoid legitimate media scrutiny is pathetic. https://t.co/0rCCusr6P8

— Piers Morgan (@piersmorgan) May 30, 2021
Like seriously, dude? While Morgan's jackass commentary was completely unwarranted, this tweet gives you an idea of how most Naomi naysayers or mental health downplayers were feeling, regarding her decision. Even fellow tennis players commented that "press and players go hand-in-hand," and backed the notion that athletes should oblige to the mandated (no matter how unwelcomed) stardom and press that often comes with major success. 
Support
Ironically, Piers Morgan is the exact type of person that poses a threat to Osaka's mental health and players such as herself.
Even Judy Murray, coach and mother to top male tennis player, Andy Murray, fully backed and supported Osaka's decision, pointing out that the predominately older male press room can feel almost predatory to young women athletes in the hot seat.
"Being afraid of facing the press, being tripped up by a curveball question, being trolled on social media, the loss of privacy: these public-facing elements of the job are an underestimated source of stress. How many young people do you know who would be comfortable addressing or being questioned by a roomful of very much older strangers? It's hard for any young athlete, but especially so for girls. They look up and see dozens of middle-aged men, people they can't easily relate to, and who lack experience of playing the game," as  Murray so eloquently pointed out.
PS: That's for you, Sir Morgan.
The Bigger F*cking Picture
"The worst part is, some of that criticism comes from those who also struggle with mental health as well. As if those like Naomi have top-tier woes,  bleed glitter and #CriesInRich."
Despite the fact that mental health illnesses don't discriminate, many people will still find a way to look at Osaka's situation and, nonetheless, deem it riddled with advantage and privilege: "Must be nice," some might say, considering that she can afford to take a $15,000 hit in the form of a fine and it not even put a dent in her pocket. 
Some may even try to call her out as being ungrateful. I can already hear it now: She's 23 and made over $50 million this past year doing what she loves. What does she have to be mad or sad about?
The worst part is, some of that criticism will, and already has, come from those who also struggle with mental health. As if there are levels to this mental health sh*t, and those like Naomi have top-tier woes,  bleed glitter and #CriesInRich.
Sigh.
Look, I get it. I'm not going to sit here and say there aren't some advantages to going through the motions while wealthy. And no, I don't mean the advantage of crying in a Bentley over crying in a Honda (and that's no shade to the latter). What I mean is the advantage to afford a day off when you're hurting and in need of healing. The luxury of not having to take money into consideration when you're debating whether to take time off of work.  And this is not just in Naomi's case, but for anyone who suffers from anxiety but is fortunate enough to work in a space where they have salary and benefits and/or can call off with no impact on pay. Without the added anxiety of whether or not they face being fired, replaced or risk workplace retaliation for doing so.
But that's not what we're talking about here. Well, at least not entirely. Naomi's decision to opt-out of some of the most important games of her career, while at the peak of her stardom, sparks a bigger conversation that I feel is most important.
What would make a girl – no, a person – want to back away from the very thing they love to do? If it's as easy as "She gets paid to do what she loves, what's the big deal?" then what does that say for how we view success? For how we view joy? Or purpose?
"Happiness is not a final destination. It's 50% choice and 100% chore. You must choose  peace every day, and it's work and it's annoying and quite frankly, exhausting."
For me, as a fellow woman of color, to see that Naomi — a half-Haitian, half-Japanese young woman who comes from a loving home, does what she loves for a living, has an amazing and supportive boyfriend of equal success in his respective line of work — can still have her moments, I think it tells a generation of young people that it's okay to have theirs. If she can seemingly have it all and still feel anxious and empty some days, it validates someone with far less, to know that sh*t happens and it's okay that it's happening to you too. It also breaks a very stereotypical stigma that often lies in communities of color that money is the end goal and absolute solvent to all problems.
It's not.
Yea, "she can afford to have a meltdown" but who the hell in their introverted mind wants the debilitating and crippling backlash and attention that comes with the breaks Osaka takes? How unfair for someone to tell you that you don't deserve to have anxiety? How completely awful for someone to ask you what the hell are you crying for?  
Perhaps both sadly and ironically, in her effort to preserve her peace by quietly avoiding a press conference, she instead got something far worse – a media circus.
Happiness is not a final destination. You don't do "X" amount of things and then reach a point in life where infinite joy and peace exists from there on out.
Nope! Joy and the happy-horse that it rode in on is 50% choice and 100% chore. You must choose happiness every day, and it's work and quite frankly, exhausting. 
The same way when you clean and declutter your space, you must maintain it in the littlest ways each day and some days, you just don't feel like color-coordinated your pantry.
In Naomi's case, I think doubling down on her decision to not play, knowing all that is at risk for her brand, is brave. I think it speaks more to her strength than any game that she plays and wins. Because the real prize here is peace. And Naomi is a winner for prioritizing hers. 
Serve, girl.
Image via Youtube