How I Planned My Dream Wedding For Less Than $3,000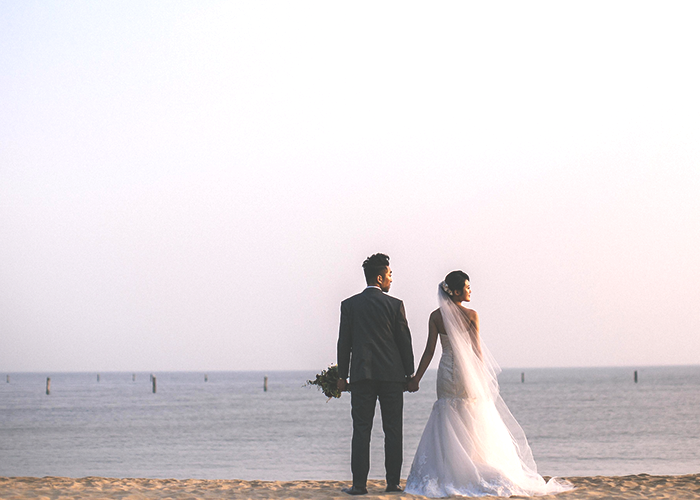 Everyone is always interested in weddings, and how much they cost (and they cost a disgusting amount of money if you aren't careful). Here's the story of how we did ours on the cheap. Like ~super~ cheap. Like less-than-three-grand-cheap. Were the mothers happy? Read on.
Everyone's situation is different. Not everyone grows up with a photographer who decides to take free photos as a wedding gift. Not everyone is related to an officiant (but I suggest you look into getting a friend or family member ordained! It's lovely!). But there are some options that really ARE open to anyone willing to get creative or get some dirt under their nails. Especially if they have a DIY-minded mom. Whether or not my wedding sounds dreamy to you, I hope it helps any couple who reads it to consider creative solutions to help keep the price tag of their dream wedding within the grasp of their bank account's reality. Here's how my fiancé and I worked together to pay for our wedding and keep the bill under $3,000, without sacrificing anything we wanted. We had right at 40 guests.
Venue — $450
This was a steal! Because we booked the smallest chapel for a morning wedding on a Sunday, we were able to save a lot on the venue. The chapel had stained and cut glass windows in a historic stone building in midtown, with gorgeous woodwork within and a courtyard of flowering trees without. Chairs and set-up were included in this fee. The space itself was truly so gorgeous, all we brought were a few vases of flowers (that my mom helped me grow) for decoration.
Invitations — $26.98
I'm not kidding. After looking at super pricey invitation packages online, we just decided we really didn't care about them. I had a set of gold and copper calligraphy markers from some project ages ago. We had fun finding a couple dozen antique postcards at our local flea market and antique stores. We kept our invitations short and sweet and dropped them off at the post office. No one seemed to mind that they didn't get a fancy invitation, and in fact, several people told us they dug the old postcards. If our mothers were disappointed, they didn't say a peep.
Wedding outfits — $445
My fiancé needed a new suit anyway, so we splurged on his suit, but I found an off-the-rack little blush number on sale for less than seventy bucks that just made me feel effortlessly pretty and classic. I had a pair of heels that worked perfectly with it. Parents seemed to approve.
Flowers — $155.78
Have y'all ever walked into a flower shop and talked about wedding flowers? I was absolutely floored that a bridal bouquet ALONE was going to put me in the neighborhood of $300. So, I did some research and decided to grow my own wedding flowers, possibly because I am unbalanced and hard-headed. There are several ways to go about doing such a risky thing, but one of the least dicey procedures is to force your own bulbs
. You are less dependent on the weather, and you don't need to worry about getting the right soil, or what depths to dig to, or what time of year to plant so you have flowers the following year.
The easiest flowers to force, according to my research, are paperwhites, amaryllis
, and daffodils
. So I ordered about a hundred bulbs off Amazon (I picked the highest reviewed purveyors — quality matters with bulbs!), and put the bulbs in every casserole dish I owned (and then I borrowed a few from my mom). By lining the bottom of the dishes with small rocks (I used gravel
, but you can also use the stuff they sell for fish tanks) and putting *just* enough water to barely touch the bottom of the bulbs, I was well on my way to gorgeous blooms. Within five weeks, I had fragrant spring flowers everywhere. If you decide to go this route, I recommend doing a small test batch first. But it was so easy I think even if you believe you kill every plant you touch, you can still force flowers. It's ridiculously easy, and buying bulk bulbs is such a reasonable expense.
Marriage License — $39.50
In Nashville, Tennessee, where I live, marriage licenses cost $99.50. But if you do a short marriage counseling course first, they cut the fee down to a cool $39.50. It seems, at first blush, to be a small saving, but $60 paid for almost half my wedding flowers! Most states offer a similar discount.
Brunch — $1,657
After our morning ceremony, we invited our guests to have brunch with us at a lovely restaurant. We had our own courtyard so it felt private, while still being outside and giving that fresh spring feeling. We have some picky eaters in our family and we also didn't want the fuss of a sit-down served meal. We wanted our guests to feel free to come and go as they pleased, so we opted for a buffet- style brunch with a couple apps and several carafes of mimosas and house-made sodas for folks who don't imbibe. It was my favorite thing of the entire day. While being less formal but in gorgeous surroundings, it felt classy but still light.
We brought the flowers from the wedding to brunch (hello — I worked for the bragging rights on those flowers, we were going to enjoy them as much as possible!) and my audiophile ~husband~ came up with the perfect playlist. It was heartwarming seeing all of our favorite people mingle and enjoy each other. Seeing the look of our mothers' approval was worth everything. I could tell they a little agonized about our super small, less formal, budget wedding. But they were so pleased with the outcome, which we enjoyed immensely.
For transparency, I feel the need to disclose that we did not have to pay for a photographer or an officiant. My husband is related to a Methodist minister who was absolutely thrilled to do the honors as a wedding gift. Likewise, our photographer was a dear friend who took our wedding photos as a gift to us. These two things alone could've easily pushed us up to the $5 grand mark. But maybe you have a lovely property in your family that would be the perfect free venue, or maybe you decide to go for a sweet vintage dress and your man can rent a tux, or perhaps you can even do a potluck reception. (Sounds crazy, but one of my best friends did it at her wedding, and it was lovely and one of the sweetest weddings I'd ever been to. But then again, maybe your friends can't cook. Important things to consider.) Deliberately turning away from the pricey wedding industry, accepting the help of friends and family, and focusing on what brings us joy for our special day kept the wedding very nearly stress-free and fun to plan. I wouldn't change a thing.
TOTAL COST OF OUR WEDDING: $2,774.26
Keisha is a nurse in Nashville, TN. She likes sandwiches and seeing local bands in dive bars with her boyfriend, who sometimes wears t-shirts with his own face on them. She is on Instagram.
Image via Unsplash