How Trump's Proposed Changes To Student Loans Might Majorly Impact You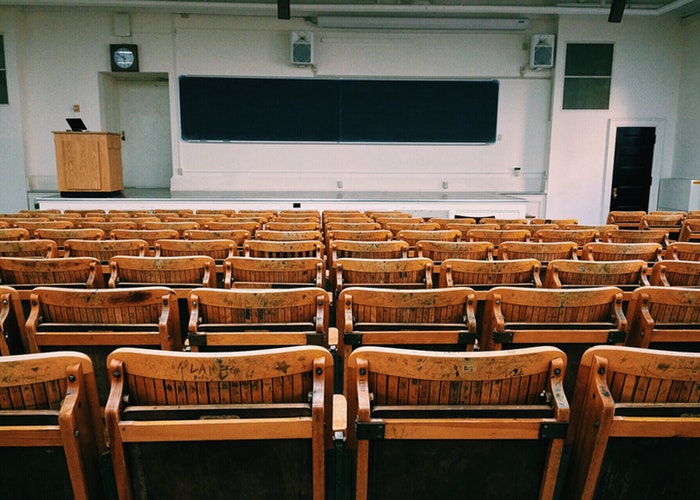 President Trump has shared his 2021 proposed budget, and it features major changes to America's education system — including a $5.6 million dollar cut to the Education Department. And a majority of the proposed cuts to this budget pertain to existing student loan programs. The most sweeping change: the elimination of both federally subsidized student loans and the Public Service Loan Forgiveness program.
With Direct Subsidized Loans, often called Stafford loans, the federal government pays your loan interest while you're in school. Upon graduation, you only have to pay back the original amount borrowed. Direct Subsidized Loans are awarded based on student need, so interest rates are fixed and relatively low. For the 2019-20 school year, interest rates for Direct Subsidized Loans were kept at 4.53%. This program has a significant impact on the financial well-being of the students most in need, as it allows them to borrow for college at a fair interest rate and assures that the amount borrowed will not increase while in school due to interest. The alternative option, Unsubsidized Loans, accrue interest while the borrower remains in school, making long-term repayment more expensive.
The elimination of the Public Service Loan Forgiveness program could impact as many as 25% of American workers. Started in 2007, the Public Service Loan Forgiveness program is a popular student loan repayment strategy for public service employees, including teachers and workers at non-profits. If a borrower makes 120 qualifying payments — 12 payments a year for 10 years — on their federal student loans, the rest of his or her remaining debt will be forgiven. As such, this program is meant for employees with a relatively high debt burden. Some common professions of those eligible include teachers, nurses, and servicemembers. According to the Department of Education, the majority of people who are eligible earn less than $50,000 annually. 
However, these programs also have a high denial rate, due to reasons like disqualified payments and ineligible loans. If you think you might qualify for this program, you can find out more details on the regulations using the Federal Student Aid help tool here. Even though President Trump's plan suggests closing the program, the budget has a long way to go before potentially being enacted, so it is still worth applying. By looking into the Public Service Loan Forgiveness program early in the college process, borrowers will have a better idea of the qualification guidelines or at least be able to prepare an alternative payoff strategy.
At this point, experts say it seems unlikely that the proposed education budget will be approved as it stands. However, it's a good reminder to be aware of all of your options for college, and, if you think you might qualify for any student loan forgiveness program, now is as good a time as any to apply.
Simplicity Bryan is deeply entrenched in the worlds of self-help, gratitude, personal finance, and organization. She's happiest paddleboarding with her pup and storytelling with a purpose. You can follow her here.
Image via Pexels
Like this story? Follow The Financial Diet on Facebook, Instagram, and Twitter for daily tips and inspiration, and sign up for our email newsletter here.