Rory Gilmore Will Not Get Rich From Her Memoir, And Neither Will You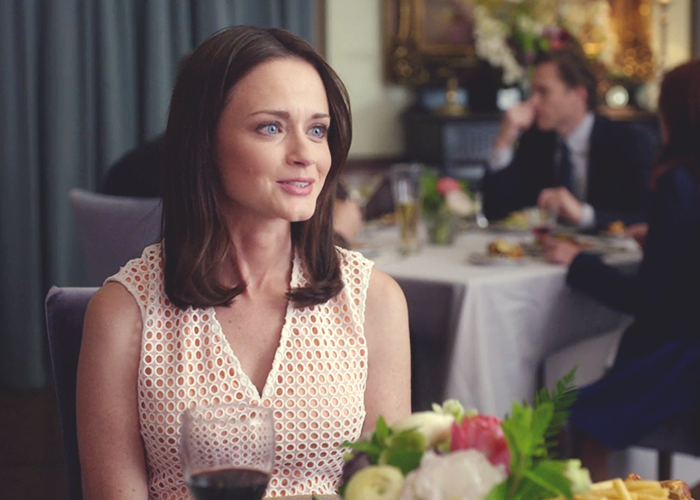 As I binge-watched Gilmore Girls: A Year in the Life, every so often, I checked my email to see if my article about the original series had been accepted for publication. This constant tug at my attention felt surreal, as the protagonist Rory was going through the same anxiety throughout much of the revival. At the end of the original series — which I've watched over a dozen times — Rory heads off to cover Obama's presidential campaign, embracing the life of adventure she'd always longed for. This ending validated fans' own realities, as many of us are living not-so-cookie-cutter lives, thanks to both broadening horizons and an ongoing recession.
Like many in my age bracket, I have a number of jobs, none of which provide health insurance or a 401(k). I struggle to pay my bills each month, and I've had a few desperate moments where I wasn't sure how I was going to eat for the next two days. Just like Rory, I have family I can fall back on if I ever need to, so it's not as dire a situation as some face on a daily basis. However, when I get overdraft fees or have to make arrangements with the bank that covers my car loan, I feel as though I'm not living up to Rory's potential. Gilmore Girls creator Amy Sherman-Palladino revived my spirits by creating the same fate for Rory ten years later.
In the episode "Summer," Rory sits behind her editors' desk for her unpaid job at the Stars Hollow Gazette. She tells Jess, who is in town to visit Luke, "I'm broke. Busted. Beggared. I have no apartment, no car, hell, my license expired three months ago…I have no job. I have no credit. I have no underwear." Sure, Rory has had a great deal of success. She's been published in the New Yorker, Slate and The Atlantic. Her portfolio thus contains bylines from many writers' dream publications. But Sherman-Palladino isn't afraid to show the more dire side of the life of a freelancer. Rory has an accepted pitch fail to materialize for GQ. She tries and fails to co-author a biography about an alcoholic writer. She gets turned down for a job she didn't want, after the CEO had been scouting her for months. Rory truly understands the madness behind her "feast or famine" career.
Amy Sherman-Palladino's answer to Rory's conundrum is to have her write a book about her relationship with her mother Lorelai, aptly titled Gilmore Girls. This denouement has been used many times before, including in Little Women, Under the Tuscan Sun, and One Tree Hill. It's a convenient way to make a story come full circle and to assert that the protagonist's own life has value. The problem with this story arc, however, is that — at least in the 21st century — writing one book isn't a means to a financially-improved life, at least not on its own. Writers often burn through their advances quickly in order to keep up with the cost of living, and then payments trickle in after the publisher takes their percentage. If an author decides to go with a small press, she often has to pay fees up front in order to see the book make it to print.
As I watched A Year in the Life, I thought about my own book, which I've been working on for the past few years. Just as Rory writes about her relationship with Lorelai, I've been writing a memoir about my life with my father. My life has always mirrored Rory and Lorelai's, to a degree that has had me addicted to the show for about 10 years.
Like Rory, I was largely raised by my single mother, while my father was mostly absent. I spent a lot of time with my grandmother. Her house was filled with antique furniture, and she hardly ever stopped to rest, always taking care of everyone around her. While I loved my mother and grandmother, I always felt a bit of a void due to my father's absence. About six years after he died, I began writing about those final days, and then about our on-and-off relationship growing up.
I moved to Los Angeles to be part of a writing community, but finishing the book has been a struggle, largely because my financial situation makes it difficult to pursue writing that won't quickly lead to a paycheck. Rory was in a similar financial bind, but that bind seems to disappear once she decides to write her book. How is she going to pay for her cell phone? How will she make the credit card payments that must have inevitably accrued from her trips back and forth to London? And will she ever be able to buy new underwear?
While I loved the revival and hope for a second, I'm left a bit disappointed with this ending, as it seems to provide false hope to those of us who are struggling to make a living as a writer. I am all for Rory completing a manuscript, and it helps give me the continued drive to complete my own. But my bills are still there, seemingly endless, while Rory's have left the screen.
All in all, I have to remind myself that this is a television show, and that Rory's decision also gave the character a reason to come back home to her fictional town of Stars Hollow, which is where the series is centered. For my own life, I'll continue to be inspired by Rory's persistence in making ends meet. I'll keep plugging away at my memoir, remembering that my freelance work is meant to help me tell my own story. It's a hard road, but I wouldn't trade it for anything.
Shannon Luders-Manuel is a freelance writer living in Los Angeles. She is the author of Being Biracial: Where Our Secret Worlds Collide: Educators' Guide
, and she has been published in Essence.com, The Establishment, and For Harriet, among others. She is currently working on a memoir entitled Mixed Messages: A Father Daughter Story in Black and White.
Image via Netflix