6 Restaurant-Worthy Ingredients You Can Make From What's Already In Your Pantry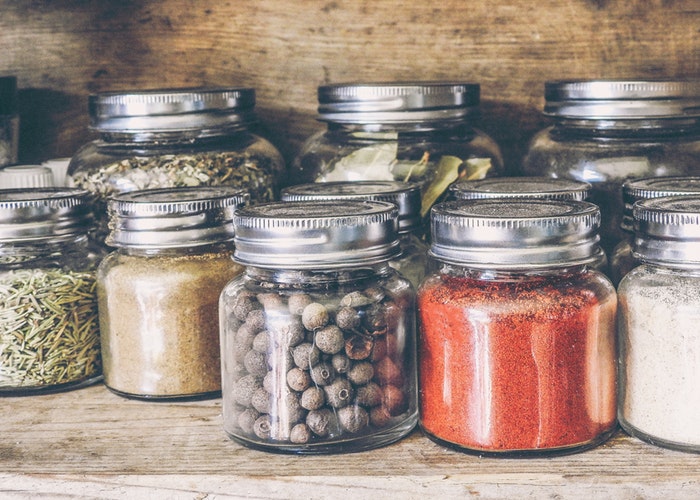 I grew up with a mom who is a believer in the idea of "why buy it when you can make it from scratch, in a cheaper and healthier way?"  For the most part, I have adopted this same mentality, as long as it doesn't eat up my entire day.  I also like making things in bulk that keep or freeze well, since it saves me a trip to the grocery store.
Making things from scratch helps me save a few dollars here and there, which adds up in the long run.  It also helps me realize what I'm putting in my body since I can cut back on how much salt or sugar a recipe calls for.  And once I'm comfortable with a recipe, I can adjust it to my taste, which is why I prefer to make something rather than buy it pre-made.
So here are a few of my favorite things to make at home instead of buy at the grocery store.
Taco Seasoning
If you are anything like me, tacos are a staple in your diet.  Which is why spending a few dollars on a single packet of taco seasoning every time you want to make them adds up.  This is one of these easiest things to throw together at home since it requires zero skill, a few spices, and some measuring spoons.  The recipe I use is as follows.
1 tablespoon chili powder

1/4 teaspoon garlic powder

1/4 teaspoon onion powder

1/4 teaspoon crushed red pepper flakes

1/4 teaspoon dried oregano

1/2 teaspoon paprika

1 1/2 teaspoons ground cumin

1 teaspoon black pepper

1 teaspoon sea salt
Yes, the recipe I use has nine whole items, but chances are you have them all in your cabinet.  And if not, they are definitely items you would use again, even if you cook only occasionally.  The great thing about dried spices is they last a long time and have lots of uses.  This only takes a few minutes to throw together, and you can multiply this recipe as much as you want to make a bulk amount.  I think I quadrupled this recipe about six months ago, put it in a marked mason jar, and have used it for tons of meals.
Teriyaki Sauce
I love a good stir-fry. They're delicious, they're easy to throw together with whatever you have in the house, and the toughest part is chopping the veggies.  What I don't love is not knowing what's in my store-bought marinades.  One of the easier marinades to make at home is teriyaki sauce.  I've used a bunch of recipes in the past, but one of the more basics ones is as follows:
1/3 cup soy sauce (I use low sodium)

1 cup water

2 cloves garlic

1 teaspoon minced ginger

3 tablespoons brown sugar (I'd start with less, and taste to see if you want it sweeter)
Mix all of these together and add to your cooking veggies on low; it will thicken up as it cooks.  If you want your sauce to be a thicker consistency separately mix:
2 tablespoons cold water

2 tablespoons cornstarch
After the cornstarch has dissolved slowly add to your sauce and simmer until it reaches the consistency you want.
This marinade is a great option for when you don't know what to do with that chicken in your fridge and you want something easy.  Making this on date night or want to post it on the Gram?  Throw some sesame seeds on top of your stir-fry right after you plate it to make it really pop.
Vegetable Broth
You know all those little bits and ends of veggies that you end up cutting off and throwing away?  Don't.  Give your veggies a second life, grab a gallon-sized Zip-Loc and start saving all those bits and ends.  Every time you're chopping up vegetables grab that Zip-Loc and start filling it up with those carrot peels, celery ends, etc.  They won't go bad if you keep the bag in the freezer.
Once the bag is full, grab your largest pot, dump those veggie bits in, and fill it with water.  Let the pot simmer for a few hours, let it cool and then strain.  Once it's strained, fill up a quart or pint-sized container and freeze.  Now you have plenty of no-sodium broth for any recipe that might call for it.  I tend to stock up on broth during the spring and summer and use it up during the colder months, which I call "soup season."
Tip:  I love making quinoa in broth instead of water. It just adds that little extra something.
Enchilada Sauce
Remember when I said you'd use those taco seasoning spices again?  Well now's the time!  As well as some of that veggie broth.  I personally use enchilada sauce, not only for enchiladas but also for an easy taco crockpot recipe when I'm meal prepping.  This recipe is quick and easy (my two favorite things), and is as follows:
1/4 cup vegetable oil

1/4 cup flour

1/4 cup chili powder

1 teaspoon garlic powder

1 teaspoon cumin

1/2 teaspoon oregano

2 15 oz cans of tomato sauce

3 cups of broth (vegetable or chicken)
Heat the oil on medium heat and whisk in the flour until it's fragrant.

 

Then stir in the rest of the seasonings for one minute.

Add the tomato sauce and broth, stirring until smooth.

Once it comes to a boil, reduce to a simmer and cook for 2-3 minutes.
That's it, it's that easy!  This recipe makes about two quarts of sauce and since the recipe I tend to use it for calls for a pint, I freeze the extra in pint containers.  So for about the price of one container of enchilada sauce at the store, I'm able to make at least four meals' worth.
Buffalo Sauce
I recently needed buffalo sauce to make firecracker chicken for a date night with my boyfriend (it ended up being his favorite thing I've ever made) and to be honest, I never cooked with buffalo sauce before.  But I didn't feel like going to the store, so I figured I'd Google it.  And I'm so glad I did because it's so easy.  Here is all you need:
2/3 cup of hot sauce

1/2 cup of butter (1 stick)

1 1/2 tablespoons of white vinegar

1/2 teaspoon cayenne pepper

1/8 teaspoon garlic powder

1/2 teaspoon Worcestershire sauce (optional)
Combine all the ingredients in a pot over medium heat.  Continue to whisk it until it comes to a simmer, then remove from heat.  Whisk it once more, and you're done.
My favorite thing about these recipes is they tell you to use unsalted butter but then to salt to taste. I recommend that you just use that regular salted butter and disregard using additional salt. This takes less than ten minutes and it tastes great. Throw it on wings, chicken breasts, cauliflower, whatever.
Marinara Sauce
Growing up I thought that my mom's sauce was this huge thing that was difficult to make. Little did I know that there were only four ingredients involved, and the most important factor is time.
The first time I wanted to make sauce, I sat my mom down and asked if she could give me her recipe and teach me.  She looked at me like I was crazy and told me, "I don't know, I just throw it in the pot."  So that's what I'm going to tell you.
olive oil

at least four cloves of garlic (minced or crushed)

Two 28 oz. cans of tomato (I like crushed)

Italian seasoning to taste (oregano, basil, salt, pepper)
Heat the olive oil in a pot, and throw in the garlic (just for a minute, don't let it burn).
Pour in the tomatoes, and a couple of hits of your seasoning,  Let it heat up and bring it down to a simmer.  Cover it and let it sit for a least two hours, occasionally stirring.
That's it!  Time is the most important part.  Taste it occasionally until you think it's good.  This is why Italians have "sauce Sunday" because you need just an afternoon to let it simmer. 
Marinara sauce freezes great.  In my opinion, this is one of the best things to have in your freezer at all times.  Perfect for those after-work nights that you're too exhausted to put any real work in, but you don't want to pay for take-out.
Cooking in bulk & then freezing some of it is all fun and games until you go into your freezer days, weeks, or months later, and you don't remember what it was that you froze in that nondescript food container.  Sure you can buy freezer labels, but you want to know what works just as well?  Those free address labels you get in the mail & a sharpie.  They also wash off your containers super easy.
Before falling victim to the Great Corona Lay-off of 2020, Samantha was well on her way to being voted most likely to bring a packed lunch at her NYC office.  She now spends her time doing yoga, trying new recipes, and resisting the urge to play Animal Crossing all day.  You can follow her here.
Image via Pexels
Like this story? Follow The Financial Diet on Facebook, Instagram, and Twitter for daily tips and inspiration, and sign up for our email newsletter here.