How I Skipped College, Followed My Dreams, And Got Nominated For A Grammy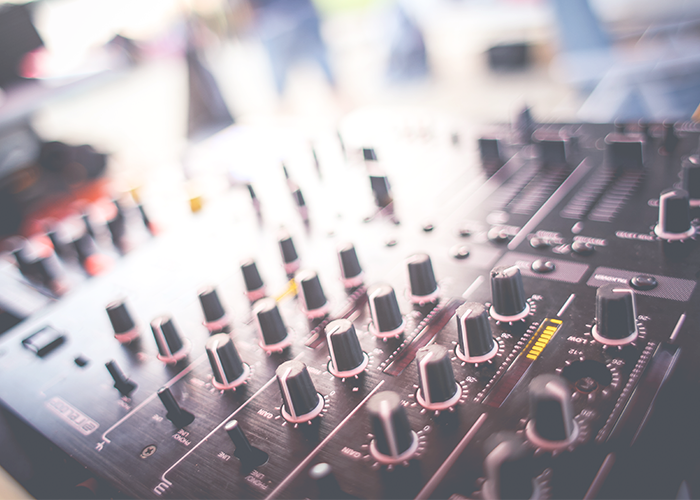 As a creative hustler, I've learned that the golden rule of creative growth and opportunity is: take a chance if you get a chance. In practice, this means logging many painstaking hours in a rehearsal room or studio, chipping away at a personal to-do list filled with skill sets that range from arcane (how to access and channel your personal "voice" as a writer) to the pragmatic (how to tune a guitar, or promote your upcoming show on social media). It also means talking to your peers and role models, frequenting the locales you'd like to showcase your work in, and sounding out the industry to see where the pockets of "demand" are. 
Beau's story, below, provides a prime example of the self-assurance, vision, and perseverance required of "kids trying to break into the business." He intuited, through his intimate contact with the music world, that the essential question for an artist with concrete, professional aspirations is: what skills can I offer to the people that I'd like to work with? And, truthfully, I think that — whatever our desired career, field of study, or passion may be — we should all be asking ourselves this question as we meet with opportunities, collaborators, and potential employers.
—–
As an 18-year-old high school graduate, I had every intention of attending Full Sail University to get a degree in entertainment and media. I paid a deposit, registered for housing with a roommate, and signed up for classes. But I struggled with the idea of attending a four-year school (at my own cost) when I knew I could dedicate that time and money to the music career that I ultimately wanted to pursue.
I had already heard a lot of statistics about student loan debt. The average college graduate has $37,172 in debt, and Americans as a whole owe $1.3 trillion in student loans alone. I understood why college was the right choice for a lot of people, but during my research, I also realized that there were so many resources — like Fiverr and Udemy — that enable people to pursue their passions without a college degree. And while Full Sail would help me achieve my dreams of becoming a sound engineer, producer, and songwriter, I knew that I didn't need a four-year degree to break into the music industry.
With the moral support of my parents (who are music industry veterans in their own right), I decided that despite the "rubber stamp of approval" college provided me, I would take my chances, learn on the job, and become a strong, fuller, more independent person while doing it. Here's how I went about skipping college and chasing after my dreams:
The summer after high school, I found myself at a social event, chatting with someone about the future I envisioned for myself. In retrospect, I would imagine that professional adults don't often hear a self-assured 18-year-old talking about his future with the kind of narrow focus I had. The man I spoke with loved my passion and tenacity. He quickly introduced me to Jimmy Douglass, the four-time, Grammy-winning sound engineer and record producer for artists like Aretha Franklin, Led Zeppelin, Kanye West, and Justin Timberlake. Jimmy saw enough ambition and hunger in me to open his Miami studio doors. He offered me a chance to come work with him and learn the ropes.
I spent the first six months in Miami, working as a studio intern. During those six months, I spent early mornings and late nights in the studio fetching coffee, mopping floors, and cleaning toilets. I worked hard, spurred onwards by the belief my break was coming. One day, Kelly Rowland came into the studio. The man who was supposed to run her session happened to be in L.A., so I stepped in to help out. Kelly and I instantly hit it off. Before I knew it, I was her full-time sound engineer, traveling on tour with her and producing her next two albums.
Later, I began working with Pharrell to help produce his album "Girl," which received a Grammy nomination for "Album of the Year." Now, I work around the clock. I eat, drink, and breathe music. I've even been on the production team of a Grammy-nominated album. Because there are so many artists and aspiring artists who need qualified and experienced sound engineers to mix their records (and because I wasn't afraid to put myself out there and follow my dreams), I get to work behind the scenes, making it happen.
Working with so many talented artists showed me that, while I love producing music, I really want to be an artist myself. I collaborated on a piece with Kelly Rowland, which led to me signing a record deal with Primary Wave Music last year. I'm working on my own single right now, which I'm planning to market and get on the radio. One day, I'll put out a full album.
As someone who didn't take the path well-traveled, I recognized that many other artists were also working to blaze their own trails to professional discovery. However musically-gifted artists are, if they don't know how to mix their own tracks and records, they still need people with my skills (audio engineering) to make the music they're passionate about and put it out into the world. That's why I recently started doing my own freelance audio engineering, through Fiverr. To me, it's not about the money. It's about making music, doing what I love, gaining the professional experience, honing my skills, and helping others do the same. While a college education is the right fit for many out there, it wasn't my door to all of these opportunities. Thanks to some courage and a lot of determination, I was able to forge my own path and forgo formal higher education.
If there's one thing I learned, it's that hard work and passion beat talent every time. If you're willing to outwork your competitors, you'll always outshine them. If you practice your craft over and over again, you'll keep climbing. Whenever I'm feeling fatigued or overwhelmed, I hearken back to something my father said to me: there's really no such thing as luck. It's all a question of being ready to seize the right opportunity by putting in the right amount of preparation. So, while the graduating class of 2016 just turned their tassels to the other side (and I applaud them on their accomplishment), I also want to say: it's important to recognize that not every destination requires the same route.
Born and raised in the New York and New Jersey area, surrounded by the arts and entertainment industry his entire life, Beau Vallis is blazing his own trail as an artist, songwriter, producer and engineer. He has been fortunate to work with Kelly Rowland, Pharrell, T Minus, Robert EST Waller, Sean Paul, and Nina Sky.
Image via Picjumbo