Where To Take Your Date When You're Broke As F*ck In 10 Cities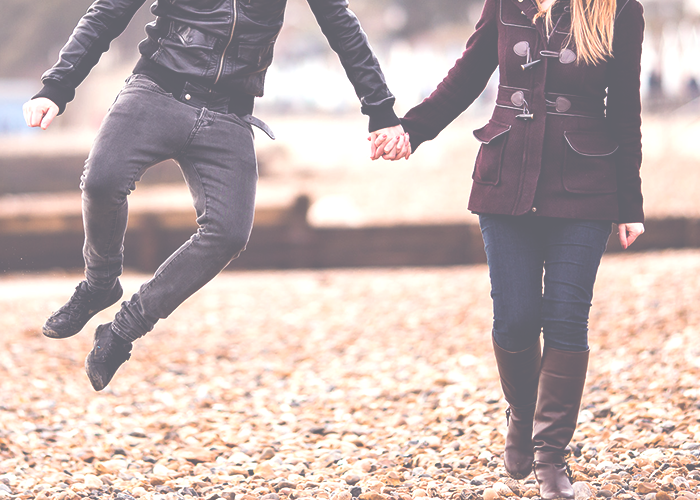 It's hard to be cash-strapped and on fleek at the same time. But not impossible. Take it from Ms. "Let's See How Long I Can Sit In This Starbucks and Freelance on Wifi While Sneak-Eating My Tupperware Leftovers Without the Barista Noticing I Didn't Order a $6 Frappe." For all my inglorious Tupperwarery, I still scored cute dates and showed them a good time on the town.
Before I give you the nitty-gritty, good friends, an Ode to Dating on a Shoestring Budget:
We're taught from this fun, Stockholm Syndrome-y fireworks display and on into adulthood that financial strutting (lavish dinners, brand-name displays of affection, exclusive entrance with private seating, bottle service) blazes a clear path to seduction. But spending feels…scripted. We expect it, which is why the spending tends to spiral upwards so rapidly. The only element of surprise in expensive gifts is the quantity and quality, not the spender's intuitive response to his/her date's interests or personality. You have to lay down a lot of cash to squeeze the "wow" factor out of socially-instilled romance.
Spending can also set you up for harder falls down the dating road: deception (s/he cares because s/he spends), unhealthy power imbalances (s/he picked up every check tonight, so I feel bad ending this with only a kiss on the stoop), and a false sense of connection (our conversations seemed so much more interesting when we were pacing along the deck of the yacht, chortling and sipping small-batch, Provence lavender-infused champagne).
I've never been flush enough to drop a seriously regrettable amount of money on a date-and-dash guy, but I have spent time with a handful of men who tripped my "wow, he really cares" wire with pricey gestures: sending me home in a taxi from deep Brooklyn back to my apartment in Harlem, treating me to a long series of truffle-strewn tapas bars and steakhouses, handling the cover at clubs with bottle service (the appeal of a table-side ice bucket with self-pouring, to this day, still eludes me. BYOB, not VIP). Looking back, all that moneyed dating tended toward isolated, one-on-one activities in private, luxury-tailored spaces that made it much harder to get a sense of these men in everyday mode, navigating challenges and frustrations.
My shoestring dates (and relationships with similarly strapped folks) have been filled with more authentic conversations, more memorable adventures, and deeper feeling. (You learn who someone is when he's running to make a late-night train with interrupted service, or when he has to give directions to a tourist who doesn't speak English).
Reverse the spending-to-seduce psychology. Caring looks sexy on everybody: Gestures are most meaningful when your date feels that you've put effort and forethought into your roadmap for the night. And inevitably, if you're doing more footwork to make make something special happen without burning up a paycheck, you're going to reveal other admirable parts of yourself to your date as you go: resourcefulness, transparency, vulnerability. You're setting realistic expectations and boundaries for your guy or gal: you ain't the King of Prussia, but you are a fun, scrappy pirate. (Or whatever. I prefer to identify as a pirate, because WHO WOULDN'T).
Below, a selection of sites that list interesting, free (and nearly-free) date ideas (I've picked a few major cities around the country…sorry, Pawnee
!):
San Francisco
Explore modern ruins, take walks along the Pier, score free chocolate factory tours, try swing dancing, and feast on food trucks!
Washington D.C.
More than just the monuments & museums (though they're great for geeks like me, too). Military pageants in costume, hundreds-of-years-old cemeteries, waterside concerts, $5.95 chili bowls.
100 Free & Almost Free Things To Do: Outdoor Concerts
100 Free & Almost Free Things To Do: Restaurants, Food, & Wine
100 Free & Almost Free Things To Do: Best of Town
Houston
Rent a bike ($5 for 24 hours at Houston B-Cycle) and blaze your own trail. Chow on $1-$2 Taco Tuesdays at local restaurants. Flip out over Sky Zone Park (trampolines and dodgeball courts)!
Portland
See a $2 laser show at the Museum of Science, grab $3 tickets to curated showcases of local & national bands, hike to a waterfall, reserve a lane at the bowling alley for $3, roll up to a drive-in movie theater.
19 Great Portland Dates Under $20
New Orleans
Catch a $5 concert at an Old U.S. Money Mint, stroll through a sculpture garden, take yourself on an antiques tour of the French Quarter, bird-watch in the City Park.
Los Angeles
The beach, folks. You can bike along it, skip along it, and walk the circusy Santa Monica Pier over it. Try a free archery class or $8 entrance to the Museum of… Jurassic Technology? If that's not your thing, hop over to the Getty Center for free.
Chicago
Watch the wildlife at the Chicago Zoo for free. See an improv show at Second City, the birthplace of our SNL favorites. Picnic under the stars and watch a free movie in a number of neighborhood parks.
$30 Date Night: Chicago City Guide
Philadelphia
Tour a brewery for free, venture out to the (free) Ringing Rocks Park (the rocks sound like bells when you bang them), cross the Ben Franklin Bridge and overlook the city from the walkway, or (for the slightly higher but doable price of $10) go to a Magic Garden full of folk art.
Charleston
Visit a haunted inn and carriage house, rest under the spectacular, 1,500-year-old Angel Oak Tree, or lounge on the beach and spot lighthouses on Sullivan's Island.
128 Date Ideas (And Deals)
New York City
There's almost too much free stuff to do! The Skint will give you daily updates of killer offers for restaurants, shows, parades, and public gatherings. Editor's pick: Hunter's Point Park. It's a gorgeous view of the city, there's an affordable beer garden nestled at one end, and they offer free movie screenings, gardening days, and (for a few bucks) kayaking in the East River.
Image via Flickr