The #BamaRush Scandal, Tokenism, & Toxic Sorority Culture In The Age Of TikTok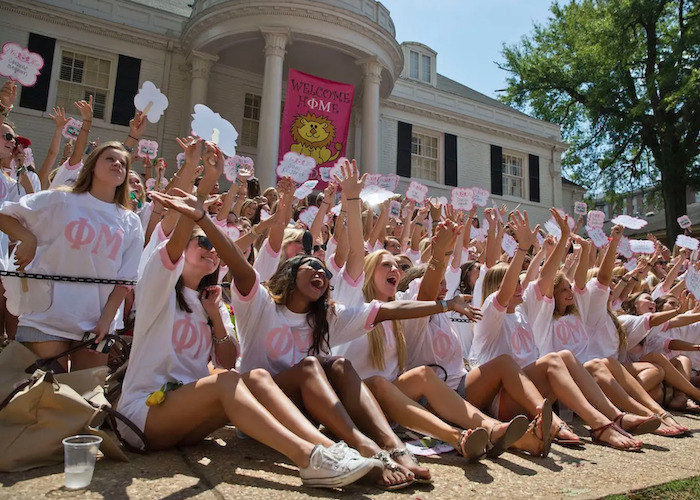 I recently heard 'Alabama Rush TikTok' (aka #BamaRush) described as the delta variant's Tiger King. Meaning it had all the ingredients for a captivated audience: story arcs, scandals, and Southern accents. But if you somehow missed it, a nation of doom-scrolling millennials watched, with bated breath, as a group of freshmen girls across Southern colleges and universities experienced all that comes with Greek life: Rush Week, rejection, and learning the true meaning — and costs — of sisterhood. 
But unlike Tiger King (or any other pop-culture trend for that matter), I actively avoided the 'Bama rush Tik-Tok trend the best I could. For me, it wasn't an empty escape from my millennial anxiety; it was a one-way ticket back to a time I actively try to outlive and forget, even today. All over again, I was a Black teenager in the South, trying to do anything to be accepted by my white peers and feel a sense of belonging. And like Makayla, I had learned that you could be America's darling, but when you're Black, the rules will always be different.
I've written at length about code-switching and paying the Black tax in corporate settings, but I haven't spoken about how it affects social status and friendships. Growing up in Alpharetta, Georgia, it wasn't uncommon for me to be the token Black friend in a group or the token Black student in a classroom. Boys told me they couldn't date because of my race; girls said they couldn't spend the night at my house for the same reason. In fact, my first encounter with racism was at about age 5. A friend asked if I had a brother. Being an only child, I went home to ask my mom what a brother was because "Lucy* said her mom wouldn't let her spend the night at our house if I have a brother." 
"All over again, I was a Black teenager in the South, trying to do anything to be accepted by my white peers and feel a sense of belonging…"
Looking back, my mom bore the burden of every Black parent: she had to interrupt my childhood innocence and introduce me to the real world at a time when I should be playing make-believe. I was taught to keep my hands out of my pockets when entering a store; we practiced what to do if I got pulled over well before I ever got behind the wheel of a car; and she warned me that some of my perceived friendships would end in heartache, because 'not all of these white girls are going to have your back. They're not going to forget you're Black, so you can't forget that either.' 
At the time, I couldn't comprehend the lesson my mother was trying to teach me. I didn't understand that my skin color could influence the level of loyalty and respect a friend had for me or if they would be my friend at all. But the older I grew, the more I began to understand the heartache she was trying to prevent. To be clear, I have met amazing friends — and two-faced friends — of all backgrounds. But I know without a doubt my race has played a part in the longevity of many friendships. 
I've never quite belonged to any one group. I was too white-washed for the Black kids; I felt like the black sheep with white friends. I actually found comfort with my Asian friends at school. It's like we understood the social purgatory we were assigned to until graduation. And for much of my life, I carried shame and insecurity around not fitting into a box; where was my one community where I was enough?
At 30, it's hard to articulate the covert punishment and hazing I got as the Black friend in a white friend group. It's too much of an overgeneralization to say 'white girls were more loyal to other white girls,' but I have always felt that if I 'fucked up' as a friend, I wasn't given the same grace as the Emilys and Jessicas of the group. I felt like I was exiled from the group more freely, but if my white counterparts made the same infraction, they were forgiven and allowed 'to sit with us.' In other words, I could never be caught slippin' as the Black friend. It's that scene from Mean Girls when Regina wears sweatpants on a Monday, and Gretchen and Karen have to tell her that she can't sit with them. No one was ever afraid to tell me where I wasn't welcomed.
"For much of my life, I carried shame and insecurity around not fitting into a box; where was my one community where I was enough?
Makayla finds herself in a similar situation. According to reports, the college student was dropped from all of the sorority houses "not because of race," but because a video resurfaced of her allegedly underage drinking at a Halloween party. (Apparently, no one in Greek life drinks as a minor. Modern media has been getting it wrong this whole time!) A common belief shared among Internet commentators, including myself, is that the video was no secret. The sisters were well aware of her past and wanted to string her along just to throw the (burn) book at her. There isn't a single fiber in my body that believes her white peers were held to the same standard. 
There are few times when being right sucks. And this is one of those times. When I first discovered the 'Bama rush TikTok trend, I knew instantly that Makayla's race would make her a target for mean girl microaggressions, sorority politics, and racism — with or without the university's disgusting past. (It wasn't until 2014 that Alabama sororities desegregated.) Spoiler alert: the fan-favorite was dropped from all of the houses before Bid Day, meaning she won't be a part of Greek life this school year. 
She's gone on to mention that she's thinking about dropping out of 'Bama altogether. And what could seem like an experience she'll come to laugh at later on in life could also be a turning point for her as a young Black woman. The trauma of being rejected, in part because of race, could lead to internalized racism or inspire a reckoning of self-acceptance and redefined self-worth. 
Since the controversy, Makayla has posted videos of herself taking the higher road, owning up to past mistakes, and sharing her ultimate lesson: neither she nor any student needs a sorority to experience community. 
In the end, the experience was a painful reminder that every woman of color would confront: we will all be expected to pay the Black tax even in seemingly 'safe spaces' like a community dedicated to sisterhood and friendship.
Jazmine has been a contributing writer for The Financial Diet since 2015. While her spending habits have changed over the years, her advocacy work surrounding social change and mental health has not. She hopes her writing and activism can empower all women to occupy their space at work — and everywhere else. Outside of TFD, Jaz (as she likes to be called) is a career coach, full-time writer, and a plant + dog mom residing in Dallas, Texas. She spends her "fun money" on trips to Trader Joe's, throw pillows, and white wine. You can follow her Target shopping adventures here, and learn more about her at JazmineReedClark.com.
Image via: Twitter/Brynn Anderson/Ap