The Cheap, Easy, Dietician-Approved Meal That's Changed My Relationship With Food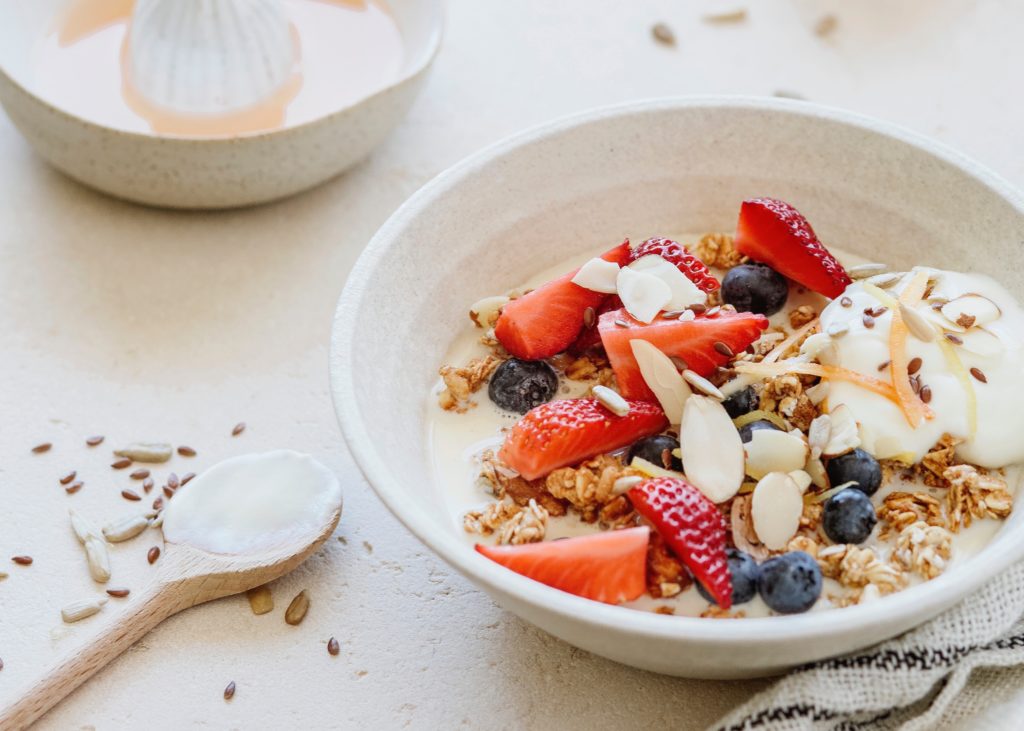 "Borderline Budgeting" is a column by Mercedes Killeen about the intersection of mental health and spending habits. Mercedes writes about her own experiences with mental illness, and how she manages to practice skills like self-care while staying on budget.
Disclaimer: The information provided in this article is designed to provide helpful information on the subjects discussed. This article is not meant to be used, nor should it be used, to diagnose or treat any medical condition. For diagnosis or treatment of any medical problem, consult your own physician.
Eating healthily while on a budget can feel overwhelming. Trying to find the right meals which are affordable, tasty, and easy enough to make can prove stressful. Whether you're tired from working all day or trying to make ends meet as a college student, I'm sure we've all found it difficult at times. And, as someone living with mental illness, I've always had a complicated relationship with food. Throughout the years, I've gone from having a very low appetite due to depression to having a very high appetite from my medications. 
During episodes, my food intake can vary greatly — and so can my energy levels. Overall, it's been hard to consistently eat properly over the years. On top of that, I've just never been interested in cooking. I know that some people find it incredibly soothing and therapeutic, but that's never been the case for me. I usually go for easy, quick meals which limit the amount of energy I need to invest (or the number of dishes I have to do!).
So, when my doctor referred me to a dietitian last year, I was eager to learn more about healthy eating habits. It's been a really wonderful experience, and I'm lucky to have access to that service free-of-cost as a Canadian citizen. My dietitian has been super understanding and has taken the time to meet me where I'm at. 
We've worked a lot on brainstorming easy meals and snacks that are high in nutritional value, but one such recipe has become my go-to. It's basically a yogurt parfait, which I've adjusted to suit my own taste. Feel free to play around with the basic recipe to make it enjoyable for you! Here's the breakdown:
The Super-Simple Greek Yogurt Parfait
Total preparation time: Approx. 5 minutes
Nutritional value: Approx. 321 calories
Ingredients
3/4 cup of plain Greek yogurt 

1 tsp. of honey (optional, to taste)

1 oz. of granola 

2-3 raw almonds 

4 (or more) strawberries, sliced
Instructions
Measure out one serving of Greek yogurt into a small bowl.

(I use 0% yogurt to help limit calories, but you can use full-fat yogurt if you prefer!)

With a spoon, mix 1 teaspoon of honey into the Greek yogurt.

This is meant to help sweeten the taste of the plain yogurt. You can always substitute maple syrup

(not

table syrup) instead. Or, if you don't mind the taste of the plain yogurt on its own, feel free to skip this step entirely!

Top the Greek yogurt with 1 ounce of granola.

I like to use

Vector Honey Almond Granola

, but you can add in whatever brand you have at home (or even make your own from scratch!).

Top the Greek yogurt with 2-3 raw almonds.

You can also use whatever you have handy, such as walnuts. 

Wash and slice 4 (or more) strawberries to put on top of your parfait.

I like to slice them into small pieces. You can substitute in whatever kind of berries/fruit you have available. Raspberries or blueberries go quite well with this recipe!

(Optional) With your spoon, mix all of the ingredients together so that each bite has a variety of flavors.
As you can see from the instructions, it's definitely customizable. You can really use whatever you have at home to create the basic recipe — whether that's maple syrup instead of honey, walnuts instead of almonds, or any type of berries. 
I love to have this parfait for breakfast, because it's light enough not feel heavy, but filling enough to give me energy for the day. It can also be used as a satisfying snack — you can cut it down to 1/2 cup of Greek yogurt mixed with honey and topped with berries. While the granola and almonds add extra protein/fiber, you can skip them if you don't need that extra satiety. You can even have it as a light lunch/dinner if you're in a pinch! (You can always increase the amount of yogurt, nuts, or granola to help bulk up the recipe.) 
My dietitian explained how the Greek yogurt acts as a great source of protein, which is balanced out by the carbs in the fruit. She taught me that, when looking for healthy snacks, you want to strive for that combination of protein with carbs.
She also mentioned that the honey is an excellent alternative to refined sugar. Because, of course, if you head to any grocery store, you can find many different types of flavored Greek yogurt. While those seem healthy — because you're having a high-protein snack — the addition of artificial flavoring/refined sugar isn't great for you. And, even though honey still contains sugar, you're at least getting the nutritional value of its antioxidants. Try to use as little honey as possible or, as mentioned, feel free to skip it altogether if you don't mind the taste.
Couple that with the protein/fiber from the granola, healthy fats from the almonds, and the serving of fruit from the berries, and it's quite a well-rounded meal. It's super satisfying and ridiculously simple to make. I literally eat this Greek yogurt parfait every day, because I rarely have the energy/motivation to whip up complex dishes. It has totally changed my relationship with food, because I now go straight for this recipe instead of skipping meals or indulging in expensive takeout.
Learning To Eat Healthy When I Don't Have The Energy
In our busy world, it can be tempting to cut corners when we're strapped for time. Heading to work without breakfast can seem like the easiest option. And the various food delivery apps out there make it more convenient than ever to just order delivery for dinner when we're exhausted at the end of the day.
But if you can find a simple meal — like a Greek yogurt parfait — that can become your go-to, it can make a huge difference. That way, you take the guesswork out of preparing your food. So that, when you're in a pinch, you don't even have to think about it — you can just go straight for your easy dish. Minimal effort, minimal clean-up, and you've managed to still eat healthily.
Also, when you make something like this with ingredients you might already have at home, like yogurt, nuts, and fruit, you're not spending a lot on fancy ingredients. You can stick to the basics, and work with what you already have.
Anyone can benefit from simple recipes, no matter what the reason. Whether you're dealing with depression, feeling stressed, or just plain busy, we all need easy ways to eat healthily (while keeping our spending in check!). What are your favorite simple meals? Let us know in the comments.
Mercedes Killeen is a Toronto-based professional author and editor. You can purchase her book of poetry, tulips, at greyborders.com and order her freelance services at fiverr.com/killeenm.
Image via Unsplash
Like this story? Follow The Financial Diet on Facebook, Instagram, and Twitter for daily tips and inspiration, and sign up for our email newsletter here.