The Details You Need To Know If You're Thinking Of Buying A Home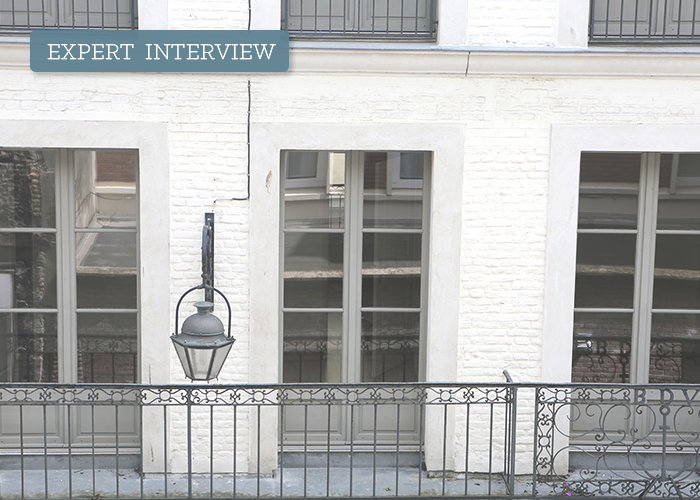 Today's installment of our Afraid To Ask: TFD's new expert interview series, is an interview about homebuying with Erica Sinchak, a mortgage lender at The Federal Savings Bank. The Afraid To Ask series is meant to provide a deeper insight into a variety of subjects, and shed light on topics people are sometimes ignorant about (myself included in every topic I cover!).
My first interview with Erica, Everything You've Wanted To Know About Buying A Home But Were Afraid To Ask was a hit, so I asked her back to answer more questions about this topic. Erica handles home purchases and refinances in all 50 states. She has picked up invaluable knowledge about this area of expertise, and she is sharing some great insight into details about buying a home and securing a mortgage! Erica was kind enough to answer the additional questions that follow. This interview is a fantastic way to learn more about what buying a home looks like, what you need in order to do it, and why it's beneficial to your financial future. Check it out!
I recently read this article, and it got me thinking…what are some questions I can expect a mortgage lender to ask me about my financial situation?
This is a great question!  So many first time homebuyers understandably don't know where to start, and feeling prepared can really take the edge off things. I've broken them out by category below.
Income:
If you're an employee:
Your lender will generally ask for two years of employment/income information.  Specify if any of your income is derived from commission, bonus, or the like. Be prepared to be painfully specific if you have any side gigs or 1099 income.
If you're self employed:
It is important to be organized and prepared to give a detailed summary of money coming in and money going out for the last two years. Your lender will likely ask a lot of scrutinizing questions. Try not to feel intimidated or offended. Be clear, concise, and honest about what you do. If your income has declined over the last few years, you will need to provide a solid explanation.
Debt:
Your lender will need to obtain a copy of your credit report to compare your monthly expenditures (credit card/loan payments, etc) with your monthly income.  A good rule of thumb is to ensure your monthly debts don't exceed 30% of your pretax income. Also, as cliché as it sounds, you should never max out a credit card.  Even if you are paying it off each month, it may be damaging your credit score (if this is the case, request a credit limit increase.)
Savings:
Your lender will ask for two months of statements from whichever account you are pulling your down payment from. If there are non-payroll deposits in these statements, be prepared to provide further documentation and letters of explanation. If your parents are helping you with your down payment, they will need to deposit the funds into your account and provide a Gift Letter that asserts no repayment is required.
Reserves:
In some cases ,your lender will ask for "reserve" money to show that you can pay your first X months of a mortgage. You can actually use a retirement account to show reserves without liquidating the funds. Your lender will give you direction according to their requirements.
As I get older, I consider moving out of state for a cheaper home/mortgage (NY is expensive!). Do you know of any states where it is particularly inexpensive to buy a home? Would you ever recommend someone move to another state to find a more affordable mortgage?
New York is one of the most expensive states to buy a home. A New Yorker might lust for a five bedroom, 4,200 square foot home on three acres in Nebraska for <$200,000, but do not forget to consider the massive lifestyle change that would accompany the move. This is a conundrum!  I think I would only recommend someone move to another state for more affordable housing A) if they have a growing family and don't want to sacrifice space for location, or B) if their income is considerably less than the median income for their current area.
How much emphasis do you personally feel someone should put on buying property where the value will increase over time?
Given what happened in 2006-2008 (brief moment of silence for literally six million people's credit scores), it's hard to say what can happen to property values. I would recommend that buyers prepare for worst case scenarios (i.e. the home does not appreciate at all) and be comfortable living in that situation. If you plan to live in a home for 10+ years, trying to forecast what the market will do in that timeframe is simply impossible.  Don't lose sleep over it, but pay attention to red flags. A beautiful home at a crazy-low price in a neighborhood where several houses have foreclosure notices on the door?  That area may be on its way out.  Are a lot of nearby business closed or boarded up?  Not exactly a "thriving" space. One other item to pay attention to, even if you don't plan to have kids, is the rating of the schools in the area. This will eventually affect your home's saleability.
Do you know what factors make a home more valuable over time?
Yes!  It is important to note that there are uncontrollable factors and controllable factors.
Uncontrollable: 
Demographics and population growth
Schools (This is an enormous market influence in Chicagoland, can't speak for other areas)
Mortgage interest rates (Surprise! Lower interest rates create higher demand for homes, driving higher prices)
Controllable:
This is a pure exercise in marketing. Everything should "look" good…functionality and other issues can be overcome as prospective buyers can largely be distracted by a good-looking house. Additionally, a house that looks good reflects on most buyers that the seller has taken good care of it. If I see a house that is extremely clean, with fresh paint, and smells good, I assume the sellers also took good care of the mechanical items that I can't see. It really is a direct reflection of the current homeowners. This can also serve as a tip for prospective buyers…do not, under ANY circumstance, waive your right to a home inspection prior to purchasing a home.  If any party to the transaction (attorneys, real estate agents, lender, etc) asks you to do so, fire them.
Landscaping. Generally has a 500% rate of return, just be careful not to overdo it.  You won't want prospective buyers saying "Where's the house?"
Upgrades.  A kitchen or bathroom remodel can be the difference between a prospective buyer walking away or making your home theirs. Basement renovations and a simple fresh coat of paint in every room also rank high on this list!
A good real estate agent. No plug here!  It has been proven over and over that good agents can help you net up to 15% more than unseasoned and, for lack of a better word, unsuccessful agents. Hiring a good agent is expensive because it is worth it. First impressions are everything! Make sure it's super clean, smells good, and shows like a model during each showing. Not doing so will do you a massive disservice. Your basement could be a petting zoo, but if you can blow prospective buyers away by your first-floor living space, they'll let your weird basement slide. You get the picture. : )
In our last interview, you said "Small to medium-sized institutions typically have the lowest interest rates. You should always shop around different lenders, not just for competitive interest rates for but for competitive closing costs as well. Many lenders offer a "teaser rate" to get clients in the door, but have abhorrently high fees." Would you recommend any of our readers to look into any specific lenders when applying for a mortgage?
Going with the theme of the previous interview, like any business, lending is a business that aims to make profits. If a business has low overhead and costs (smaller institutions) and doesn't do a lot of marketing (not a well-known brand) that generally translates to lower margins on their loans. Ultimately this means better rates. There are exceptions to this rule, but it's basic business math. On the other hand, smaller institutions don't necessarily have the backing of a big brand, and there is a possibility of having a bad experience.  That leads me to my next point…my best recommendation would be to Google (seriously!) lenders in your city, and read reviews of the institutions in your area. As you do this, remember that money is extremely emotional for people; there are thousands of people who get denied for mortgages and subsequently write a bad review of a financial institution. Pay attention to their words. A complaint regarding a loan denial should be taken differently than a complaint regarding an unprofessional or dishonest loan officer. If this intimidates you, it doesn't hurt to call up one of the "Big Four" banks. Choosing a lender isn't something you do in 15 minutes…speak with a few and decide who:
A) Makes you feel comfortable
B) Is available to speak with you as frequently as you need (being sent to voicemail without a timely return call is SO not ok)
C) Offers competitive rates and closing costs (based on your research, not their spoken word!)
How can I make the process as smooth as possible and get the best rate?
Your situation at the exact moment a lender evaluates your credit-worthiness is important. Credit scores reflect a long history about a person, but they are also a snapshot in time. You can prepare yourself to look as financially sound as possible for that snapshot by taking a few steps prior to applying for a mortgage.
Here are some dos and don'ts:
DO – request credit limit increases on your credit cards long (like, several months long) before you apply, this can drive down your credit utilization percentage, thus increasing your scores.
DO – pay off your credit card balances (even if you do every month) to boost your credit score and try to avoid racking up any balance at all prior to or during the mortgage process as this could decrease your credit score and/or raise questions with your loan underwriter
DON'T – move large sums of money around your bank accounts. Get everything where it needs to be at the start of the process otherwise you will have to explain all new deposits/withdraws
DON'T – apply for any large loans around the same time (looking at you, people who get so excited about buying a house that you also want to buy a new car to put in the garage!)
If you go into the mortgage process with an open mind and positive attitude (a high credit score won't hurt either), you will reap the benefits!  Buying a home is an amazing personal accomplishment. Plus, house-warming parties are awfully exciting. Thanks for having me again, Lauren! Readers, I am happy to answer any mortgage-related questions via email at esinchak@thefederalsavingsbank.com
Image via Pexels