The Dos And Don'ts Of At-Home Hair Care, According To A Stylist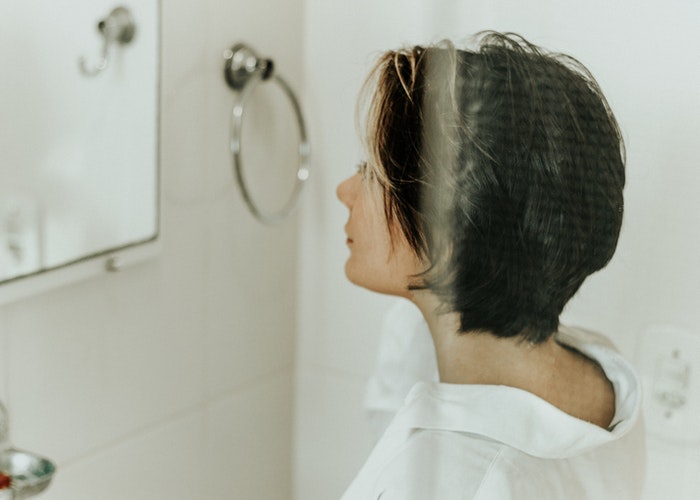 During these unprecedented, nerve-wracking times, it is a perfectly natural response to want to make a change to your hair. Maybe it's grey root maintenance, maybe it's cutting those bangs you've been wanting, or going lime green like Billie Eilish. As a hair colorist and professional, I strongly advise against executing any major hair changes at this time. But if you're going to do some hair maintenance while you're stuck at home, at least follow the below do's and don'ts.
There is a strong relationship between our hair and our emotions. And being such an extremely emotional time for all of us, it's important to embrace ourselves with grace, empathy, and compassion. Because drastic hair moves can be emotional, I think it's probably best to approach our hair with a less-is-more attitude. 
Do: Touch-up your own roots.
For grey maintenance on your roots at home, there are great at home root touch-up kits such as Clairol that are great to touch up your hairline around your face and where you part your hair. If you can, consult with your colorist before attempting any color matching or root touch-ups at home. But generally, you want to keep in mind: Anything too dark or permanent or overlapping could result in a complicated and drawn out color correction once you're back in the salon. There are also great temporary color powders and sprays that will camouflage your roots, such as Color Wow or Loreal's line of hair care. 
Please remember: None of these approaches will be perfect, and the results will never be the same as they are when executed by a color professional. But these are a good temporary fix until we're back together.
Don't: Attempt to do your own highlights.
As for highlighted hair, which I have myself, it's probably best to avoid doing this on your own, but it's a good time to embrace our roots and focus on hair health! Reach for those heavy masks or oils and give your hair some shine and treatment. Kristen Ess makes an awesome clear gloss to add some shine and conditioning. Avoid tones and pigments — think in terms of treatments and shine to keep your hair healthy and glowing.
Do: Experiment with temporary color treatments.
If you've been thinking of sporting a different, bold hair color, now is the time to give it a try, and there are plenty of temporary options so you don't have to fully commit.
For example, Color Wow powder also comes in platinum blonde and will wash out with a shampoo for those who want to create a temporary highlight connection on your roots or baby hairs.
Don't: Trim your own ends.
It is so tempting to want to cut those split ends, trim your bangs, or give yourself a haircut. But if you botch it, you could end up spending a lot of time growing it out and fixing it when you reunited with your stylist.
Instead, reach for a mask, or even massage some coconut oil into your scalp. Get creative with some fun hairstyles, learn some braiding techniques. (YouTube is great for this!) Style hack: braiding your hair one day will create heat-less beach waves the following day. A cute and colorful animal print scrunchie headband can hide roots and create a fun look for a home workout or Zoom session.
Do: Embrace your natural texture.
Embracing natural texture and giving our hair a break can be a great alternative during this time! Scalp hack: before hopping in the shower, gently massage your scalp with your hairbrush to exfoliate your skin. Shampoo hack: instead of shampooing your hair once, break it down into two separate shampoos using smaller amounts. This will ensure a deep clean and healthy scalp and will set the perfect canvas for your mask treatment! 
This is been a really tough time for all of us, and a challenging time for myself and those of us in the hair industry. Not only is this an artistic passion, but it's also a passion for us to serve and impact others. As for myself — and I'm sure for other artists —  it really is impactful and important for me to connect with and to help my clients in any way possible. 
Don't hesitate to reach out to your colorist or stylist with specific questions. We are here to help! We're in this together, and soon enough, we'll be back in our salon sanctuaries. Wishing everyone health, safety, love — and beautiful hair.
Cherise Wilson has been doing hair professionally for 12 years. She started her career in Southern California and moved to New York City four years ago, where she's been specializing in hair color in celebrity salons. She is a colorist at Marie Robinson Salon in the Flatiron District.
Image via Pexels
Like this story? Follow The Financial Diet on Facebook, Instagram, and Twitter for daily tips and inspiration, and sign up for our email newsletter here.