The One Thing That Helped My Broke, Anxious Self Finally Learn To Converse In Another Language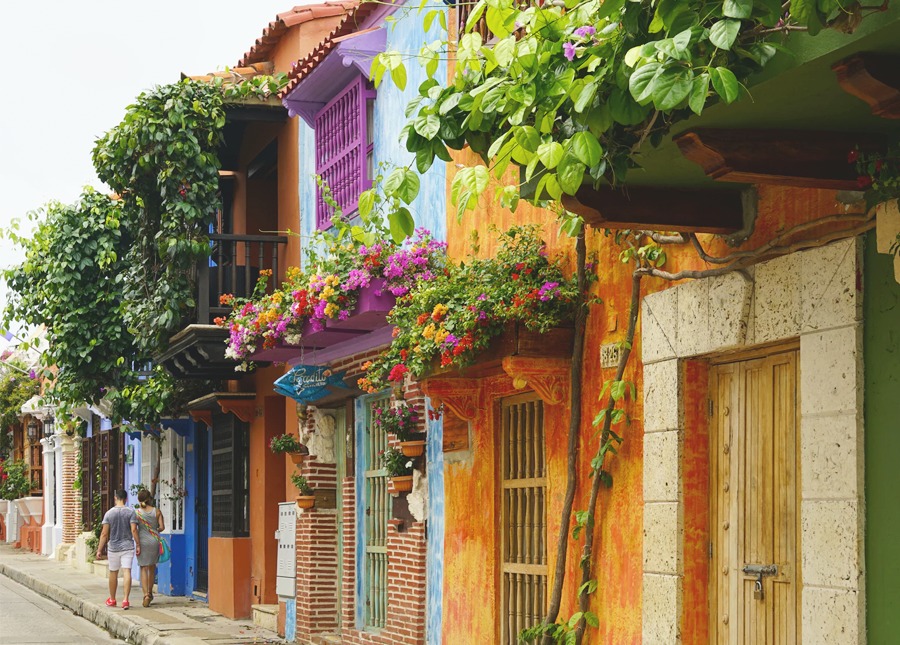 I hit Spanish fluency after five months of living in Colombia. At that point, I could hold a conversation about anything from politics to cooking without really thinking about it, distinguish between slight variations in accents, throw in an armar una rumba bit of Colombian slang on Whatsapp, and even relay most of my personality and humor in Spanish. I was confident going to stores, signing legal documents, and telling dudes to get their thighs off my space on buses.
How did I get to month five from kind of an intermediate understanding of the language in month two? I wish I could be cool and say it seeped into my body while I salsa-danced, or that I absorbed it by only speaking Spanish with an extensive group of Spanish-speaking friends. After all, I'd studied the language for four years in college and then moved to a Spanish-speaking country. But while I excelled in the safe space of a language classroom with structured conversation and professors, a paralyzing fear of looking stupid and getting things wrong slowed me down during interpersonal interactions. During a study-abroad semester in Spain during college, I stuck to my American college friends when out and mostly hid from my Spanish host family at home, watching Netflix.
As you can imagine, my first few months in Colombia were lonely. I was teaching English through a fellowship, and the stipend didn't leave me with a lot of funds to socialize and take salsa classes with other expats. My language abilities (or lack thereof), how stilted I sounded when speaking Spanish — they kept me from putting myself out there with potential local friends. I went back to my Netflix habit, watching hours of shows in my bedroom, and that's when it happened. I found La Prepago, one of the only Netflix shows at the time that came with the option of audio and subtitles in Spanish.
La Prepago is a telenovela about a woman my age trying to pay her bills and go to university via sex work. It features a lot of ridiculous running-behind-car-pulling-hair-out-screaming moments, but it also has incredibly real characters and some awesome feminist moments, like when the protagonist is asserting her agency by sassing her pimp-criminal boss, and telling her little sister that a guy is an idiot if he thinks she's slutty instead of responsible when she asks to use condoms.
Using Netflix to learn was amazing for me, because I could see/hear Spanish used in all sorts of situations in a way that wasn't that far off from real life (well, usually) without the pressure of a real-life situation. 2-4 episodes a day gave me listening practice, confidence, and a real insight into how the language could be used that I didn't get from just knowing the rules. The images and action made it engaging in cases where I'd actually need to know the words in a book to follow what was happening. There was also current-moment slang. Plus, because it was Netflix, I could rewind and rewatch moments as many times as I needed, and I could look up words on another tab while I did it. With subtitles in Spanish, I could listen and read at the same time, which accelerated my learning. Finally, because it was a telenovela with many episodes and not a movie, there was a lot of attention to character development, and my investment in the characters kept me watching and practicing.
Suddenly, when I was on the bus, I could understand what people around me were saying to each other. Of course, I did have to eventually venture out of my bedroom and start speaking with real people. I was lucky to have started with the language abilities and be living in the country so that, the second I felt ready, I was in the position to practice in real-life situations — talk to my students about their love lives and chat with the corner store owner when he asked me how I was. But it was the two daily hours I immersed myself in Colombian slang through La Prepago without even noticing where the time was going or being put off by any kind of anxiety that gave me the little push I needed to conquer my fears. Before I knew it, I'd achieved the fluency dreams that had prompted me to pack my anxiety and my belongings into two big suitcases after my college graduation and move to Colombia.
Sometimes when you set big goals that challenge the constraints of your current self — whether they are limitations of finance, personality, or both — you have to find creative ways to combine self-care, patience, and compassion with still working towards your best self. Small, consistent daily actions you don't think about can often add up to big changes and the life you want.
Shonty spends most of her time thinking about food, stories, and cats as she stretches her heart and her life across India, the US, Colombia, and the Dominican Republic. She likes making meaning out of life's little moments.
Image via Unsplash
Like this story? Follow The Financial Diet on Facebook, Instagram, and Twitter for daily tips and inspiration, and sign up for our email newsletter here.