The Perfect Mini-Vacation: Austin, TX
When it comes to 'awesome things you can do with your money,' few things leap to mind more easily than travel. And we're often told – and not without reason – that it's better in life to spend on experiences rather than things. But airfare is often expensive, in addition to being logistically complicated, so many of us end up writing off the idea of travel as something that can only happen rarely, and only with huge amounts of prior planning and saving. But what about car travel, which is much more affordable and, for most of us, super convenient? We've already extolled the virtues of day tripping here on TFD, but we haven't yet planned our perfect mini-vacations that fit into our budgets, and don't require any costly airfare – and can easily be tacked onto a work trip.
So to do just that, we've partnered with National Car Rental for their One, Two, Free program to imagine our perfect 24-hour trips in some of our favorite cities. They're fun and special to us, and more importantly, super savvy: we'll be hitting affordable spots we love with National's free day for every 600 points, so let's hit the road and discover TFD's perfect mini-vacations!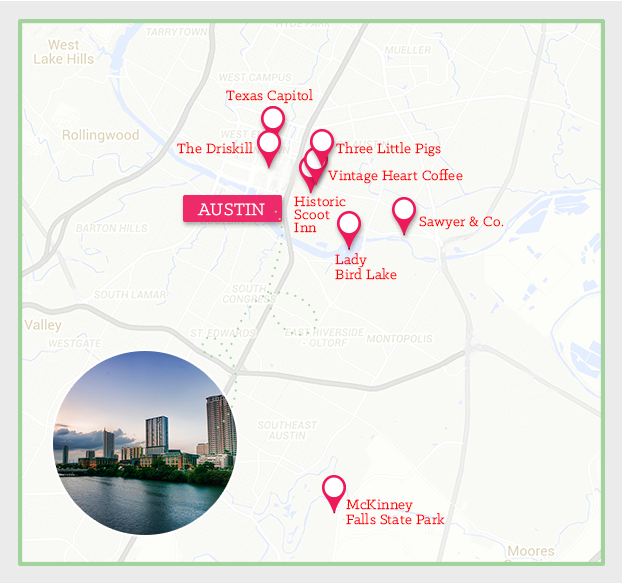 Over the last couple of years, several of my friends have moved to a place that has me aching to flee my East Coast home in pursuit of something exciting and new. They've moved away to a land filled with the most insane-looking barbeque spots, coffee shops, and music venues — I'm talking about Austin, Texas. The laid-back state capital of Texas has long held a place on my short list of U.S destinations I'm dying to see. I've read articles that sing this city's praises, and it seems like every day a new restaurant, store, or bar pops up. The friends I know who live there say Austin has the feel of a true all-American city that is friendly, boisterous, and welcoming — three things I want out of any mini-trip. And best of all, there are a ton of activities that don't require spending much $$$, like live music and food trucks. So with my One, Two, Free 24-hour trip exploring Austin, Texas here's what my perfect day would look like:
I'm a morning person and a coffee lover, so I'd start off my day off early at Vintage Heart Coffee, a great cafe where they serve up local fare and strong coffee. While I would normally eat breakfast at home, we're on vacation! I'd order one of their iced vanilla lattes and an oversized scone before getting back on the road to start my day exploring around town.
After grabbing breakfast, I would head downtown. Being the state capital of Texas, Austin is full of historic buildings and landmarks, so there is plenty to see and do if you're looking to get your fill of beautiful architecture, monuments, and sites. Exploring the local history and museums is a great way to fill your day with activities that don't require a lot of money, so your wallet won't have to take a hit. I would be sure to hit the Texas State Capitol Building, The Driskill Hotel, and the Mexic-Art Museum. And heading downtown would be a perfect way to spend a few hours walking around the historic parts of the city and work up an appetite, so I'd need to find somewhere great to eat.
After spending the morning exploring the historic parts of the state capital, I'd take my appetite on the road and hit up Sawyer & Co. It's a Contemporary Louisiana Restaurant that serves up creole food with a modern spin. (I have my eye on the shrimp po' boy, okra, and sweet tea.)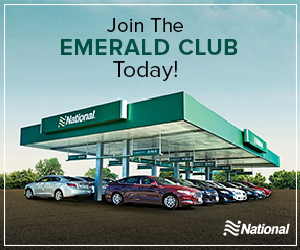 Next, I'd head out to work off the heavy lunch by taking a long stroll through the Town Lake Trail, a walking path which offers up fantastic views and cuts right through the city and Lady Bird Lake. It's another way that you could spend the afternoon enjoying the natural beauty of Austin without spending a ton out shopping and drinking. There would be potential for some great photos and a chance to enjoy the warm sunshine and fresh air. If I were feeling more ambitious (or ate a slightly lighter lunch perhaps) I could cut out of the downtown area for a few hours and explore McKinney Falls State Park for a more substantial hike through nature preserves.
Then, I would head over to dinner at one of Austin's classic-yet-inexpensive BBQ joints like Three Little Pigs food stand. Here I could grab a budget-friendly delicious dinner – I would order pork belly sliders and coconut buttermilk pie.
To end the night, I would absolutely need to check out live music at one of the many fantastic venues that Austin has to offer. I'd probably head over to The Historic Scoot Inn. It's a no-frills evening where you can enjoy live music without breaking the bank. General admission usually runs you about $10, and for the price you get to enjoy live entertainment for a few hours.
Finally, the next morning before ending my 24-hour stint in Austin, I would venture out to pick up some of the best breakfast tacos in all the land at Veracruz All Natural. From what I've read and heard, it seems that Austinites have a love affair with the breakfast taco (honestly, same), and the reviews on this place say that this establishment does not disappoint. After ordering a couple migas breakfast tacos, an iced coffee the size of my head, and a watermelon agua fresca I'd be good to go. I would take my breakfast on the road over to Edward Rendon Sr. Park at Festival Beach in Town Lake Metropolitan Park and eat it while looking out at the water — it would be the end of a perfect 24 hours filled with everything I just can't get on my beloved East Coast.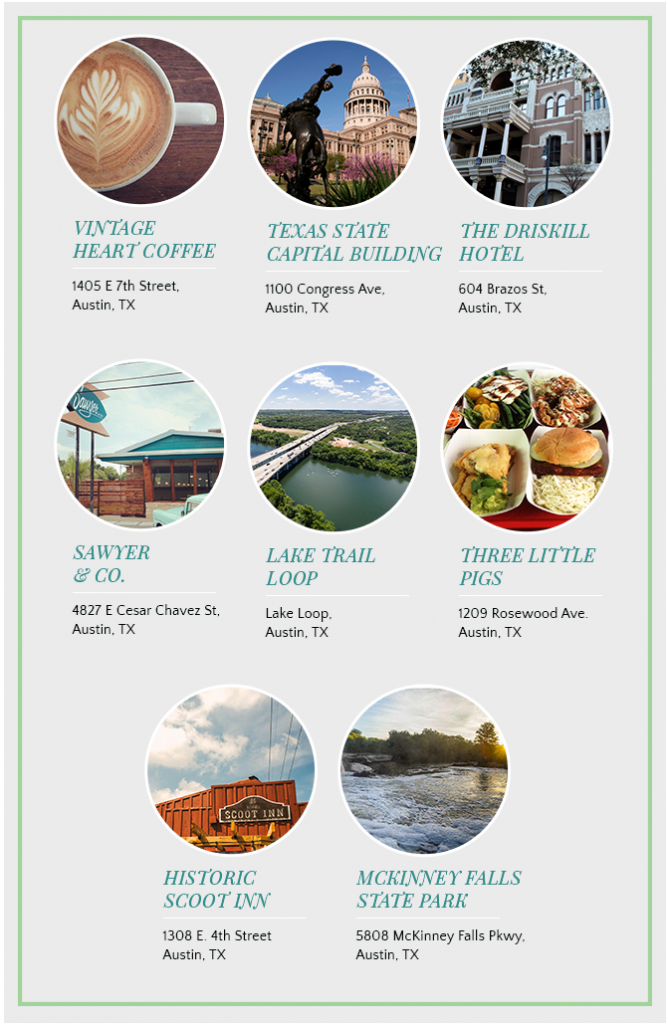 Want to start earning free rental days and enjoy your own perfect mini-vacation? Join National's Emerald Club at http://www.emeraldclub.com/Free and immediately take part in the One Two Free promotion. There are no fees to join – budget friendly! — and members enjoy expedited service at airports and free upgrades in National's Emerald Aisle, an exclusive section where members can select any vehicle (as long as they reserve a midsize or larger car). Let's learn how to ride smart, together!