The Side Hustle Diaries: A Programmer Who Makes An Extra $150/Week Selling Her Art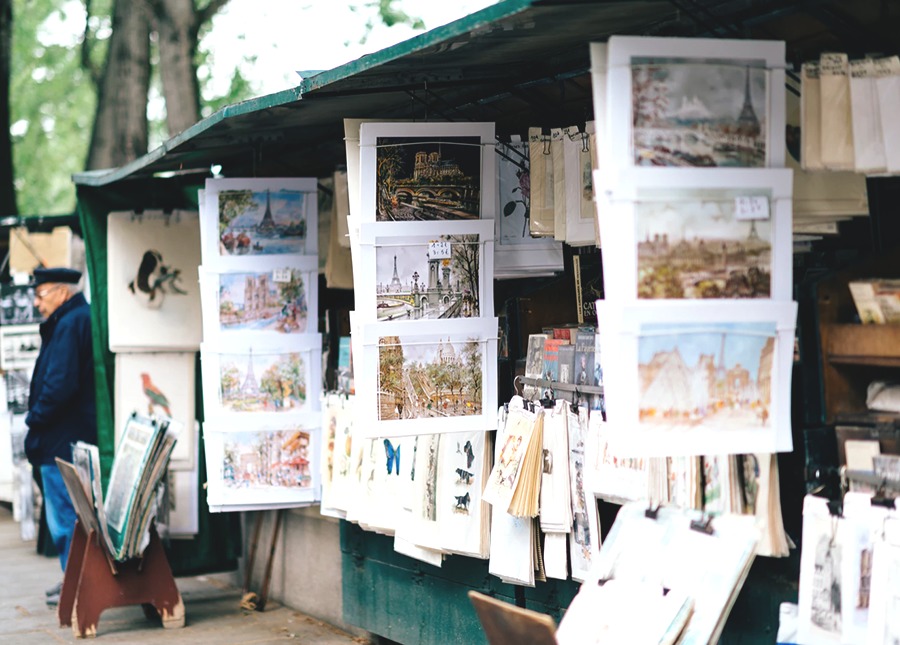 The Side Hustle Diaries is a column showcasing how different real-life people earn extra money on the side — because you totally can, too. Click here to read more!
Whenever I travel, I always try to make time to visit a grocery store in the area. My favorite souvenirs usually center around food, and grocery stores or markets feel like one of the best places to experience a brief snippet of life as a local (also — I love snacks).
Last month, I took a brief business trip out to the East Coast–my first trip since graduating from boarding school almost six years ago. I had forgotten about the particularly lovely muchness of New England in October: though I am a born-and-bred, ride-or-die, undeniable child of the Midwest, there's still something about fall on the northeast coast that I can't quite shake (I know, I know — I promise it's relevant!).
So just before I was due to head back to the airport, I slotted an extra hour into my schedule for wandering around a farmer's market in a nearby park. Warm cider, fall foliage, endless pumpkins, and fresh donuts: what better pre-flight stop could you ask for?
At the market, I came across a stall selling beautiful watercolor postcards, greeting cards, and small prints of local produce: a verdant bunch of green onions; plump heirloom tomatoes; blushing slices of Cripps apples. As I was checking out, I asked the artist if she had a website or any kind of online ordering set up, and she mentioned that this was something she only did on the weekends at local markets–during the week, she worked full-time in banking as a cybersecurity engineer. So in this week's Side Hustle Diaries, I sat down with her (virtually) to chat a little bit more about her work!
How does your side hustle fit into your average day?
Most evenings after work, I'll do preliminary sketches and draft a couple of still life sets–I also sometimes research local markets or organizations that I can reach out to who might be interested in carrying my work, or where I could potentially rent a booth spot. I used to apply for the booth lotteries and interviews at some of the bigger markets in the city proper, but those ended up being super competitive, and also usually had really high (probably $500-600) starting costs for booth rentals, banners with proper logos, etc.
How did you find your way to this work?
I've always loved drawing — I taught drawing classes when I was in high school and did cartoons for my college paper — so it's something that I do in my spare time anyways. The summer after college, just before I started my job here, the library in my hometown where I used to volunteer was doing a craft market in their parking lot, and one of the librarians sent me a booth application because she knew I "liked doing art." I ended up paying $10 for the booth spot and made about $300, which was, like, ten times what I thought I would make! So once I was settled out here, I started looking at similar events happening around me.
How much do you make during an average week from that side hustle?
It fluctuates by season — during the summer, I make around $300-500, even taking into account all the other costs, because markets are open a little more often and there are smaller ones available that have no application fees. Also during the summers, more people are out! In the winters, it's probably more like $150-200. And I only sell every other week — so probably an average of $150 per week, if I had to say?
Could you talk a little more about those overhead costs that you mentioned? What does that look like?
Yes, definitely! I'll just give you kind of a general breakdown with estimates:
Application fees:

$30-40 per application (for the markets that I go to now, repeat vendors have to reapply but don't have to submit an application fee, but that hasn't always been the case in my experience)
Booth space:

$15-35 per week, and I only sell every other week
Booth materials

: $80 for a used tent I've used for the past couple years, $150 for displays, tablecloths, pens, a square scanner for credit cards, etc.
Art supplies

: I spend $40-50 to get prints copied on nicer, canvas-backed paper at my FedEx before every market day–and then I probably spend at least $30 on art supplies every month for this and for personal use
And then there are some other associated costs–gas, credit card fees for using the square scanner, that kind of thing.
What's your favorite thing about having a side hustle? Your least favorite?
My favorite thing by far is how many cool connections I've gotten to make. II've met so many incredible people at the market, especially other vendors. There's one farmer whose stall is always across from mine when I'm in Attleboro, and a lot of prints are actually from still life sets I've created with his produce. It ends up being great outreach for both of us because he uses my designs as signs at his booth, and I always credit his farm in my prints.
I mean, I'm sure everyone says this, but my least favorite part is definitely the accounting side of it–which is funny, because I work for a bank. But I think the bulk of my stress from having a side job comes from just trying to keep things organized so I don't rip my hair out during tax season..which I always end up doing anyways!
If you keep a budget, how does income from your side hustle fit into it? And if it fits into multiple categories, would you mind doing a mini budget-breakdown of that income?
80% of my earnings go into my savings account, which is kind of my multipurpose emergency fund + savings. 20% of it goes into my checking account and I use it for fun things: spontaneous travel, tickets to a show I've been wanting to see, gifts for friends, that kind of thing.
How do you see that side hustle changing or fitting into your long-term plans (if at all)?
I've been thinking recently about forming and reporting as an LLC, because it's gotten more complicated to keep track of things as I've started making more. I'd love to do art as a larger part of my life someday–broadening the places where I sell and maybe trying to sell to larger distributors so I don't always have to be the customer-facing person? And owning my own little store would be a dream. But as of right now, my day job is paying off my student loans, and it's nice to be building up a savings buffer before really jumping into art full time.
Last question; is there one financial goal that you feel like your side hustle has helped you meet? 🙂
I've been buying/seeing/surrounding myself with so much art! Even though a lot of my side income has gone to savings, that other little bit almost entirely goes towards other artists. it's always been really important to me to support other people's artistic pursuits–especially other queer artists of color, who are so often systemically disenfranchised–and for me, that support means investing in them financially just as much as it means supporting them out loud/emotionally/etc. And with this bit of disposable income, I finally feel like I have the ability to purchase pieces I really love at full price, or to buy tickets to shows I've wanted to see, and to fill my life with little bits of other people's artwork! And I'm really grateful for that.
Julie Zhou is a writer, editor, and born-and-bred Midwesterner. She loves unreliable magazine quizzes, cast-iron pans, and the Oxford comma. She hates the question, "No, but where are you *really* from?"
Image via Unsplash
Like this story? Follow The Financial Diet on Facebook, Instagram, and Twitter for weekly tips and inspiration, and sign up for our email newsletter here.