How I Transformed A Small Closet Into A Comfortable Home Office For $200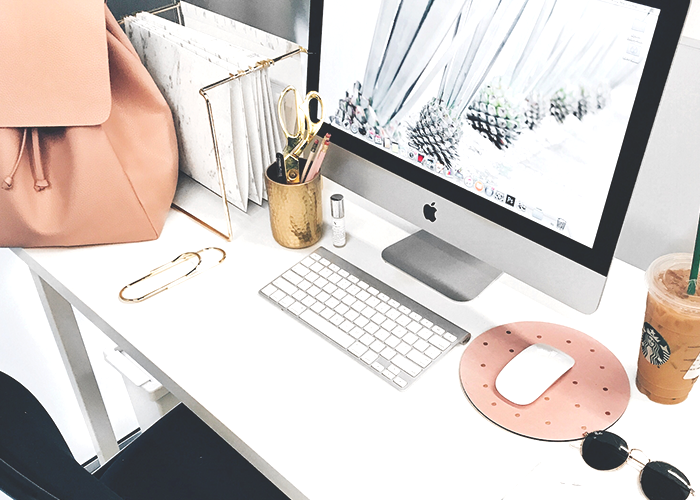 I really had been wanting/really needing an office space with a door that I can shut when I'm not working. Why? Because I have a toddler who can't keep his hands to himself, and a 17-pound cat who is just about as good a listener as my two-year-old. A separate office space is essential.
While preparing for a recent move, I had the opportunity to search for the apartment with an office space of my dreams. However, when I was scrolling through apartments options, the three bedrooms available were all way over our budget. Still, I couldn't forego a private office space, even though we settled on a two bedroom apartment. So, I recently transformed our pretty gross utility closet to a teeny but functional and cute office space that I really needed. And I did it on a tight budget.
After an international move plus the sort of unexpected expense of (mostly) furnishing an apartment, my budget for this closet/office renovation was tight — I'm talking as cheap as possible. At the same time, I didn't want to completely skimp on my office, since time spent at my desk equates to money in my bank account. So, I chose some spots to splurge and some to save in my renovations, while still not compromising on a comfortable, productive workspace.
Preparing the utility closet:
I know you might be skeptical about converting a tiny 1.5 square meters of space, with built-in metal shelving, into a functional office space, but let me assure you that it is possible (although I needed convincing at first as well). When I initially opened the closet in our apartment, I was bummed to see it full of old junk typical in disused spaces: a circa 1970s floor polisher, tall storage cabinet, gigantic plastic vase, and cleaning products. For reference, this is what it looked like: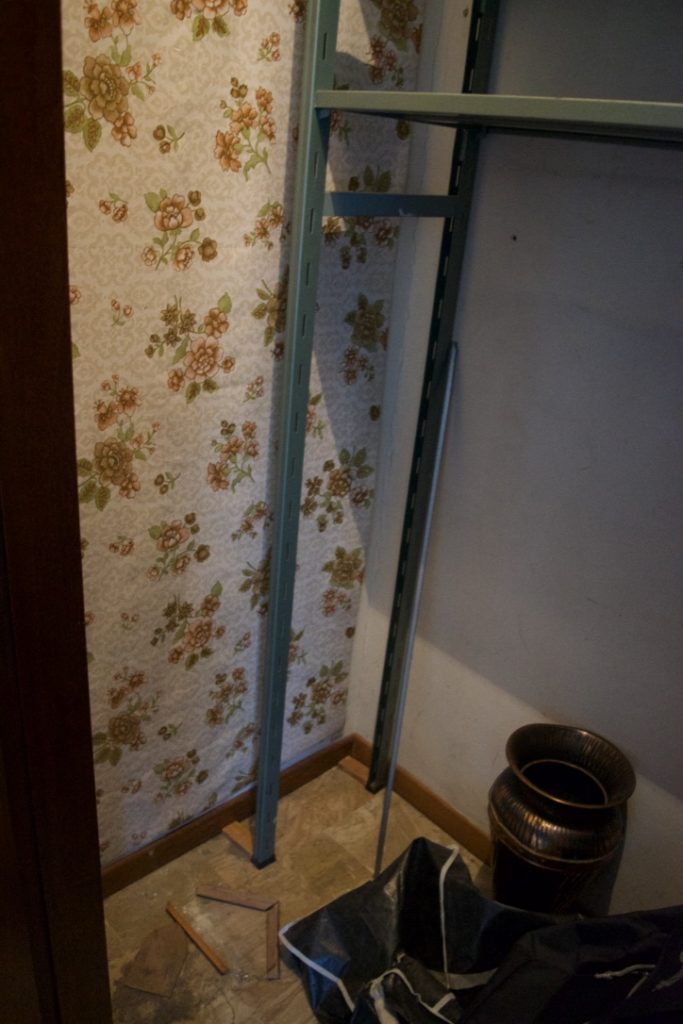 I initially thought it'd be impossible to convert this icky space into an office, but with some spousal encouragement, I took everything out, found new homes for the stuff, and spent hours removing the years' worth of grime that had built up. And low and behold, after this clear out and some measuring, 1.5 square meters of space did look as though it could fit a desk and chair, and those annoying metal shelves could store books and equipment!
Actual costs:
Choosing where to splurge and save was surprisingly easy, and it turns out that furnishing a tiny office doesn't take a lot of stuff. My two splurge items were an office chair — because no one wants to sit on an uncomfortable seat all day — and a desk lamp; my office/utility closet is far too dim to skimp on a decent lamp. I saved by buying the cheapest desk I could find that fit my space and inexpensive baskets to store electronics and office supplies.
Splurge Items:
Office chair: ~80 EUR ($93.83) from Ikea
Desk lamp: 65 EUR ($76.24) from local lighting store (was originally 70 EUR, but I bought the floor model for a discount of 5 EUR)
Save Items:
Office desk: ~20 EUR ($23.46) from Ikea
Baskets: 12 EUR ($14.07) from Flying Tiger
Total: 180 EUR ($211.12)
Here's what it looks like now: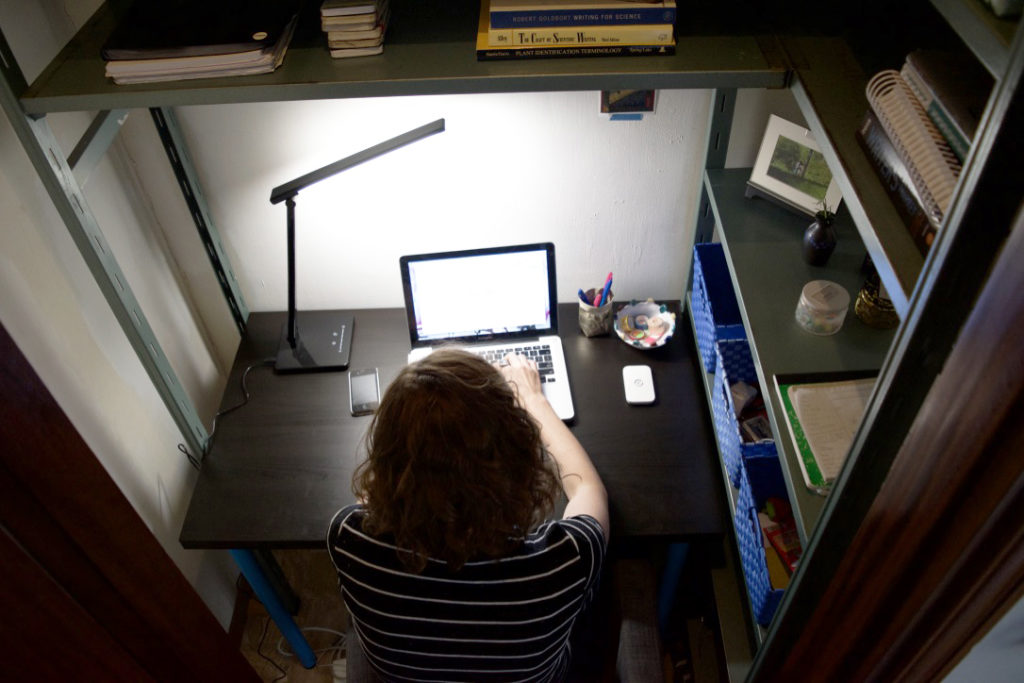 Additional purchases waiting to happen:
Because moving is expensive — and much more expensive than my husband and I had budgeted for — I've created a little list of things I'd love for my office that aren't necessities and won't affect my ability to work productively. After a few months, once we've figured out the expenses in our new home country, I'm planning on buying things that will make my office look nicer, but won't necessarily affect my comfort. Sure, you could argue that splurging on these details now would make my office cuter, making me want to spend more time in it, but to me, slightly more money in the bank makes it all worth the wait.
My future-office-purchase wish list includes more lighting (utility closets are pretty dark) and a large can of white paint (did I mention that the utility closet was gross before). I'm also going to look into an electrician to convert the outlet from old Italian style to new, but I'm really hoping my landlord will cover this. I currently have a chain of extension cords connecting me to the nearest typical EU-style outlet, which isn't the most ideal situation. It'd also be pretty cool to remove half of the utility shelves, but since we are renters, this is more of a daydream.
Sure, I could have purchased a cheaper chair and desk lamp to make my utility-closet-turned-office even more budget-friendly, but perhaps I wouldn't have liked spending a ton of time in there per day. Who would want to spend eight hours a day in an uncomfortable chair with dim lighting? I also could have blown our limited budget on unnecessary things like a paint job and more lighting, but that also wasn't really needed. For now, I have a functional, comfortable, and cute office that didn't bust our budget, and I'm very happy about that.
Elizabeth Georgian is a freelance editor and writer, with a focus on travel and lifestyle content. She is a serial expat building a new home in the sunny Florence, Italy. Follow along with her international adventures and cultural exchange posts on In Search Of.
Image via Unsplash