The 2 Big COVID Scams And How To Avoid Them, According To An Expert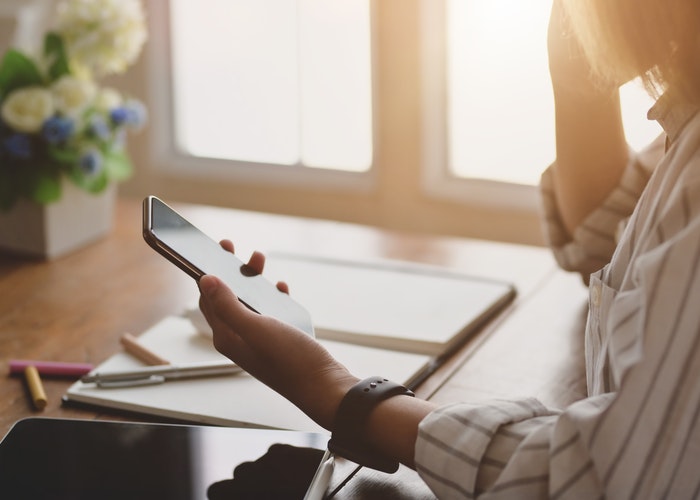 When people are most vulnerable, scammers look to take advantage of that vulnerability and fear. Unsurprisingly, this is also the case with the COVID-19 crisis, says Richard Cordray, Former Director of the Consumer Financial Protection Bureau (CFPB).
If you're not familiar, the CFPB is a United States government agency that Senator Elizabeth Warren launched in 2011. It's tasked with consumer protection when it comes to predatory financial products or services (We see you, payday loans). While the CFPB is known for its work preventing scams, it also promotes financial literacy and personal finance on topics like budgeting for beginners and credit card terminology.
Cordray told us that COVID-19 has resulted in a high occurrence of two types of scams.
Health-Related Scams
"One focuses on the desperation some people are feeling about the health threat, which scammers are exploiting by offering bogus test kits and other worthless tools allegedly aimed at diagnosing exposure to the virus," Cordray said. These scams are taking place through various communication methods, from phone calls to internet platforms, leaving consumers at risk both financially and physically as they trust unverified tests.
Stimulus Check Scams
But the second set of scams focuses on abusing people financially, failing to deliver on promises to help those in need. Scammers know that different people are susceptible to different outreach strategies, so these scams happen in a multitude of ways. "For people desperate to receive their stimulus checks, scammers pose as middlemen who make false claims to be able to get your checks faster or to secure more money," Cordray said. "They offer their services for a fee, or else they claim that you need to give them your bank account information or other sensitive financial information that they can sell to others, putting you at serious risk."
It's easy to assume you wouldn't fall for scams like these, but they're designed to look legitimate. As consumers get smarter, so do the scammers. Whether it's an email with a link to a seemingly-real site or an envelope with United States letterhead, there are so many ways scammers trick consumers into thinking they're legitimate entities.
"In general, people need to realize that when someone contacts them, unsolicited – whether online, or by phone, or by mail – they don't really know who they are dealing with," Cordray added. He says the key to avoiding these scams is to conduct your own outreach directly. If you need a loan, you should reach out to the bank. If you may owe a tax bill, you should call the IRS. By taking outreach into your own hands, you're able to ensure that you know exactly who you are talking to.
"Young people should be careful about not getting drawn into these scams, and they
should also be concerned about their parents and grandparents being exploited as well," Cordray noted.
What Is The CFBB?
Launched in 2011, the CFPB was designed to protect consumers from scams, payday lenders, illegal bank practices — the list goes on. As Cordray noted, "its enforcement actions recovered $12 billion for 30 million people in its first six years – money that had been wrongly taken from them in violation of the law." Remember that whole Wells Fargo fiasco? The CFPB was the entity that took action against them to get consumers their money back.
During the 2008 financial crisis, the CFPB also regulated predatory home lenders to protect consumers going forward. "The current leadership at the CFPB needs to understand the urgency of this moment, as consumers are being decimated by the coronavirus crisis," Cordray told us. Without such oversight, Americans are left vulnerable during an already disruptive crisis.
Cordray worked with the CFPB from 2012 to 2017 and has recently published his book, Watchdog: How Protecting Consumers Can Save Our Families, Our Economy, and Our Democracy, about the importance of protecting Americans from predatory financial institutions. "It describes the work we did under my leadership for the first six years of the agency's existence, to protect people against predators and large financial companies that can cheat or mistreat them," he said. And it is a road map to how we can make our government in Washington work for middle-class Americans, not just those at the top of the heap with the wealth and the clout to navigate the corridors of power."
Simplicity Bryan is deeply entrenched in the worlds of self-help, gratitude, personal finance, and organization. She's happiest paddleboarding with her pup and storytelling with a purpose. You can follow her here.
Image via Pexels
Like this story? Follow The Financial Diet on Facebook, Instagram, and Twitter for daily tips and inspiration, and sign up for our email newsletter here.