How I Went From Totally Clueless To My Own Apartment Broker In 11 Steps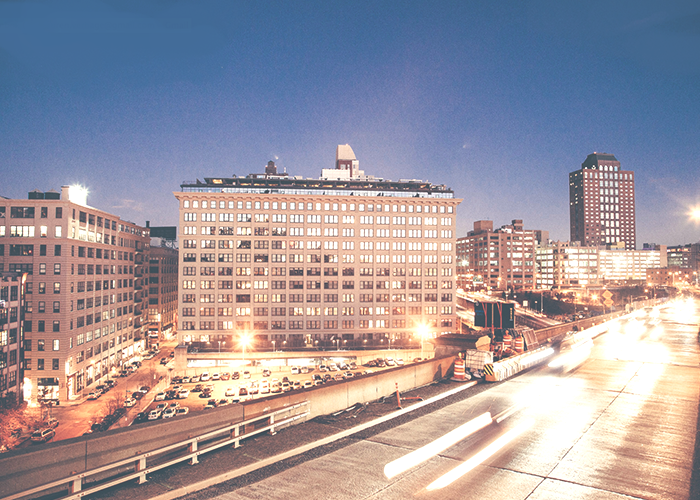 After receiving my first job offer, I was elated. Then panic set in: in order to accept, I'd have to move to a big city within a month. I had heard rumors about how much it cost to live in this city, but I had no idea what that meant for my finances, on a daily budgeting basis. I braced myself for a strapped life in a run-down apartment, eating ramen for every meal.
While that didn't quite end up being my reality (thank goodness for savings!), I did learn a lot about the nuances of moving to a big city (in my case, New York City), and how to save money doing it. The New York real estate market is insane (and hard to navigate and understand when you've been living outside of it your whole life), but it can be done. I want to share my general city-move financial strategies because — regardless of which city you're headed for — these tips will be helpful for planning your relocation to an urban area with a higher cost of life.
1. Flexibility: let go of the "dream apartment."
The most important thing to know about moving to a busy city is that you'll need to be flexible in your apartment search. Generally, the farthest in advance that you can sign a lease on an apartment is about three weeks, because the turnover in the market is quick. Before of moving to my city, I began scoping out neighborhoods and talking to real estate brokers over the phone about neighborhoods I could afford.
2. Set your "rent bracket" and search with it in mind.
Before calling brokers, I used Zillow's rent affordability calculator to determine what portion of my income I could afford to spend on an apartment. My roommate and I talked about a few things that were important to each of us — two bedrooms, safety, lots of sunlight, and the ability to commute to the Financial District (the neighborhood where I'd be working) in a reasonable amount of time. Based on these metrics alone, we found three neighborhoods that seemed like a good options.
3. Make the time to physically go to the apartments and view them in person.
I was still in school at the time I was planning my move. I carved out a three-day weekend to go to the city and scope out places. I booked appointments with three brokers whom I had talked to over the phone and who seemed promising. The appointments cost nothing to book, because brokers are only paid based on whether they are able to "seal the deal" on an apartment rental. I knew there wasn't a huge risk in making appointments and breaking them if I found an apartment on the first or second day. Plus: scams are very prevalent in big city real estate. You have to make sure that the apartment you're putting money on is…a real apartment.
I was lucky, and found my dream apartment in Bushwick on the second day of the trip. I used an NYC-specific startup called Nooklyn to find my space, and had an incredible experience with the company. There are other ways, though, to find a good apartment in other cities, such as the Listings Project (a newsletter that advertises sublets and rentals for artists). Also, check Facebook; there are often city-specific, open groups devoted to subletting, finding a roommate, or securing a rental.
4. Evaluate whether you really need to go through a broker…they're expensive.
If you're moving from nearby (say, an hour-long commute from your destination city), you likely don't need to hire a broker. You can, instead, schedule appointments for apartments you see online by contacting the property management. However, if you're coming from hours away for a short amount of time, it's most time-efficient to hire a broker.
The cost of hiring a broker is relatively high. (For example: some brokers in New York charge about 15% of a year's rent…yikes. Mine, however, charged an amount equivalent to first month's rent.) Budget ahead for this expense: the broker fee, coupled with the first month's rent deposit, is going to be a huge expense, even before all your move-in costs. I was lucky to have a large amount of savings set aside, in addition to a little parental help in getting started.
5. Understand what financial proof you'll need to secure a lease.
If you're just out of college, like I was, you'll need someone with good credit to sign as a guarantor on the apartment (because your own credit history isn't long enough to be "trustworthy," and your net income is probably low). For most places, you'll also need several types of I.D., as well as information about former residences (and, in some cases, references from former landlords). Chat with your broker or the person renting out the apartment about what documentation you'll need before you come to the city to view apartments. They'll likely be able to outline everything and make the process go more smoothly.
6. Research "moving van" options, and plan ahead for furniture. 
If you don't have your own car, moving will be significantly more difficult. I suggest considering renting through Zipcar or other services for a day, because it will make your life much easier (and it's cheaper than renting a moving van). I was able to move much of my school possessions in my dad's pickup truck. I didn't have any furniture, which made moving easier, but added an expense on the back end. I gathered up some savings and graduation money and prepared to spend it all at Ikea. Once I arrived, I measured the apartment and then my family and I drove out to Red Hook to one of the city's few Ikea stores.
Consider checking out used furniture on Craigslist or local thrift stores while you still have access to your car or moving van. My roommate and I scored a cute kitchen table from Craigslist that her parents were able to pick up by car. I, however, was not so lucky. I tried to buy a small $25 bookshelf from a local thrift shop and then carry it several blocks, only to realize that I overestimated my strength. I ended up paying a man on the street who offered to help $20 for his services. I totally could have saved money if I had just waited to fully furnish my room a little longer.
7. Set up power, electricity, and wifi before you move in.
Before arriving, my roommate and I also set up electricity and Wifi, so that when we moved in, we were able to turn on the lights, plug in chargers, and use the internet. Make sure to check in with your landlord or broker about whether you'll need to work independently to set up internet, electricity, water, and gas before moving in. You likely will have to do at least a few of these, and having them set up before hand can be a lifesaver.
8. Prepare mentally for the temptation to splurge.
One of the most jarring things about moving to New York City (and any big city, I imagine) is not just how much everything costs. It's also that, suddenly, you're surrounded by people who are able to spend an exorbitant amount on just about everything. While opting for nightly Uber rides or chic designer handbags can seem like no big deal to your peers, it might not be the case for you, especially if you're just starting out.
When I first moved in, I was enthralled by how much choice I had — I could shop for almost anything, eat whatever type of food I was craving, and go to a bar with pretty much any vibe I could hope for, all in just a few hours. But these things cost money. I definitely went on a mini-spree, of sorts, after getting my first paycheck. And while it didn't dig me into a financial hole, I did start to get the hang of some ways to save money while living in the city.
9. Opt out of "glam" groceries. 
Groceries don't have to come from Whole Foods or even Trader Joe's (although finding your staples there is a good idea…super cheap). I started watching the prices at my local bodega and found that produce can be really cheap, as long as I keep an eye out for it. Local 99-Cent stores are also a treasure trove of deals. You can find most household necessities at these stores, and even if they're not always pretty, they get the job done. Bed Bath & Beyond is another great place to find essentials, especially condoms and makeup. They have a huge selection of cosmetics and personal care items and they are cheaper than your usual pharmacy prices (plus Bed Bath & Beyond regularly mails coupons to its customers).
10. When budgeting for your commute, think monthly.
I signed up for my office's commuter benefits program, which sets aside money each month for a subway pass using pre-tax dollars — many city-centric companies offer this benefit. I purchased the monthly unlimited pass, which is around $116 per month, but it allows me to go anywhere in the city at any time of the day, as often as I want. I use the pass, of course, each day to get to and from work, but I don't feel financial pressure if I want to stop off on my commute home to go shopping or wander around a neighborhood. I can also use the pass on weekends to go to the beach or Central Park, at no "extra" commuting cost!
11. Enjoy yourself.
Finally, remember to have fun in the city. Urban areas are rife with activities that cost little to no money. Within my first few months of living in New York City, for example, I was able to see Diane Rehm speak on her new novel and visit the Brooklyn Botanic Gardens — both for free, thanks to some internet trolling. Barnes & Nobles often allow you to watch authors speak for the price of their books (and you'll likely get it signed after the reading!), while many city bars have free comedy shows during the week. (For New Yorkers: sites like Brokelyn and Oh My Rockness highlight free and cheap concerts and other happenings in the city, so keep an eye out).
Alicia is a business reporter living in Bushwick, Brooklyn. She loves cold brew coffee, Bright Eyes, audiobooks and traveling. Her body is not an apology.
Image via Unsplash