What I Spent On 2-Week European Vacation Vs. 8 Days In NYC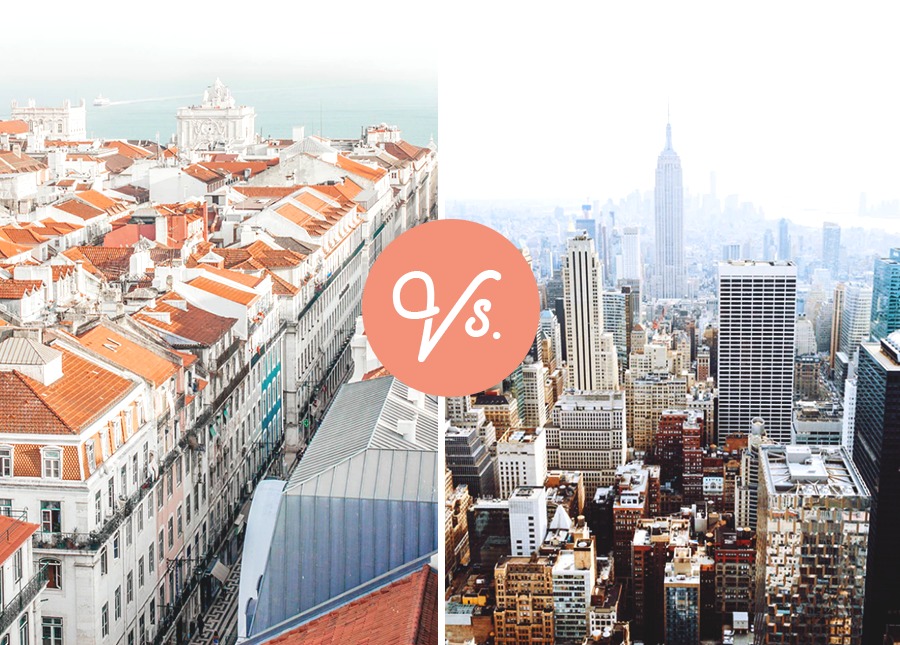 I feel so grateful that I had the flexibility and finances to travel to not just one, but two of my dream destinations over the past year. After funneling money into my vacation fund for over two years, I brought my mom with me on the trip of a lifetime to Portugal in May of 2017. Exactly one year later, I visited New York City for the first time, with my sister and her partner.
In both cases, the experiences exceeded my expectations. However, upon reviewing my expenses, I noticed something surprising about how much I spent. Here is what I paid in total for each trip:
Portugal: $2,776.50
New York City: $2,257.00
To put things in perspective, I spent 14 days in Portugal and 8 days in New York City. This means that the cost per day of each trip looked something like this:
Portugal: $2,776.50/14 = $198.32
New York City: $2,257/8 =$282.12
I saved just under $3,000 for the Portugal trip and $2,000 for New York — putting me under budget for one trip, and over budget by $257 for the other. I know it could have been much worse, but as someone who reads TFD and numerous travel blogs, the fact that my average spending in NYC was significantly higher than an international trip bothered me so much. Of course, learning from our past mistakes begins with first acknowledging them. Here is a complete breakdown of what I spent on each of my vacations to get to those totals:
Getting There
Portugal
Round trip airfare from San Francisco, California –>Barcelona, Spain: $571

One-way airfare from Barcelona, Spain –>Lisbon, Portugal: $89

One-way airfare from Porto, Portugal –>Barcelona, Spain: $93

Total: $753
New York City
One way airfare from Oakland, California –>New York City: $108

One way airfare from New York City –> San Jose, California: $110

Total: $218
I currently have a designated email account that I specifically use for travel promos and offers from various airline rewards programs. As a result, I was fortunate to land a screamin' deal on my flights for both trips. I abruptly booked my nonstop flight to New York directly with JetBlue because they were having a flash sale with one-way fares that were significantly cheaper than what I found on most travel websites. My mom and I had to plan a little farther ahead for our European trip. We booked our May 2017 flights for Portugal in November of 2016. We also specifically chose to fly into Barcelona because it was the cheapest and fastest way to get us to that part of Europe. Every flight directly to Lisbon included way too many unnecessary stopovers and was more than double the price at $1,300 per person, so I think we made the right choice.
Getting Around
Portugal
Taxis: ~$130/2 people = $65 per person

Hop on Hop off Bus in Porto: $15

Train from Lisbon –> Porto: $34.50

Total: $114.50
New York City:
JFK Air Train ticket: $5

7-Day Metro Card: $31 x 3 (because lol I lost mine TWICE) = $93

Lyft to the airport for an early morning flight: $66



Total: $164
Bless the New York Subway system. I bought that 7-day MetroCard and felt unstoppable — well, at least until I lost it the first time. And the second time. Regardless, it was so nice and cost-effective to be able to walk to most of the places we wanted to go. I don't think I've ever used my iPhone compass so much in my life, but man, did it come in handy. On some days, we clocked in more than 25,000 steps! I'm glad that even on the late nights, we pushed through our fatigue and walked our asses to the nearest train instead of hailing a cab. When it came to the Portugal trip, transportation wasn't a cost I really budget for because I booked multiple tours that included a driver. Porto had a bus system and Lisbon had trams, but I didn't feel confident navigating how it worked.
In Portugal, we pretty much walked everywhere. On the first day in Porto, we booked a Hop-On Hop-Off bus tour to get a feel for the layout of the city. This allowed us to make a mental note of the places we wanted to explore on foot later. I also think we benefit from staying in great neighborhoods like Bairro Alto in Lisbon, and Baixa in Porto. We never had to walk far to experience great food and amazing sights like the Duoro river. The only time we took taxis was to travel between the airports and the train station.
Lodging
Portugal
Hotel in Lisbon, Portugal for 6 nights: $714 total/2 people = $357 per person

Apartment rental in Porto, Portugal for 6 nights: $480 total *

Hotel In Barcelona, Spain for 1 night: $110 total/2 people =$60 per person

Total: $897
*I paid the full price for the apartment in Porto because I wanted to fully cover the cost of at least ONE of our lodgings as a gift to my mom.
New York City
Airbnb in the Upper West Side for 6 nights: $1,395/3 people = $465 per person

Solo Airbnb in the Upper West Side for 1 night: $80 total

Total: $545
I was the Airbnb veteran on both trips and handled all of the bookings. I know I'm preaching to the choir when I say this, but holy shit everything in New York is so expensive. The price of our Airbnb studio was three times the cost of my riverfront apartment rental in Portugal. I know there are some legal issues with Airbnb in many major U.S. cities right now, so I'm certain that factored into the high cost in New York.
Food
Portugal
14 days of eating:

€530, or $

615 USD
New York City
I'll spare you guys the details of every single little €2 pasteis de nata pastry I bought while in Portugal. I'm pretty sure those alone account for nearly €40 of what I spent. Still, I was shocked at how little I spent on meals during the full two weeks there. To some extent, I'm positive the fact that my mom abhors seafood kept us away from a lot of high-cost restaurants. Most of the time we ate at cafes where we grabbed something like a soup or sandwich that cost roughly €8 per person. We rarely indulged in a full-scale, sit-down experience, but it never felt like we were deprived of any authentic or delicious food. I can recall one dinner where we did go to an actual restaurant and feasted on traditional Portuguese-style pork, chicken, salad, and a seemingly endless supply of bread and wine for less than €15 a person.
The most expensive and luxurious meal of our trip was included with the price of our all-day tour to the Portuguese Duoro Valley, aka the wine region famous for producing port. We paid €150 each for the experience. It was a definite splurge for both of us, but we booked it because we wanted to go all out for the last day of our trip. Plus, it ended up being way worth the cost given what it included: tours and tastings at three different wineries, a relaxing boat ride, ground transportation, and a six-course meal with wine pairings. And while I don't know if I'll ever experience something of that caliber ever again, I'm glad that I got to enjoy it once.
I think this number was so high in New York because I felt so overwhelmed by the amount of dining options available in the city. Sure, there were thousands of incredible places to eat in Portugal, but the variety of dining options was nothing like New York City. Enter a classic case of traveler's FOMO, and in no time I rationalized my way into a $45 brunch because I wanted to see what made it such a thing in New York. Spoiler alert: Expensive poached eggs are expensive poached eggs no matter where you are.

Entertainment
Portugal
Walking Tour in Lisbon: €12
Private Tour to Sintra, Pena Palace, and Quinta Regaleira: €60
Guided Tour of ancient Portuguese cities of Fatima, Nazare, Obidos : €80
Entrance to Jeronimos Monastery in Belem: €6
Guided Tour to the Douro Valley with 3 wine tastings, a boat ride, and a 6-course meal with pairings: €150
Fado (traditional Portuguese music) Show: €14
Port Cellar Tour & Tastings: €20
Total:  €347, approx $397 USD
New York City
Drag Show: $18

Hamilton Ticket: $225
The Lion King Ticket: $147

Coney Island Luna Park Ride Pass: $22

CityPass (included entrance to Top of the Rock, Empire State Building, The Met): $120

Club Covers: $20

Alcohol, in general: ~$200

Total: $770
May turned out to be an awesome month for traveling to Portugal because there were many free festivals happening within the major cities. We spent a lot of time simply walking around and taking in the breathtaking views at no cost.
I know immediately from looking at this breakdown, it's easy to see that Broadway tickets are the main culprit behind my excessive New York spending. However, I initially did not plan on seeing Hamilton because the online box office didn't have available tickets for less than $570. It wasn't until I walked near the theater to take a picture that I discovered the cancellation line, and somehow got lucky enough to score a seat in the front row of the orchestra for $225. It was by far the most definitive YOLO/FOMO-motivated decision I've ever made, though I tried to find numerous ways to rationalize it. For one, I had been longing to see the show since 2016 and missed the touring company when they came to California. Plus, I saw it as a sign that I was the second to last person to even get a ticket. I know I shouldn't have to justify that to myself because theater is something I value and want to spend my money to see. But I'd be lying if I said I didn't feel guilty that this was what put me over my budget.
Ultimately, I've come to understand the way we spend money while traveling is greatly influenced by the motivations we have for doing it in the first place. I specifically chose Portugal as a destination because I wanted my mom to experience going abroad for the first time. (She specifically applied for her very first passport for this trip.) Portuguese is also a sizable part of our heritage and I thought it would be fascinating explore the places where our ancestors once lived. I had been to Europe before, but neither of us had been to Portugal, so we didn't have too many expectations. We were happy just to be there. On the other hand, with New York, I had hyped up this image of the city in my mind, and consequently, I placed a lot of pressure on myself to make my vacation the best trip ever. This is absolutely the reason I went $257 over my budget for this trip. It was as if I walked around with FOMO goggles on the entire time because I was way too down for everything without considering if it was necessary or what I really wanted. For example, It's not like the trip would have been ruined if I didn't make it to Coney Island. I don't even like amusement park rides that much. Yet somewhere in my mind, I felt like I had to check off every box, devour every "must-try" meal, and see every sight to make it worthwhile.
In the future, I hope to be more mindful of my own habits when I'm planning my travels. Instead of jam-packing my itineraries with things I see on social media, television, or films, I am going to focus on developing a greater sense of intention whenever I explore a new place. And when it comes to the money aspect, I'm going to try and give myself more flexibility when traveling so I can enjoy myself without feeling like I'm going overboard. Next time I'm planning a trip budget, I'm going to structure it with an upper limit and lower limit for each spending category. My personal goal will be to stay within or under a certain spending range while traveling rather than underneath a certain threshold. Perhaps creating a buffer for unexpected expenses (like front-row broadway tickets) is a great place to start.
Savanna is a freelance writer in Northern California whose hobbies include all things theater and dog-related. She hopes for a world where avocados will be included in the price of her entrée and a 12-step program is widely available to people who obsessively collect air miles. Follow her on Twitter here.